Pulling at the collars on button-down shirts and rearranging summer dresses in the sticky summer heat, some 3,300 members of German Chancellor Angela Merkel's conservative Christian Democrats (CDU) descended on Erfurt Thursday evening for an annual gathering of the party's Thuringia state faction.
A year after Merkel herself was guest of honor at the event, talk among conservative voters at the eastern German city's convention center was only of one man: this year's guest of honor, Austrian Chancellor Sebastian Kurz.
'A Europe that protects'
As he entered to a soundtrack that wouldn't be out of place in Lord of the Rings, alongside his host Mike Mohring, who heads the CDU parliamentary group in Thuringia, the words "A Europe that Protects" filled the hall's huge screens.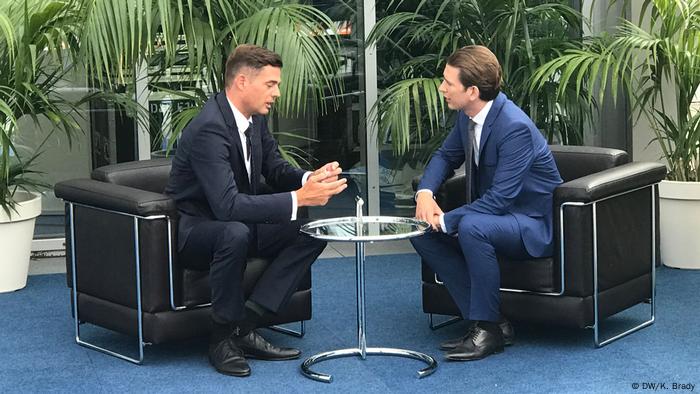 Mohring hosted Kurz at the Thuringia CDU event in Erfurt
The slogan is the official motto for Austria's sixth-month presidency of the Council of the European Union, borrowed for the evening by Thuringia's conservatives.
"Peace, freedom, security and prosperity," that's what securing the future of a united EU is about, Kurz told the audience.
For the Austrian chancellor, that means closing the EU's external borders, getting rid of Merkel's refugee quotas for member states, erecting asylum centers outside the bloc and refusing migrant rescue ships from docking.
Call to close EU borders
When it comes to the question of migration, Kurz has sided with far-right figures such as Italian Interior Minister Matteo Salvini and Hungarian Prime Minister Viktor Orban. He has also cozied up to Germany's hard-line conservative interior minister, Horst Seehofer, who heads the CDU's Bavarian sister party, the CSU, and has arguably been the biggest political thorn in Merkel's side over the past several months.
"Europe's internal borders can't function if the external borders don't work," Kurz said, drawing enthusiastic applause from the attendees.
Read more: Germany and Austria vow to close immigration route
Outside at the bratwurst sausage buffet, however, opinions wavered.
"He doesn't just think about Austria, he thinks of everything on a European, even a worldwide scale," said Jürgen, a 63-year-old CDU member, after Kurz's speech.
"It's also good that he's keeping the door open to Russia," said Jürgen's 61-year-old wife, Christine. She, however, isn't a fan of completely closing the EU's borders. "There are plenty of refugees who integrate well. We just need stricter checks," Christine added, as her husband shook his head in disagreement.
Conservative 'role model'
Konstantin, a 22-year-old apprentice electrician, believes Kurz could be a "role model" for conservatives across Europe. "The CDU needs to become more conservative again after Merkel," he said.
Read more: Opinion: With friends like Sebastian Kurz, Merkel doesn't need enemies
So conservative that it could consider forming a coalition government with the far-right? That, at least, was the decision made by Kurz in December last year when his Austrian People's Party (ÖVP) found common ground with the country's far-right Freedom Party of Austria (FPÖ) — the very same party he described in 2016 as "destructive" and one that "doesn't strive for European solutions."
A comparable coalition between Germany's conservatives and the far-right Alternative for Germany (AfD) isn't, however, something Kurz recommend to "dear Mike" — as he referred to the CDU's Mohring — ahead of next year's regional state election in Thuringia.
"The situation was very different in Austria," Kurz said.
'Refreshing policies'
But when it comes to reforming Germany's conservatives in light of their relatively poor performance in last September's national election — despite coming out top in the polls — Mohring says there's a lot to be learned from the young Austrian chancellor.
"Anyone who wants to know how the modern 'people's party' can work must simply look to the work of the ÖVP under the leadership of Sebastian Kurz," he said, calling the 31-year-old's policies "refreshing."
Read more: Austria brings hard-line refugee policy to EU
'Baby Hitler'
But Kurz's own links to the far-right, as well as his strict migration policy, meant his visit to Erfurt wasn't without protest on Thursday. In a joint letter ahead of the event, youth wings of the Green party, the center-left Social Democrats (SPD) and the Left Party described the CDU as a "staunch right-wing party" and labeled Kurz as "baby Hitler" — a reference to a drawing in the German satirical magazine Titanic.
On the night, however, the call for demonstrations failed to manifest itself as anything more than a few dozen protesters.
"Ach," Kurz replied, when probed about the comparison to "baby Hitler" in a press conference minutes before the main event. "It's never good to turn to comparisons with Nazis."
Every evening at 1830 UTC, DW's editors send out a selection of the day's hard news and quality feature journalism. You can sign up to receive it directly here.