In the run-up to Sunday's Austrian elections, German media had accused frontrunner Sebastian Kurz of "fishing for far-right votes," whipping up anti-Muslim sentiment and shifting his People's Party (ÖVP) closer to the far-right Freedom Party (FPÖ).
Kurz, 31, now appears set to become Austria's next chancellor after the ÖVP won the most votes in parliamentary elections .
Following his victory, German satirical magazine Titanic sparked an uproar in Austria after it published an image of Kurz with a target over his chest and the caption: "Finally possible: Killing baby Hitler!"
Austrian newspapers and Twitter users criticized the magazine within hours of Titanic posting the image on its official Twitter page.
The Austrian news website os24.de published an article on the incident with the headline, "Scandal: Satire magazine calls for the murder of Kurz," while the daily tabloid newpaper Kronen Zeitung said the tweet was "unbelievable" and "tasteless."
Read more: Europe reacts to Kurz victory
Vienna police said on Twitter they were investigating the image after a user asked them whether the magazine could be prosecuted.
"We have already forwarded this to the responsible authority," it wrote in reply.
It was unclear at the time of writing how long the police's investigation will take.
Adolf Hitler, who was born in Austria, ruled Nazi Germany from 1933 until his death in 1945.
Read more: Man dressed as Hitler arrested in Austria
DW asked Christian Solmecke, an expert in media law in Cologne, Germany, about the case:
DW: Is there an incitement to murder in the magazine's caricature?
Solmecke: If you want to determine whether an incitement to murder is liable for prosecution, you need to see the entire context. Here it's very clear that there is no incitement to murder that should be taken seriously. In this respect, I believe no line has been crossed. The question naturally arises whether the post was libelous.
Read more: Austria to tear down Adolf Hitler's place of birth in Braunau am Inn
DW: Is it in your opinion libelous to call the likely future Chancellor of Austria as "Baby Hitler"?
This is naturally a crass comparison. If you equate someone with Hitler, it's usually an exaggeration. Satire is, at least in Germany, completely protected. The border [between satire and libel] is crossed in only a few exceptions. Even politicians, who also dole [insults] out, have to tolerate exaggerated insults from satire magazines. I therefore think that a court will ultimately find this post permissible.
Read more: Hitler doppelganger sighted near Nazi leader's birthplace in Austria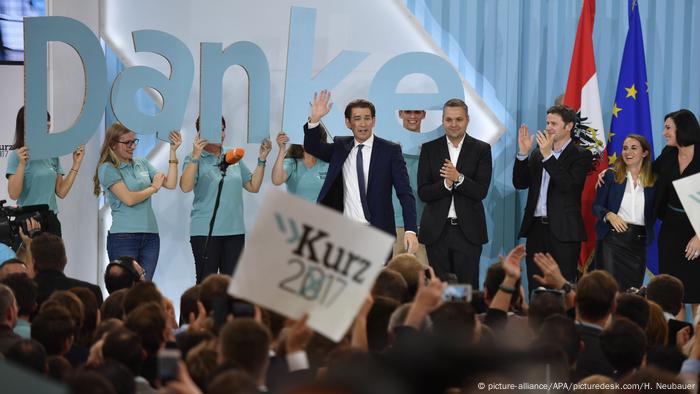 Sebastian Kurz's People's Party won the most votes in Sunday's parliamentary elections
DW: So the post is within the scope of what is legally allowed?
Even if you think it is outlandish and you don't understand the joke or you think it's a bad joke, it's still within the scope of free expression. [The post] insinuates that Sebastian Kurz is relatively right-wing. Of course it's an exaggerated insinuation, but that is exactly what satire is: exaggerated insinuation. Titanic's opinion is clear: the wrong politician is about to become chancellor and that politician is too right-wing.
DW: How problematic is the suggested murder in this case?
The suggested murder is admittedly there and you can see the target placed on him. But the entire context – the post all the way to the satire magazine – indicates that this is not a concrete incitement to murder. I therefore assume that state prosecutors will not start an investigation. And if they do, then they will close the investigation within a short space of time.