"The Hitler house will be torn down. The foundation can remain but a new building will be erected," Austrian Interior Minister Wolfgang Sobotka told the national daily, "Die Presse." The building would be used by a charity or local authorities, he added.
"In any case, there shall be no connection with Adolf Hitler because otherwise this legacy around the house will persist," Sobotka said.
The decision was made based on a recommendation by a 13-member committee which decided the fate of the building, in a northern Austrian town called Braunau am Inn, just a stone's throw from the border to the German state of Bavaria.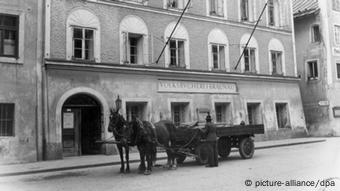 Hitler's birth house has been a pilgrimage site for decades
The house belongs to Austrian citizen Gerlinde Pommer, whose family has owned the building for over a century, except during the phase when Hitler's private secretary Martin Bormann bought the house in 1938. In 1972, the house was leased by the government and converted into a center for disabled people, bringing Pommer 4,800 euros ($5,300) in rent every month.
Five years ago, Pommer refused to grant permission for renovating the building and refused an offer for purchase by the Interior Ministry. In July this year, the government approved an amendment to seize the property. The bill will be debated in parliament this week and is expected to come into force by the end of this year.
Pilgrimage site
Vienna had ordered the compulsory purchase of the three-level building. A committee of experts, including historians, officials and the head of Austria's main Jewish group recommended that a "thorough architectural rearrangement" be carried out.
Born on April 20, 1889, Hitler only spent his infancy in the border town, but the address has become a pilgrimage site for neo-Nazi sympathizers and extremists, who pose in front of the building with the Hitler salute every year on the dictator's birthday.
Some say wiping out the house would sweep away a trace of the country's uncomfortable connection with the Third Reich. However, many cultural organizations have opposed the demolition of the building because it is part of Braunau's historic old town and has protected or "listed" status, as do most of the adjacent buildings. Braunau am Inn's gothic architecture is renowned, although probably not so much as its most infamous son.
mg/msh (AFP, Reuters)