Every morning, Waltraud Gsell teaches German to refugees at Diakonie, a protestant social welfare organization in Vienna. Students from Syria, Afghanistan, Serbia and Iran sit in her current class. One of them, Emmanuel, is taking his second three-month language course. The young Iranian has lived in Vienna for two years and his German has become quite good.
"Learning German is very important for me," Emmanuel says, "so I can speak with friends, and find work later on."
Language key to integration
Everyone in Gsell's class has a story to tell. The students quickly learn to trust one another and open up a little bit, she says, stressing how important it is that they feel comfortable. "They are very hard-working and motivated," Gsell says. "They came here under the worst of circumstances, they all face difficult situations — but every morning, my students show up here with their homework done."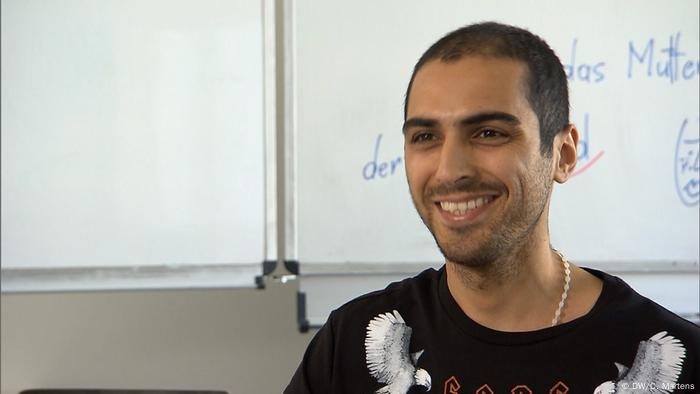 Iranian student Emmanuel says learning German is important if he wants to find work in Austria
That, the she says, never fails to impress her.
Michael Chalupka, who heads Diakonie in Austria, says that their "Integration from day 1" project has been successful thus far. "We also offer language classes for asylum-seekers — not just once they are approved, but from the start." That greatly simplifies integration he adds, explaining that asylum procedures often take up to two years — much too long to wait for language training.
Read more: Austrian Chancellor Sebastian Kurz: The EU's new power broker?
Lately, he has been worried about the new plans the country's right-wing government has for refugees, which he believes could hamper people's ability to quickly integrate into Austrian society.
Aid organizations warn of rise in child poverty
Chalupka is very critical of refugee policy in general under hard-line Chancellor Sebastian Kurz, which includes reducing language classes for migrants nationwide while introducing language tests at an advanced-learner level for those who have been officially granted asylum status. Under a proposed law, families will only receive full welfare benefits of €863 ($1,007) if they successfully pass a challenging language test. Refugees who flunk the exam are to receive €300 less.
Kurz and his conservative party's junior coalition partners, the far-right Freedom Party of Austria (FPÖ), have announced a plan to put an end to "migration into the Austrian welfare system" once and for all.
Read more: Asylum benefits in the EU: How member states compare
"That is absurd," says Chalupka. "You can't reduce the number of language classes and at the same time demand that foreigners speak German at a very advanced level." They are deliberately aiming at the weakest link, and those are mainly foreigners, he adds.
Chalupka believes such policy will have grave consequences, including a rise in child poverty. A few hundred euros more or less can make a huge difference in a city like Vienna, which has limited and expensive housing. "Laws can't possibly be allowed to push people toward homelessness," he says.
Basic rights on merit?
Language experts, too, say that tying basic human rights to social benefits is highly problematic. Verena Plutzar of SprachenRechte, a language rights network, who has more than 10 years of experience with people learning German, is convinced the level of the planned language tests is too high. Special vocabulary would be called for that students as a rule only know after an average two years of intensive language training. That, she say, is not doable for adult refugees.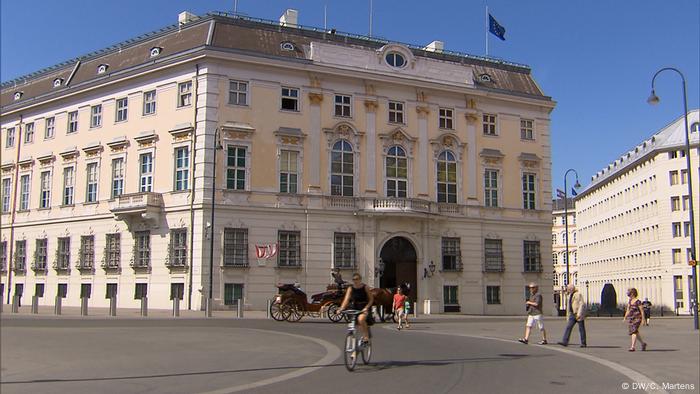 In July, Austria took over the presidency of the Council of the European Union, a post it will hold for six months
The move is out of proportion and it violates exam ethics, says Plutzar, explaining that conditions would simply not be fair. In the end, nobody's livelihood should be endangered because of a language test — which is exactly what might happen, she explains. A migrant who does not pass the test loses a basic right, "a grave consequence for the person's daily life," says Plutzar.
Read more: Europe can't take in 'new wave of refugees,' says Austrian conservative MP
The FPÖ's EU representatives have not responded to interview requests by DW, but Vienna-born Monika Vana, a European lawmaker for the Green party, says the draft law is anti-European through and through. It is an attack on the welfare state, and Chancellor Kurz is tacitly accepting a threat to social peace in Europe, she says. The planned cuts also fuel the image of refugees as the enemy, Vana argues, adding that the idea of basic benefits for just a select few runs counter to EU legislation as well as Austria's constitution.
Austria holds the presidency of the Council of the European Union for the next six months. At least where refugee policy is concerned, the hard-line approach taken by the government in Vienna is a clear indicator of its plans for the rest of Europe