Hostility toward journalists and media poses a serious threat to democracies around the world, including within Europe, the media watchdog Reporters Without Borders (RSF) announced in its 2018 World Press Freedom Index on Wednesday.
As a region, Europe still ranks the highest on RSF's index, but its rating also dropped more than that of any other region this year.
Four of the top five countries where press freedom deteriorated the most are in Europe.
Malta, Slovakia, the Czech Republic and Serbia all fell substantially. The watchdog voiced particular concern about the murder of journalist Daphne Caruana Galizia in Malta, followed by the killing of investigative reporter Jan Kuciak just five months later in Slovakia.
With the rise of populist politics and "strongman" leaders, Europe's downward trend will likely continue, according to RSF. Last year, Czech President Milos Zeman showed up at a press conference with a fake Kalashnikov bearing the words "for journalists." Robert Fico, who resigned as Slovakia's prime minister in March, called journalists "filthy, anti-Slovak prostitutes" and "idiotic hyenas."
"I think the developments in Central and Eastern Europe make it clear that we are dealing in many cases with not-yet-established democracies, whose EU membership may have come too early," Christian Mihr, the head of the German branch of RSF, told DW.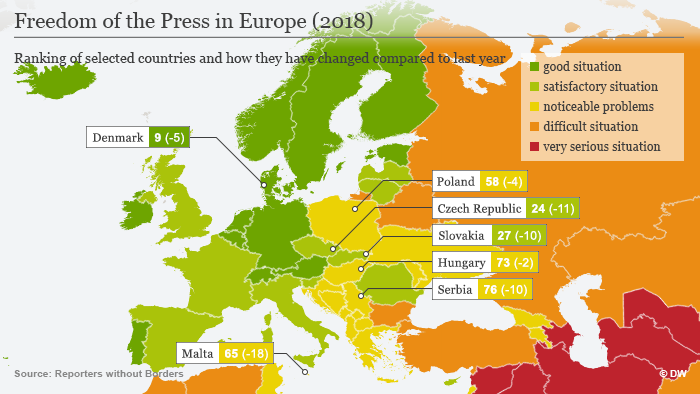 The situation in Poland and Hungary is also particularly concerning, according to RSF. Hungarian Prime Minister Viktor Orban came out in support of a pro-government magazine that published a list of 200 people whom he had accused of being "mercenaries" paid by the Hungary-born US billionaire George Soros.
According to Mihr, lists of foreign correspondents who are "unwelcome" have also been circulating through Hungarian media. The freelance journalist Keno Verseck, who also reports for DW, is named.
Triple threat from Trump, China, Russia
RSF reported that animosity toward journalists is "no longer confined to authoritarian countries such as Turkey and Egypt."
The watchdog accused US President Donald Trump, Russia and China of perpetrating anti-media rhetoric and actively seeking to curb press freedom.
The report voiced particular concern about the "censorship and surveillance" of journalists in China, as well as President Xi Jinping's efforts to export its "oppressive" media model across Asia.
"Xi Jinping's China is getting closer and closer to a contemporary version of totalitarianism," the report read.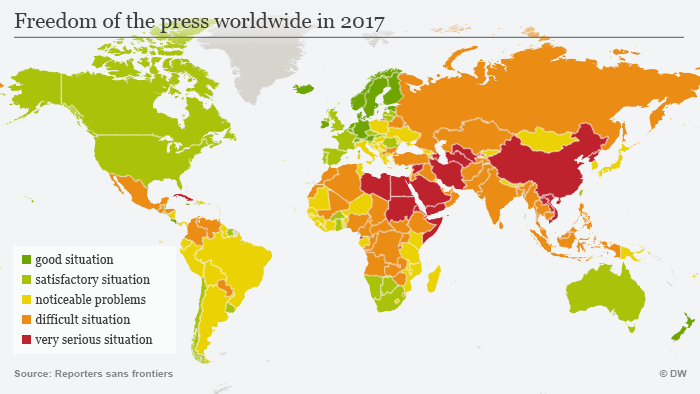 Africa rising up the list
Norway held its place at the top of the World Press Freedom Index for the second year in a row, while North Korea remained last in last place out of the 180 countries ranked.
Germany rose one place up to number 15 while the United States fell two spots under Trump to 45.
The country that made the biggest jump on the list was Gambia, which jumped 22 spots to reach number 122. RSF noted that the media situation has greatly improved since the end of ex-President Yahya Jammeh's 22-year-rule. The situation of press freedom on the continent of Africa improved compared to last year's Index, although RSF noted there was a wide variation between the countries.
Turkey, which has jailed the highest number of journalists worldwide, is now among the 25 most repressive countries.
rs/kms (AFP, dpa)
Additional reporting by Richard A. Fuchs