On Thursday, Slovak police investigating the murder of journalist Jan Kuciak and his partner said they had made arrests and conducted raids on the houses of several Italian businessmen with suspected links to the Mafia.
Kuciak was researching Mafia links to corruption at the time of his death, and the website for which he worked published his final, unfinished report earlier this week. Yet Thursday's arrests are by no means the end of the investigation.
"We do not yet know the full extent of this story," says Anna Zaborska, a Slovak member of the European Parliament, who adds that she does know whether the connection to Italy even reveals the scope of the case. The murder is a "black spot, not only on the image of our country, but of the entire EU," says the MEP. "Europe must toughen its prosecution of fraud and corruption."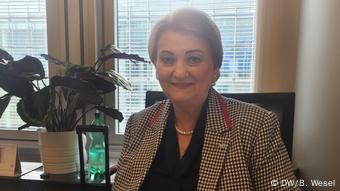 Anna Zaborska, MEP from Slovakia
Europe must improve transparency
For some years now, there have been clear indications of corruption in Slovakia, even in government circles in Bratislava. The Slovak MEP explains, however, that despite some investigations having taken place, none have had any real consequences. No case has ever reached court; no one has ever been convicted.
OLAF, the EU's anti-fraud office, has reported only one case of cross-border fraud between Slovakia and the Czech Republic, in 2016; though a total of eight investigations have taken place in Slovakia. Europol's investigations are classified as well, so while the agency's authorities confirm they are working on the Kuciak case, no information is being released to the public. All this secrecy means that the government in Bratislava faces absolutely no pressure to make any changes.
Read also: 2017 a grim year for free speech and media freedom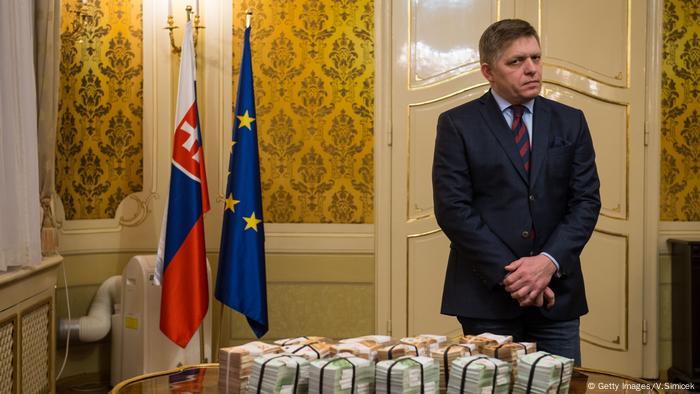 Slovak PM Robert Fico offered up a 'mafia-style' reward money for clues, says MEP Giegold, who believes it's all for show
Will Fico's government fall?
Last summer, Fico himself described journalists as "dirty anti-Slovak prostitutes" with regard to their research. And Pauline Ades-Mevel, of the international press freedom NGO Reporters Without Borders, said the working environment for journalists in Slovakia had "worsened considerably" in recent years. This is also a result of the increasing concentration of mass media that the government tolerates despite legal violations. When Jaroslav Reznik took office as the new director of the public broadcaster Radio and Television of Slovakia (RTVS), he scrapped the only investigative show on Slovak television.
Read also: Fico's ruling party holds on, far-right loses out in Slovak elections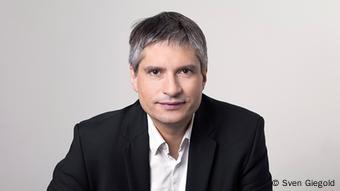 Sven Giegold, MEP for Germany's Green party
How credible is Fico, now that he advocates transparency and strives to lead the quest for answers? Anna Zaborska calls his posing next to a pile of €1 million in cash on television "inexcusable," and a case of "political marketing that is unworthy of a civilized EU member."
Read also: Slovakia eyes kingpin Visegrad role amid EU tensions
The German Green MEP and financial crime specialist Sven Giegold also condemned Fico's TV appearance. "It was exactly the same in Malta: Draconian words were uttered, and in Slovakia too, Mafia-style reward money for information about the murderer was offered," he says, but adds that nothing more happens. Giegold has already served as a member of the inquiry committee set up by the European Parliament to investigate the murder of the Maltese journalist Daphne Caruana Galizia. No one knows who may have been behind her assassination. But the parliamentarians' report on the government's entanglement in the case was unforgiving.
Giegold hopes that within the next few weeks a similar impromptu delegation will be sent to Bratislava to investigate the Kuciak case. "The murder of journalists in the EU is unacceptable," says Giegold, adding that "we must not allow them to lose the courage to investigate the borderland between crime and government."
He recommends following the example of the Italian government in the 1990s, which had at least succeeded in putting an end to the murders by pursuing a tough anti-mafia policy. Moreover, he adds, the extent to which financial and economic crime has spread in the EU can also be seen from the recent banking scandals in Estonia and Latvia. Now structures that have made these situations possible must be uncovered everywhere in Europe, he insists.
EU leaders under pressure
"On behalf of Parliament, I would like to reinforce the message that we all have a duty to continue his fight for the truth," said European Parliament President Antonio Tajani, referring to the slain Kuciak. He also acknowledged that the EU must also ensure that "journalists can exercise their profession in security and freedom."
The European Commissioner for Budget and Human Resources Günther Oettinger expressed himself cautiously in an interview with the German newspaper Die Welt. He pointed out the OLAF investigations into the misappropriation of EU funds, and promised to take a close look at the case in Slovakia. "In a few weeks' time, we will have clarity about financial transactions and a possible misappropriation of funds." As long as findings are not immediately made public, however, there is too little pressure on governments to change anything.