Slovak police on Thursday said they had conducted raids on the houses of several Italian businessmen with alleged Italian Mafia links, who journalist Jan Kuciak had been writing about before he was murdered.
Kuciak, 27, and his fiancee, Martina Kusnirova, were found shot dead at Kuciak's home on Sunday.
The country's police chief, Tibor Gaspar, told reporters in the eastern town of Michalovce on Thursday that seven were detained but did not give further details.
Read more: Opinion: Hunting the corruption hunters in Ukraine
"I can confirm that these raids and detentions are being carried out in several places," said police commander Tibor Gaspar, according to the French news agency AFP.
He said those taken into custody during raids in the eastern town of Michalovce were "persons mentioned" by Kuciak in an investigative report of high-level corruption involving ties between the Slovak government and Italy's 'Ndrangheta crime syndicate.
"Physical evidence and individuals are being detained, they will be interrogated," Gaspar said.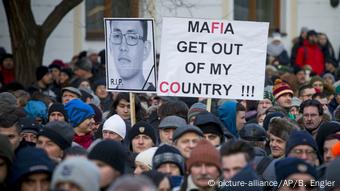 Slovak media reported that those detained included businessman Antonino Vadala and several of his relatives. Kuciak alleged they had links to Italy's 'Ndrangheta crime syndicate and contacts in the Slovak government.
The allegations were made in Kuciak's last article, which was published posthumously on Wednesday by his news outlet, aktuality.sk.
A protest in the capital, Bratislava, organized by a conservative opposition party, drew a crowd of about 1,000 people on Wednesday night.
The march was the first of several planned to honor Kuciak and protest graft in Slovakia. Other anti-corruption protests are being planned for Friday across the country as well as in Prague, London and The Hague.
Each evening at 1830 UTC DW's editors send out a selection of the day's hard news and quality feature journalism. You can sign up to receive it directly here.
law/sms (AFP, AP)