A colleague of Slovak journalist Jan Kuciak said on Tuesday that he believed the slain reporter was the target of organized crime. Tom Nicholson said that before his death Kuciak had been about to publish an explosive report about ties between the Italian mafia and high-level politicians.
According to Nicholson, who worked closely with Kuciak, the 27-year-old was working on a story about "the fraudulent payment of European Union transfer funds to Italian nationals resident in Slovakia with alleged ties to the 'Ndrangheta organized crime group from Italy's Calabria region."
"The (Slovak) secret service already has the gangsters' names; both Jan and I were operating from leaked intelligence documents," Nicholson wrote in Politico.
"Slovak organised crime has never killed reporters, even in the bad old days. Whereas Italy's mafia gangs have shown no such compunctions."
Aktuality.sk, the news portal Kuciak worked for, made similar claims in its reporting on Tuesday. The Slovak publisher is owned by the German-Swiss Axel Springer and Ringier media group.
Kuciak's death was a 'warning'
On Sunday, Kuciak and his girlfriend Martina Kusnirova were found dead from gunshot wounds in their home in the town of Velka Maca. The authorities were alerted when Kusnirova's mother reported concerns that she had not heard from her daughter in several days. According to the police, ammunition had been arranged around the bodies as if to issue a "warning."
Candlelight vigils have been held across Slovakia for the couple, and there have been renewed calls for more anti-corruption protests in the country following a wave of them last year.
Kuciak was active in reporting on fraud cases involving businessmen with links to Prime Minister Robert Fico's Smer-Social Democracy party.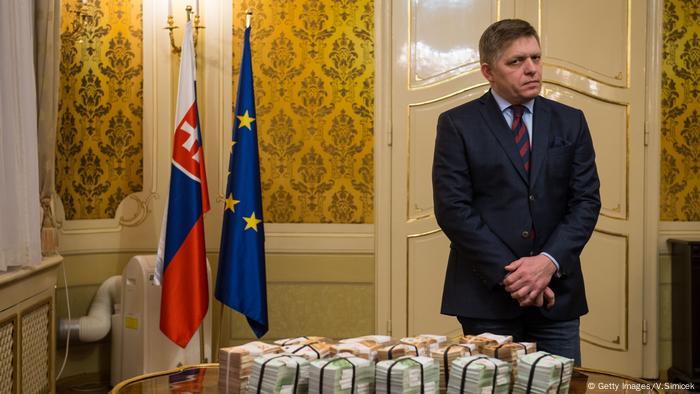 Slovak Prime Minister Robert Fico has offered €1 million ($1.2 million) for information leading to the killers' capture
Second killing
His is the second killing of an anti-corruption journalist in an EU country in the past six months. Maltese journalist Daphne Caruana Galizia was murdered in a car bomb attack last October.
Tom Gibson, the EU representative for the Committee to Protect Journalists (CPJ) told DW: "With two cases of murdered journalists within half a year, it is clear that investigative journalists in EU member states are not safe. Whilst Brussels starts to engage in the latest round of discussions on corruption allegations, officials should at the same time ask themselves: what can we be doing better to protect the free press?"
European Commission President Jean-Claude Juncker said he was "shocked by the horrible news," and condemned what he described as a "cowardly act."
"The killing or intimidation of journalists has no place in Europe, has no place in any democracy," Juncker said.
Read more: 2017 a grim year for free speech and media freedom
Slovak PM: Journalists are 'prostitutes'
Slovakia's Prime Minister Robert Fico is well known for his antagonistic relationship to the press, and has often verbally attacked journalists in public. In a 2016 press conference, he described the reporters present as "dirty, anti-Slovak prostitutes."
According to Slovak daily SME, two of the businessmen Kuciak was investigating had ties to one of Fico's senior advisors.
Nevertheless, Fico announced a €1 million ($1.2 million) reward for information leading to the killers' capture. Police chief Tibor Gaspar said that Kuciak's death was "most likely related to the investigative work of the journalist."
Later on Tuesday, Gaspar said Slovak officials were working together with Czech and Italian police to solve the case. "I will not specify the reason exactly — but the case has connections, certain overreach to the Czech Republic," he was quoted by Reuters news agency as saying.