Malta's Deputy Prime Minister has admitted that the murder of Daphne Caruana Galizia wasn't a "normal murder," he however denied it was political and blamed a "criminal gang." Chris Fearne said the journalist's death in October 2017 was "particularly striking and shocking for us."

He also admitted that following this case, "freedom of expression in Malta is threatened" and assured that his government is taking this "grave occurrence" very seriously. Caruana Galizia was killed in a car bombing while exiting her home in Bidnija. It was the latest of 28 bombings in Malta since 2008. Only two have been solved.

Fearne, who also serves as Malta's Health Minister, said: "In this case particularly, the police have done a very good job. Barely six weeks after the murder of Daphne Galizia, police managed to arraign three persons in court."

A 'one-woman WikiLeaks'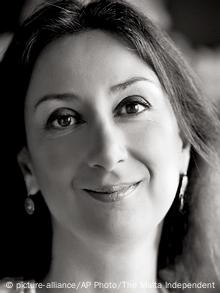 Caruana Galizia covered the Panama Papers investigation into corruption in Malta and was described as a "one-woman WikiLeaks" by Politico. Half an hour before the 53-year old walked out of her house for the last time on October 16, she wrote on her blog "Running Commentary": "There are crooks everywhere you look now. The situation is desperate," referring to corruption scandals surrounding Keith Schembri, Chief of Staff to Prime Minister Joseph Muscat. The explosion near her home was reported after 3 p.m. Caruana Galizia had filed a police report 15 days earlier, saying she was receiving death threats.

Adrian Delia, leader of the Nationalist party, who Caruana Galizia had reported on, said: "A political murder took place today. What happened today is not an ordinary killing. It is a consequence of the total collapse of the rule of law which has been going on for the past four years."

In response to her death, Prime Minister Muscat said in a statement: "Everyone knows Ms. Caruana Galizia was a harsh critic of mine, both politically and personally, but nobody can justify this barbaric act in any way … I will not rest before justice is done."

Inconvenient revelations

The reporter's most recent corruption revelations pointed the finger at Muscat and his allies Schembri and Konrad Mizzi, the country's former Energy Minister. Mizzi was reported to have set up a trust in New Zealand without telling the Commissioner of Inland Revenue, while Schembri had a company in Panama which the Prime Minister only found out about in the media. Caruana Galizia also revealed that his wife Michelle Muscat received $1 million from the daughter of Azerbaijan's president. That information came from the Panama-based law firm Mossack Fonseca, the source of the Panama Papers.

When Tim Sebastian referred to the allegation that the Maltese government sold passports to people and gave them entry into the European Union without passing on that information to Brussels, Fearne said: "You are wrong. (…) Because we, our passports scheme as you call it. It's a private investor's scheme, really, [that] is approved by the European Commission." He also said Malta would "cooperate completely, absolutely, 100 percent with Europol."

No consequences?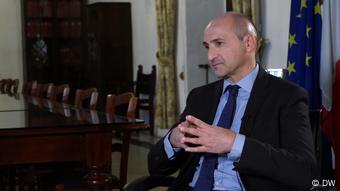 Prime Minister Muscat, who reportedly only found out about the corruption surrounding his close aides Schembri and Mizzi in the media, told a local newspaper: "Under normal circumstances they would have had to resign. But I also needed them to implement certain projects."

Confronted with this case, Fearne said: "As we have said already, nobody is above the rule of law here in Malta." But right now it is unclear if Schembri and Mizzi will face trial: "If any of the allegations are found [to be true], if there's fact of these allegations, then yes, not only will they have to resign they will have to face the decisions by the court."

In 2016, Malta fell to an all-time low on Transparency International's corruption index. The country is now ranked 47. Fearne agreed that there are concerns and assured his government is "giving stronger rights to the Maltese press," criminal libel will no longer be an offense. These changes will come too late for Caruana Galizia whose stories frequently led politicians to sue her for libel.