In its latest push to isolate Pyongyang, Washington urged on Wednesday for countries to take action against North Korea and break diplomatic ties with the reclusive state if they still have them.
US State Department spokeswoman Heather Nauert said cutting ties and reducing the number of "guest workers" would put pressure on North Korea to end its nuclear weapons program.
Early on Wednesday, North Korea launched a new type of long-range intercontinental ballistic missile (ICBM) called a Hwasong-15.
Read more: North Korea: Unwanted war 'closer,' US warns
Although Nauert's call was directed at all countries, she cited Germany in particular when asked a follow-up question by a DW reporter.
"Would you also want Germany to recall the ambassador or end diplomatic relations? Or is that maybe an important channel of communication, also for the US?" asked DW's Carsten von Nahmen.
The spokeswoman noted that the German government had been helpful in combatting North Korea's "guest worker" system, wherein forced laborers work in foreign countries and allegedly send back money that ends up helping leader Kim Jong Un's regime.
But Berlin, and others, could do more, according to the US.
"We would continue to ask Germany or other countries around the world to recall those ambassadors," Nauert said, adding that Washington is continuing to have conversations with several countries to "shrink the footprint that North Korea has in any given country."
The US Ambassador to the United Nations Nikki Haley echoed these comments in remarks at a UN Security Council meeting on North Korea later on Wednesday, saying "all countries should sever diplomatic relations with North Korea" and "cut off trade with the regime."
Read more: Why North Korea's latest ICBM launch is an opportunity
Germany, Russia reject US request
Jürgen Hardt, a member of German Chancellor Angela Merkel's conservative Christian Democrats and the government's coordinator for Transatlantic Cooperation, rejected the call to cut ties with North Korea on Thursday.
He said that Germany "shouldn't follow" Washington's request to withdraw its ambassadors from Pyongyang.
Hardt said that since a diplomatic solution is the only way out of the North Korea crisis, "we cannot solely rely on the Chinese or the Russian embassies in North Korea."
The CDU politician added that it's "good that Europe — and thereby the West — has an anchor in Pyongyang with the German embassy."
Moscow likewise rejected Washington's call for countries to sever diplomatic ties with North Korea.
"It's as if the recent actions of the United States are consciously directed to provoke Pyongyang towards other radical actions," Russian Foreign Minister Sergey Lavrov told journalists in Minsk.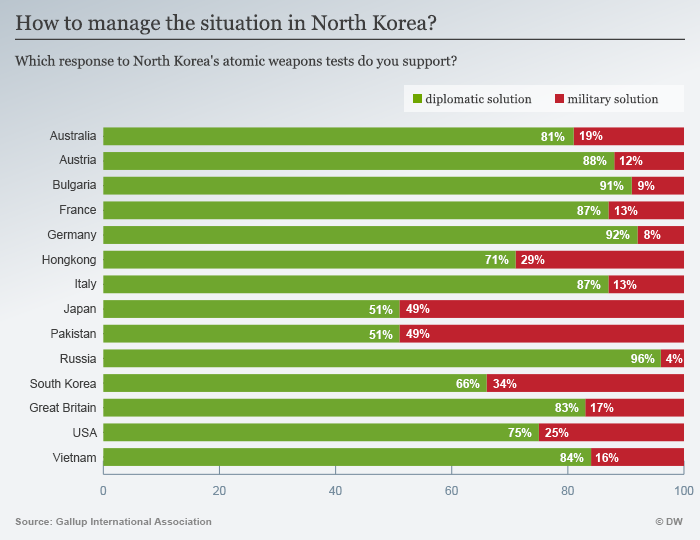 Germany's diplomatic ties with Pyongyang
Along with Germany, Britain and Sweden have diplomatic representation in North Korea and share a compound in Pyongyang.
Russia and China, North Korea's closest allies, have embassies and consulates in the country while India, Pakistan, Poland and other countries also have diplomatic representation.
North Korea's ties with Germany are largely a remnant of former East Germany's diplomatic relations the country. Following German reunification, North Korea's embassy in eastern Berlin was turned into an "Office for the Protection of the Interests of the Democratic People's Republic of Korea (DPRK)" with China acting as a protective power. Reunified Germany later established diplomatic relations in 2001.
Read more: Japan 'ghost ships' drifting from desperate North Korea
The reclusive state's embassy in Berlin made headlines earlier this year when the German government moved to implement a new raft of UN sanctions which also barred North Korea from renting out diplomatic property for profit — including a youth hostel in the heart of the German capital.
The Berlin City Hostel, located not far from the famous Brandenburg Gate, rents its building from North Korea's embassy and reportedly pays around €38,000 ($45,100) per month.
Under pressure from the German government, North Korea canceled its rental agreement, but the hostel is still operating as the challenge the move in court.