"Pass it to me!" Ali, 7, kicks an empty Cola Cola bottle to his older brother, Khaled, 9, who stops it with a fancy backwards kick. Another young boy jumps into the impromptu football match, hogging the empty bottle, refusing to pass it to the other boys.
Ali and Khaled are brothers from Aleppo, Syria - and they are playing coke bottle football in the courtyard of a mosque next to a bus station. Right now, they are passing the time - waiting to be told whether or not they can board buses to go to the border city of Edirne, a Turkish city that sits at the Greece, Turkey and Bulgaria border. For many Syrians and other refugees trying to make their way to Europe, this city symbolizes the first major frontier of their journey.
"If there are enough of us, maybe we could pressure the authorities to open the border," Fahd, a 25-year old traveling from Homs also waiting in the courtyard of the mosque tells DW. Like many present today he has a large garbage bag of clothing with him, ready to seize the opportunity of an open border to continue his journey to Europe.
Lack of support
One part migration route, one part sit-in, this gathering of more than 2,000 refugees has organized under the slogan, "We Are Passing Through, Nothing More" to protest the lack of support that international bodies such as the United Nations have shown toward refugees. Today they are hoping to travel to Edirne and cross the land border between Turkey and Europe, boycotting the rapidly growing smuggling industry which brings refugees to Europe by a dangerous sea journey which has been erected in the absence of any legal alternatives.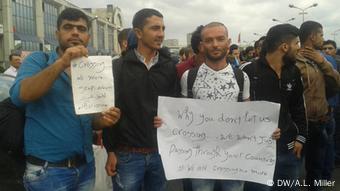 'Just passing through....'
"They are criminals," Ahmed Amin tells DW. He's one of the organizers, speaking about the smugglers who take refugees to Europe in small dingy or rubber boats. "They are trying to profit off of our misery."
Although Sweden, and most recently, Germany, have opened their borders to Syrian refugees, for most Syrians there is currently no legal means of travel between Syria - or Turkey, Lebanon and Jordan, where many are living as refugees - and Europe. The combination of escalating violence in Syria and Iraq, uncertainty and economic difficulties of living as refugees in Turkey, Lebanon and Jordan, and the promise of papers, security, and a future in Europe has caused the number of refugees and refugee families making the journey to skyrocket.
Too many obstacles
"Here the rent is expensive, and there is very little work," Salam, a 36-year-old woman from Aleppo who has been living in the southern city of Gaziantep for one and a half years, tells DW. While some Syrians have managed to secure work in Turkey, employment discrimination and the language barrier makes finding stable work difficult for most of Turkey's almost two million Syrians.
Today she is traveling with her 14-year-old daughter. "In Germany we could actually have a future,"she says.
While the journey to Europe used to cost $6,000 (5,400 euros) and involved a dangerous four-day sea journey between Libya and Italy, the price dropped to $1,200 when a shorter, and significantly less dangerous route was discovered between Turkey and the Greek islands of Lesbos and Kos. Significantly less risky, and more financially accessible, an estimated 258,000 refugees have made the crossing this summer alone, triggering a boom in the human smuggling business in Turkey.
Still, though significantly safer, the journey is not without danger. Just this past week, 22 refugees drowned at sea when a boat capsized off the coast of Turkey. Once they arrive, they face a maze of borders, and police who - particularly in Hungary - have shown disproportionate force toward refugees, even if they are only passing through.
"We shouldn't have to go by boat, and risk drowning in the sea," said Yasser, a 21-year-old engineering student from Aleppo, wearing a print-out of the now iconic, viral picture of 3-year-old Aylan al-Kurdi pinned to his shirt.
"Where is the United Nations? Where are the human rights laws that are supposed to protect us as refugees?"
Diminishing options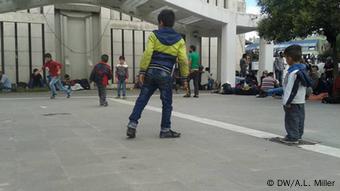 Whiling away the time is all these young refugees can do
However, many of these refugees may not have a choice. While this morning they were expecting to board buses for Edirne, they arrived at the bus station only to be told that the bus company had been instructed not to sell tickets to Syrians bound for Edirne. Although some opted to walk the 150-mile journey that would take three days even for the young and able-bodied, others stayed at the station after being told that the Turkish police would provide buses - only to have the police forces surround the station, trapping the refugees inside - where many still remain, waiting for an alternative.
"I suppose we will just have to wait," said Hala, a 26-year-old English teacher from the Palestinian refugee camp of Yarmouk, outside of Damascus who has been living in Turkey for the past two years. She throws her head back and laughs, perhaps at the absurdity of the situation.
"Quite honestly we have no where else to go."