1. He really calls himself Darth Vader
It may be playing on his opponents' fears or he could be serious: Both in The New York Times and The Hollywood Reporter, Bannon likened himself to the force of darkness from Star Wars. "Darkness is good," he told the Reporter. "Dick Cheney. Darth Vader. Satan. That's power." Before being fired as Trump's chief strategist, Bannon was often called the ideological puppet master behind many of Trump's decisions, including the infamous travel bans.
Read more:
- Steve Bannon calls Donald Trump Jr.'s Russia meeting 'treasonous'
- Donald Trump-Steve Bannon spat: President's lawyers issue legal threat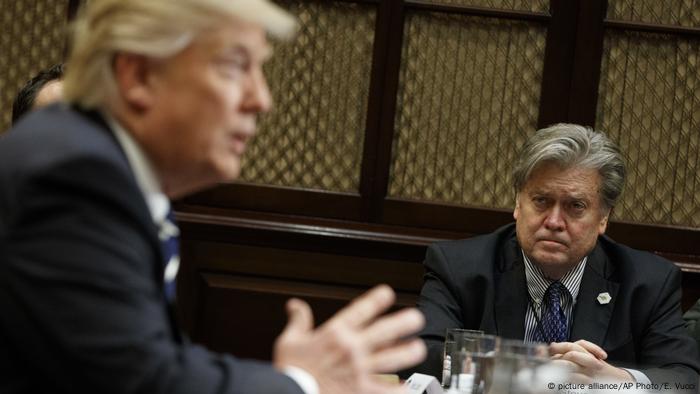 Bannon was chief executive of Donald Trump's presidential campaign
2. Bannon empowered the 'alt-right'
Bannon has a long record to support his ideology. He became politically aware in the 1970s, he said, while serving on a US Navy destroyer in the Indian Ocean. President Jimmy Carter did not respond hard enough to the Iran hostage crisis, in his view. The event pushed him to the right - clearly anti-Muslim and vaguely racist. The ultraconservative media organization Breitbart yields further insight into his worldview.
He served as its executive chairman from 2012-2016 and wrote extensively for the platform before being dumped in the wake of the "Fire and Fury" exposé.
It was Breitbart's sensational headlines and conspiracy theories that helped push the Republican Party further right and ushered Trump into the White House. In 2016, Bannon was asked if his alt-right movement was racist and anti-Semitic. "Are there anti-Semites within the alt-right? Absolutely. Are there racists within the alt-right? Absolutely. But I don't think the movement itself is anti-Semitic."
Read more:
- German companies pull ads from Breitbart
- Breitbart declares war on 'far-left' Kellogg's
3. 'Fear is a good thing'
Bannon seems to prefer warlike rhetoric and friend-versus-foe philosophy. It's likely Trump's inaugural speech was largely a product of Bannon's pen. The president spoke of "American carnage" devastating US cities and states, part of a dark and terrifying address that painted the US and the world in stark strokes of downfall. In the escalating tension with North Korea, Trump threatened "fire and fury like the world has never seen."
"Fear is good. Fear is going to lead you to take action," Bannon said in his 2010 documentary, produced to stir up America's new right.
4. He earns money every time you watch Seinfeld
Bannon may rail against so-called liberal Hollywood, but he also profits from it - specifically, with every airing of "Seinfeld." Bannon owns a stake in the famous sitcom from the 1990s after negotiating the sale of its production company to Ted Turner. Jason Alexander, the actor who played Seinfeld's neurotic George Costanza, called it "sad" on Twitter.
This was all before Bannon's turn to the right with Breitbart. By that point in his career, he had already earned millions in the 1980s as an investment banker for Goldman Sachs. It is another talent Bannon seemingly had in common with his former boss: making deals that largely enrich himself.