US President Donald Trump doubled down on his comments to North Korea on Thursday, saying that his "fire and fury" warning on Monday maybe "wasn't tough enough."
"It's about time somebody stuck up for the people of this country and the people of other countries, so maybe that statement wasn't tough enough," Trump told reporters during his vacation at his New Jersey golf resort before meeting with national security advisers.
Read more: Donald Trump has 'carte blanche' to order use of nuclear weapons
He said that Pyongyang "better get their act together or they are going to be in trouble like few nations have ever been in trouble."
Trump added that North Korea should be "very, very nervous" if it launches an attack "on anyone we represent, or our allies or us."
In a statement via its website on Friday, the Chinese foreign ministry called on all sides to speak and act with caution and to help ease the present tense situation. An increase in mutual trust rather than shows of strength were needed, the ministry statement added.
'Tragedy of war'
Despite sticking to his combative tone, Trump said Washington will "always consider negotiations" with Pyongyang.
US Defense Secretary James Mattis on Thursday warned of the disastrous consequences a war with North Korea would have.
Read more: Experts urge Donald Trump to dial down North Korea rhetoric
"The American effort is diplomatically led, it has diplomatic traction, it is gaining diplomatic results and I want to stay right there right now," said Mattis during a California event.
"The tragedy of war is well-enough know it doesn't need another characterization beyond the fact that it would be catastrophic."
However, when asked if Washington was ready to address North Korea's threat, he replied: "We're ready."
Guam nervous about rhetoric
North Korean military officials said on Thursday that plans to launch missiles towards the US island territory of Guam will be ready by mid-August. Afterwards, they will be presented to the country's leader Kim Jong Un.
The plans called for four intermediate-range missiles to land in the sea 30-40 km (18-25 miles) from Guam, according to North Korea's state-run KCNA news agency.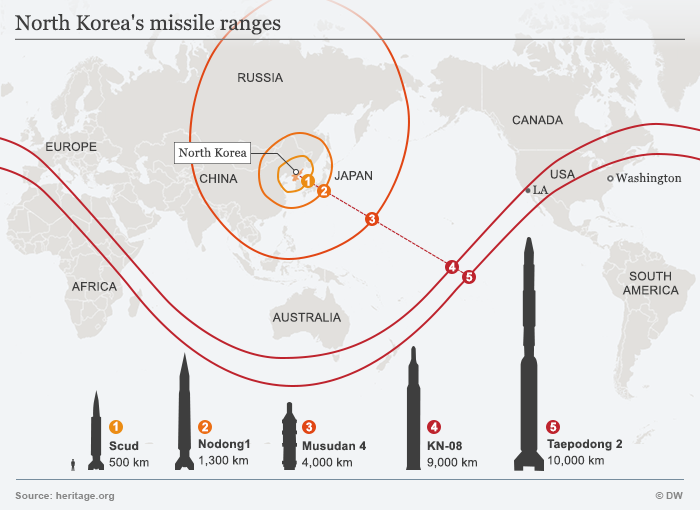 Pyongyang officials also described Trump's threats as a "load of nonsense."
"Sound dialogue is not possible with such a guy bereft of reason and only absolute force can work on him," the military said in comments carried by state-run news agency KCNA.
'Irresponsible'
Guam Senator Benjamin Cruz told DW that local residents were most concerned about Washington and Pyongyang's "irresponsible" rhetoric.
Read more: Does the US have to accept North Korea as a nuclear power?
"We're really more concerned about the almost irresponsible and provocative statements coming from both people who purport to be the leaders of two nations that are really disconcerting," Cruz told DW.
Guam, an island in the Pacific, is a major military hub for the US and home to US bombers.
World on edge
Several world powers, including Germany, have urged both sides to show restraint. China has described the situation as "highly complicated and sensitive."
Tensions on the Korean Peninsula ramped up after Pyongyang carried out two intercontinental ballistic missile (ICBM) launches last month.
Read more: What is China's role in the North Korean crisis?
The tests prompted the United Nations Security Council to unanimously pass its seventh round of UN sanctions that could cost North Korea $1 billion (849 million euro) per year.
The European Union announced on Thursday that it had expanded its North Korean sanctions blacklist as part of the UN resolution.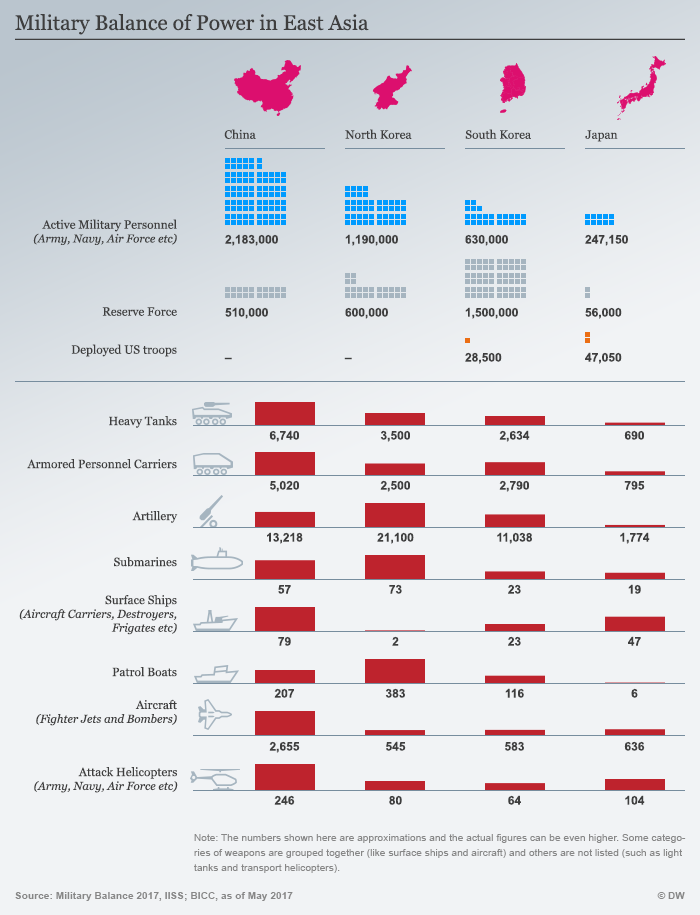 ls,rs/sms(AP, dpa, Reuters)