This time, it seemed North Korea had overstepped the mark when it carried out its largest nuclear test at the weekend. Its powerful neighbor and ally China lodged an official protest.
"We launched stern representations with the person in charge of the DPRK [the acronym for the North's official name] embassy in China", said Foreign Ministry spokesman Geng Shuang. "China opposes the DPRK in carrying out nuclear missile development and we are committed to denuclearisation of the peninsula. This position is well-known and the DPRK also knows this position perfectly well."
Read more: The North Korea crisis: 10 questions, 10 answers
It was the second time this year that North Korea had embarassed China with a nuclear test just as Beijing was preparing to hold an international summit. In May, Pyongyang conducted a missile test just as China was about to open an important trade meeting.
The latest hydrogen bomb test was launched as China prepared to host the BRICS summit.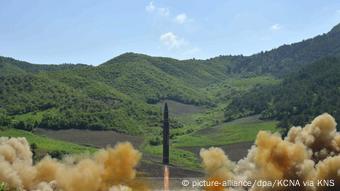 North Korea tested intercontinental ballistic missiles twice in July
It is no secret that Beijing wants to hinder a military escalation or even regime change in North Korea at any price. If dictator Kim Jong Un's regime were to collapse, China would face a massive influx of refugees from its impoverished neighbor.
Furthermore, China would lose its northern buffer, and the US and its ally South Korea would be at its doorstep.
China is therefore very interested in getting both adversaries back to the negotiating table.
To make that happen, Beijing has said that the US and South Korea should cease conducting joint military maneuvers in the region, and North Korea should freeze its nuclear weapons program.
Washington and Pyongyang have both rejected those proposals.
Read more: Hydrogen vs atomic bomb: What's the difference?
Sanctions not working
The conflict is entrenched. Since North Korea conducted its first nuclear test in October 2006, the United Nations Security Council has issued, strengthened and expanded sanctions against Pyongyang eight times. So far, with little to show for it. The sanctions have done nothing to keep North Korea from pushing forward with its nuclear and missile programs.
"External sanctions will only delay North Korea's development of nuclear weapons and missiles, but cannot crush the determination of Pyongyang to stick to its path," read an online editorial from China's English-language newspaper, the Global Times.
The editorial went on to say the US has for years tried to put blame on China for the swelling conflict: "The US wants China to play a leading role in sanctioning Pyongyang so it can reap the benefits.
Meanwhile, the US and South Korea could just be bystanders as China and North Korea confront each other. By shifting responsibility to China, the US can also cover up its inability to deal with the North Korean nuclear issue."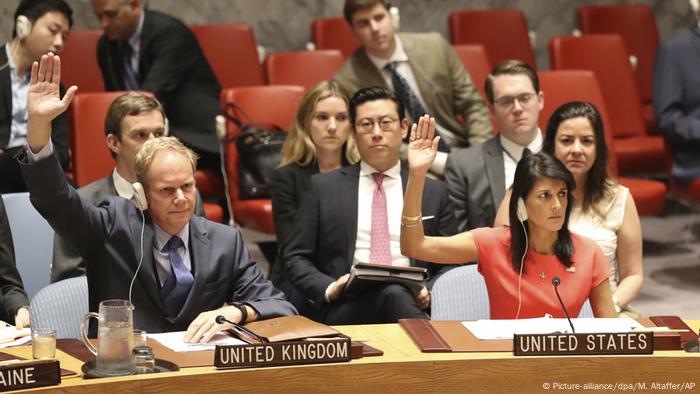 The UN Security Council voted unanimously to introduce fresh sanctions against North Korea on August 5
New self-confidence in Pyongyang
Zhang Liangui is a professor for international strategic research at the Central Party School of the Communist Party of China in Beijing and has been following the conflict in North Korea for years.
"Pyongyang's leadership believes that after five nuclear tests and two intercontinental ballistic missile tests it now has the ability to directly threaten US security," he told DW. "They may be of the opinion that Washington is at a loss and that they can now enter an eye-to-eye conflict with the US."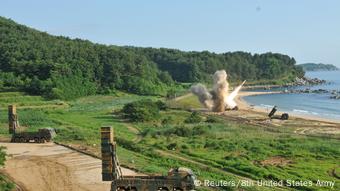 Pyongyang views the annual joint US-South Korea military exercises in the region as provocation
But Zhang believes that is a fallacy, saying that North Korea is grossly overestimating its own ability. "And that, in turn, is extremely dangerous," he said. "The ever-harsher rhetoric is making a swift resolution to the conflict absolutely necessary. North Korea has already crossed Washington's red line."
By publicly announcing the possibility of attacking Guam (a US territory), Pyongyang is directly threatening US security, and that has greatly increased the specter of escalation, explained Zhang. "It is entirely possible that Washington will lose the patience required to find a peaceful solution," he said.
Dark predictions and a lot of open questions
"As a next-door neighbor, China will not allow the US and North Korea to start shooting at each other with nuclear weapons in its own front yard," said Zhang. Security is the utmost priority for Chinese leadership, he added, and Beijing fears that a military conflict could result in much of its own country being massively contaminated by nuclear fallout.
All parties concerned must realize that North Korea will steadfastly refuse to give up its nuclear program, Zhang said, and others must finally accept that fact. "North Korea slammed that door shut long ago," he added. "The chances of success in convincing them otherwise are zero."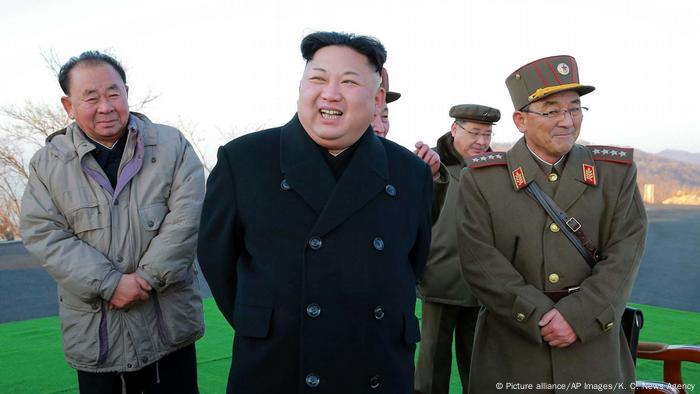 North Korean state media says Kim is preparing the country's military for a potential strike on Guam
China's role as mediator
In general, tensions on the Korean Peninsula have regularly oscillated between phases of easing and extreme intensification for decades. And calls for Chinese intervention come just as regularly. China is North Korea's biggest trading partner by far, and has often protected Pyongyang in the past - for instance, by continually blocking UN sanctions. No country is thought to have more influence over North Korea than China.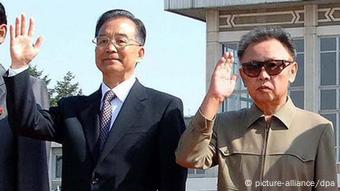 China-North Korea relations have soured since Kim Jong-il's death in 2011
Beijing has traditionally played down its own role in the conflict. The Global Times editorial also addressed the topic: "Since the UN Security Council began to impose sanctions on North Korea in 2006, China has paid the highest economic and diplomatic price. China-North Korean relations started to chill at that time. It has been six years since top leaders of the two countries exchanged visits."
In other words, the claim is: China's influence is limited.
Zhang Liangui is also cautious about answering questions on China's role in the simmering conflict. Asked if Beijing is conducting closed-door talks with North Korean representatives, Zhang said he couldn't say.
But he added that he doesn't think that to be the case. He also declined to say exactly what he thinks China could do to defuse the situation, adding rather: "We should leave that to decision makers."