The White House ended months of speculation on Friday about the future of the man credited with orchestrating US President Donald Trump's election win, after what many consider was the billionaire's disastrous first six months in office.
Spokeswoman Sarah Huckabee Sanders said Friday would be Steve Bannon's last day after Trump moved to dismiss his chief strategist.
"White House Chief of Staff John Kelly and Steve Bannon have mutually agreed today would be Steve's last day," Sanders said in a statement. "We are grateful for his service and wish him the best."
Bannon, the former head of ultraconservative Breitbart News, who has been accused of being a white supremacist, was reported to have submitted his resignation to the president on August 7, but it was delayed in the wake of the deadly events involving neo-Nazis in Charlottesville.
Ready to 'crush the opposition'
Within hours of his firing, Bannon confirmed to Bloomberg News that despite the setback, he was "going to war for Trump against his opponents." Breitbart confirmed its former boss would return to the provocative right-wing news site as executive chairman.
"The Trump presidency that we fought for, and won, is over," Bannon told the conservative US magazine The Weekly Standard. "We still have a huge movement, and we will make something of this Trump presidency. But that presidency is over."
Bannon also said he would use Breitbart to attack opponents of the populist and nationalist agenda he championed, including establishment Republicans.
"I am definitely going to crush the opposition," Bannon said.
Read more: Full profile of Stephen Bannon

Chief of staff Kelly acts on his review
The arrival at the White House of former US Marine General John Kelly as chief of staff in July appears to have been the trigger for Bannon's departure. Kelly was reported to have been reviewing Bannon's position as part of his strategy to make White House staff communicate better and get things done more effectively. There was also resentment about Bannon's critical remarks directed at national security adviser H.R. McMaster.
Kelly spent a week at Trump's golf club in New Jersey earlier in August and summoned aides to ask about their portfolios as he gave them clear responsibilities with the aim of holding them more accountable, according to press reports. He also met with the president's son-in-law Jared Kushner about making changes. Bannon had remained in Washington.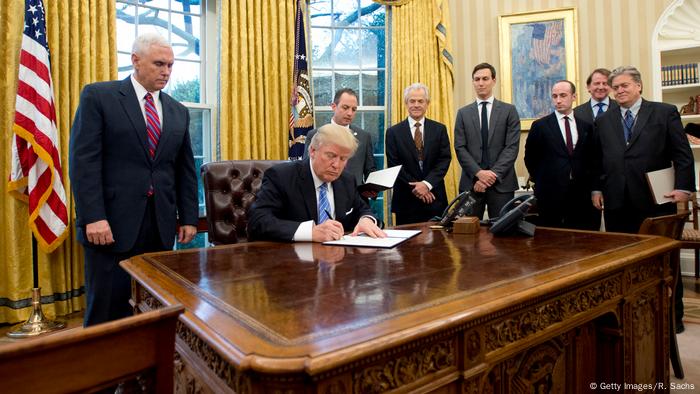 Trump signs one of his first executive orders in January with Bannon in the room
Distance from Trump
Trump is believed to resent the credit given to Bannon for his election to the presidency and for taking the public spotlight from the president. Bannon is also believed to have leaked information about other White House officials to the press.
The former leader of far-right news site Breitbart News had promoted Trump's most controversial measures such as the travel ban on people coming into the US from six mainly Muslim countries and on all refugees, and the decision to pull out of the Paris Climate Agreement.
However, Bannon's public utterings on North Korea policy and claims to be able to oust a top State Department Asia envoy close to Secretary of State Rex Tillerson in an interview with liberal magazine American Prospect seem to have been his final steps over the edge.
At a dramatic impromptu news conference Tuesday when Trump defended his initial remarks on Charlottesville, again blaming "both sides" for the violence, he appeared to distance himself from Bannon: "He's a good person. He actually gets very unfair press in that regard," Trump said. "But we'll see what happens with Mr. Bannon."
jm,mm/sms (Reuters, AP, AFP)