The "alt-right" publication launched an attack on the cereal company by publishing a number of anti-Kellogg articles of Wednesday and Thursday. In the articles, Breitbart decries the "far left" company for donating to dozens of organizations fighting racism and child abuse.
The "left-wing causes and projects" backed by Kellogg's included Save the Children Fund, the Ms. Foundation for Women, and the World Wildlife Fund, according to information cited in the report.
One headline accused the company of declaring "hate" for its readers, another focused on a Breitbart-generated petition urging Kellogg's to change policy, claiming 125,000 signatures so far. In a separate story, Breitbart even rehashed a viral video of a man who "appears to urinate on a Kellogg's cereal assembly line."
Also, the company asked its readers to boycott the cereal company, going on twitter under hashtag #DumpKelloggs. The "alt-right" movement, to which Breitbart belongs, includes a mix populism, racism, white nationalism and anti-immigrant views.
Not everyone found Kellog's decision to be a bad one.
Previously, the cereal company had announced that it would be pulling its ads from Breitbart, which critics often label a far-right hate site.
"We regularly work with our media buying partners to ensure our ads do not appear on sites that aren't aligned with our values as a company," said Kellogg Co. spokeswoman Kris Charles, as quoted by the AP news agency.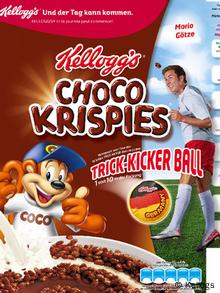 Footballer Mario Götze appears on Kellogg's Choco Krispies in Germany
The outlet was run by Steve Bannon who later became Donald Trump's top campaign strategist. After the election, Trump named Bannon his senior advisor in his new White House team.
Several other companies have recently declared they would not advertise on the site, coinciding with the Stop Funding Hate campaign that is urging the public to pressure companies to withdraw their ads from tabloids in the UK, particularly The Daily Mail, The Sun and The Daily Express.
On Wednesday, Breitbart's editor-in-chief, Alexander Marlow, said that Kellogg's decision amounted to a "spit in the face" of their readers.
"For Kellogg's, an American brand, to blacklist Breitbart News in order to placate left-wing totalitarians is a disgraceful act of cowardice," he said. "If you serve Kellogg's products to your family, you are serving up bigotry at your breakfast table."
The outlet, which claims 45 million unique visitors in the last thirty days, says that Kellogg's decision would have "virtually no revenue impact" on it. However, it reported that the boycott represents "an escalation in the war by leftist companies" against conservative voters "whose values propelled Donald Trump into the White House."