A Saudi team arrived in Pakistan on Sunday to sign four contracts for oil and mineral sector investment and trade cooperation that, according to local media, "would ultimately extend the Chinese Belt and Road Initiative (BRI) from Gwadar to Africa through Oman and Riyadh."
In 2015, President Xi Jinping announced the China-Pakistan Economic Corridor (CPEC), a $60 billion initiative, which is part of his intercontinental BRI. CPEC aims to expand China's influence in Pakistan and across Central and South Asia, as well as counter US and Indian influence in the region. It also includes plans to create road, rail and oil pipeline links to improve connectivity between China and the Middle East.
As Pakistan is grappling with an acute economic crisis, experts say CPEC has the potential to stimulate much-needed economic activity in the country.
But many CPEC projects have not really taken off because of political instability in Pakistan. China is reportedly weighing the new government's steps regarding the project. Although Beijing and Islamabad agreed to include a third country, China can still convince Pakistan to not allow certain countries to participate in CPEC.
Read more: China's economic corridor creating new conflicts in Pakistan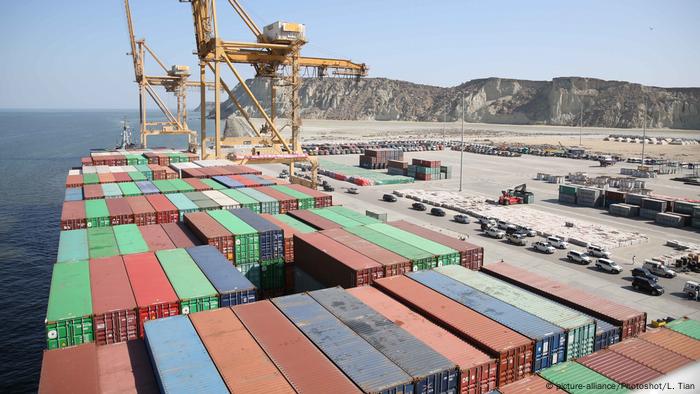 Despite Chinese-Pakistani development projects in Gwadar city, Baloch activists say locals still have no access to clean water
Saudi-Iranian rivalry
Some analysts say Pakistan's offer to Saudi Arabia to participate in CPEC and Riyadh's investment in western Baluchistan province bordering Iran and Afghanistan, could irk Tehran.
Riyadh is Washington's closest ally in the region, and its involvement in a China-led economic project raises a number of questions about new geopolitical alignments.
Iran, for instance, would certainly not want a Saudi presence next to its border.
"Gwadar [a port city in Baluchistan] has a proximity to Iran's Chabahar port and the Reko Diq project close to Zahedan, which is the capital of Iran's Sistan-Baluchestan province. Sunni militants [who subscribe to the Saudi-Wahhabi ideology] are active in the area. Why would Tehran not be disturbed by Saudi Arabia's investment in Gwadar?" Mir Hasil Khan Bizenjo, the minister for ports and shipping in ex-PM Nawaz Sharif's government, told DW.
Read more: Gwadar – Pakistan's impoverished colony or an economic hub?
Bizenjo fears that allowing Saudi Arabia to play an active role close to the border with Iran would fuel sectarian conflict.
"The incumbent government is bringing Saudi Arabia closer to Gwadar. In other words, the hardline Sunni-Wahhabi state would be closer than ever to the Iranian border. This is likely to infuriate Tehran," Bizenjo, who is also a veteran Baloch politician, added.
Bizenjo said the new government headed by Prime Minister Imran Khan suddenly decided to hand over some CPEC projects to Saudi Arabia, without consulting anyone.
"Previously, China was supposed to build an oil city in Gwadar. Now we have been told that Saudi Arabia will set it up. I think it will also infuriate China. The opposition will take this issue up in parliament," said Bizenjo.
Read more:
Can India challenge China with new Iranian Chabahar Port?
Pakistan on collision course with Iran?
No free hand to Beijing?
Pakistani media reported last month that China was unhappy with CPEC criticism coming from a Pakistani government official.
Abdul Razak Dawood, Pakistan's minister for commerce, industry and investment in Prime Minister Imran Khan's government, suggested that all CPEC projects could be suspended until a review is completed.
Days after Dawood's statement caused diplomatic tension, Pakistan's army chief General Qamar Javed Bajwa visited Beijing to allay Chinese concerns.
Khurrum Sher Zaman, an official belonging to Khan's Pakistan Tehreek-e-Insaf (PTI, Movement for Justice) party says the government is not opposed to CPEC.
"We have not taken a U-turn on CPEC. The finance ministry made some changes to the budget so that we can study and review some of the CPEC projects. But that does not mean that the government wants to scrap it. CPEC is crucial for Pakistan and its future," Zaman told DW.
But analysts say that Khan's new government, which was inaugurated in August, has hinted that it would not give China a free hand over CPEC.
"The commerce minister represents his country's business community. He actually echoed the sentiments of Pakistani industrialists who are wary of China's growing control on Pakistan's economy," Ayub Malik, an Islamabad-based analyst, told DW.
Need for cash
Some analysts believe that by criticizing CPEC, the new government is also trying to send a signal to Washington that it does not intend to break ties with the US just to appease China.
Khan's government urgently needs an International Monetary Fund (IMF) bailout to pay its debts, and the US, which has the biggest share in the IMF, has made it clear that it would not allow the West's money to be used to repay China.
The South Asian nation's economy has been in poor shape over the past several years. While its current account deficit jumped 43 percent to $18 billion ($15.4 billion) in the fiscal year that ended June 30, its fiscal deficit rose to 6.8 percent of GDP.
The country's foreign exchange reserves, meanwhile, are dwindling, plummeting to just over $9 billion now from $16.4 billion in May 2017. The central bank has been forced to devalue the currency three times since December. Rising global crude prices present another challenge, as Pakistan imports about 80 percent of its oil needs.
Read more: Pakistan's bailout becomes a pawn in US-China tensions
Khan's government, thus, appears to appease Riyadh and Washington to help Islamabad tackle the financial crisis.
Ayesha Siddiqa, a renowned security analyst and researcher, believes Pakistan has no option but to create strategic space for the Saudi kingdom.
"The US blocked $900 million (€781 million) in military aid for Pakistan. The new government needs some relief in this regard. In 2013, Riyadh bailed Pakistan out, hence Islamabad is willing to give concessions to Saudi Arabia by offering it a partnership in CPEC," Siddiqa told DW.
Read more: US aid cut: Why Pakistan shouldn't rely on China
But pro-government analysts claim the Saudi investment will neither infuriate China nor will it anger Tehran.
"The nature of our ties with China is strategic. Beijing provides us with a number of defense related materials. Saudi investment, on the other hand, will create more jobs for Pakistanis, because unlike China, the kingdom does not bring its own engineers and workers for economic projects," Aijaz Awan, a retired military official and defense analyst, told DW.
"The Saudis will also benefit from this partnership because many countries are interested in refining their oil," he added.
Resting ties with Washington
Pakistan has a close strategic partnership with China, which considers Islamabad an important ally in dealing with its regional rival India. At the same time, Pakistan's ties with Saudi Arabia are also very strong.
Saudi Arabia also has a strong religious influence on Pakistan. There are thousands of Riyadh-funded seminaries operating across Pakistan. Many religious parties subscribe to a hardline Saudi-Wahhabi ideology. Many militant groups in the South Asian country consider Shiite Iran as their rival.
But Riyadh was reportedly irked by Former PM Nawaz Sharif's government when Islamabad refused to send troops to support the Saudi-led campaign in Yemen. The former government felt Pakistan's involvement in the conflict would create problems with Iran, which is reportedly backing Shiite Houthi rebels in Yemen.
Although Khan's government pledged to stay neutral in the Saudi-Iranian tug-of-war in the region, Khan chose to visit the conservative kingdom for his first official first trip as prime minister.
"Through CPEC participation, the Saudis will get access to the Arabian Sea and Indian Ocean. So, the Saudi investment serves multiple purposes," analyst Siddiqa said.
Pakistani Foreign Minister Shah Mahmood Qureshi was set to hold talks Tuesday with US President Donald Trump's security adviser John Bolton and Secretary of State Mike Pompeo. Qureshi and Pompeo hope to reset bilateral ties as soon as possible.
Read more: Mike Pompeo visits Islamabad: Can the US and Pakistan reset bilateral ties?
Aman Memon, a lecturer at the Islamabad-based Preston University, says Pakistan is willing to move back into the orbit of American influence. "The Saudi investment in CPEC is likely to upset Beijing because Riyadh and Washington are the two sides of the same coin. In my opinion, it is not only Saudi Arabia but also the US that is entering CPEC," Memon told DW.