On Sunday, Iranian President Hassan Rouhani inaugurated a newly constructed extension to Chabahar Port, a deepwater harbor located in southeastern Iran on the Gulf of Oman. The expansion is the first phase in a series of projects organized under a 2016 transport agreement between Iran and India.
Read more: Examining the implications of the Indo-Iranian Chabahar port deal
By gradually increasing capacity, Chabahar Port will open markets in Afghanistan and Central Asia to Indian products while bypassing Pakistan. The current capacity of the harbor after the expansion is reported to be 8.5 million tons of cargo annually.
The stage is being set for a geopolitical trade rivalry, with the Chinese-sponsored port at Gwadar, Pakistan, also being expanded less than 100 kilometers (60 miles) away.
The longstanding conflict between India and Pakistan has made it difficult for India to establish a secure transit route to markets in Iran, Afghanistan, Central Asia and the Gulf region. India's archrival Pakistan forbids land transit of Indian goods across its territory. By funding the expansion of Chabahar Port, India solves this access problem with a secure transit route.
Chabahar is located 900 kilometers (560 miles) from India and is the only Iranian port with direct access to the Indian Ocean. Last year, India agreed to invest another $500 million (420 million euros) in developing the port along with road and rail lines.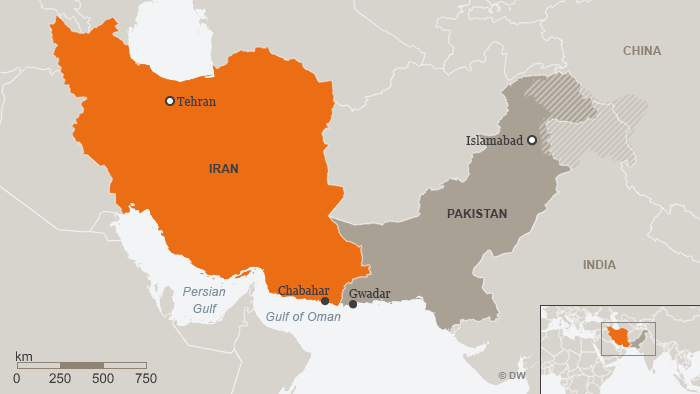 Michael Kugelman, Asia Program Deputy Director at the Woodrow Wilson Center in Washington DC, told DW that the Chabahar expansion could hypothetically be a huge boon for the economies of India and Afghanistan.
"I say it's a potential game changer because we're a long way away from this project being truly operational. I don't think we should overstate the progress that's been made with this project just yet," said Kugelman.
"There have been agreements and they've had a few initial shipments of wheat and things like that. But there's a lot of work that needs to be done on this project before we could start talking about it being completely operational," he added.
Trouble for Pakistan?
The geopolitical implications of Chabahar's expansion become clearer when looking down the coastline at the Pakistani port at Gwadar. China has invested $54 billion in infrastructure projects known as the "China-Pakistan Economic Corridor" under the "One Belt, One Road" initiative. The port at Gwadar is being built with Chinese money to serve as Beijing's gateway to global markets via the Indian Ocean.
Gwadar also serves China as a secure oil route and could eventually be developed into a Chinese military base, considering its strategic location near India. India sees its position as a regional power threatened by the port at Gwadar, along with the close cooperation between China and Pakistan.
Dr. Abdol Sattar Dushouki , from the Centre for Balochistan Studies in London, told DW "when both harbors are fully functional, it could increase competition and tension between shipping companies in the region."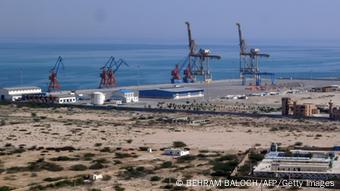 China-funded Gwadar Port under construction in 2013
Dushouki added that India's ability to access Central Asia and gain influence in Afghanistan depends on how fast the projected expansion of Chabahar can be completed. "It depends on the speed of increasing the harbor's capacity from the current number of 8.5 million tons to 80 million tons of annual freight capacity," he said.
Pakistan is concerned about Indo-Iranian economic ties, even if Iran insists that its growing cooperation with India is not being directed against Pakistan and China. At the inauguration on Sunday, Iran's Rouhani downplayed the Gwadar-Chabahar rivalry in a speech, saying the port would bring "more engagement and unity" to the region.
"We should go after positive competition. We welcome other ports in the region, we welcome Gwadar's development," the Associated Press reported Rouhani as saying.
Read more: Can Afghanistan step out of Pakistan's shadow?
Pakistan is also worried about competition from a flood of Indian goods in Central Asia and Afghanistan that could make Pakistani products less expensive and push them out of markets. There is also concern that India will use its increased influence in Afghanistan to destabilize Pakistan.
"Pakistan sees India as an existential threat and the idea of India being in any way present on Pakistan's western flank in Afghanistan will always raise alarm bells in Islamabad," said Kugelman from the Wilson Center.
"I think the Chabahar port project is something that doesn't really worry Pakistan in the immediate sense because the Pakistanis know it's going to be a long time before Chabahar really starts to have any type of concrete impact in terms of deepening trade relations and transit between India and Afghanistan and Iran," he said, adding that Pakistani retaliation to deepening ties between India and Afghanistan could be concerning in the future.
"If Pakistan believes that India is deepening its relationship with Afghanistan, does that mean it could then increase its support to the types of non-state actors that threaten India and Afghanistan?" he said. "Does this mean that Pakistan could try to encourage the likes of the Haqqani Network to try to target Indian interests in Afghanistan such as consulates or even the embassy? We don't know."
Role of China and the US?
At this point, however, the regional economic and geopolitical rivalry posed by the Chabahar Port is only speculative and the big increases in trade flows remain projections on paper.
Read more:China's economic corridor creating new conflicts in Pakistan
"India tends to move at a rather slow pace when it comes to these major development schemes just for reasons of bureaucracy and other factors. This is a far different cry from China working on its Belt and Road Initiative," said Kugelman. "China can move very quickly and it's simply very efficient in that way, but India takes a longer time," he added.
Despite Washington's tough stance toward Iran, the US has yet to object with Iran's increased cooperation with India. In October, during an appearance in New Delhi, US Secretary of State Tillerson said that the US would not block "legitimate" business activities with Iran by India or any other ally. He also said that he saw "no contradiction" with US-Iran sanctions and India's bilaterial port development deal in Chabahar.
It is possible that this conciliatory tone from the US is rooted in an interest to promote India as a regional power ruled by a democracy. By expanding India's economic reach, Afghanistan could be drawn more into New Delhi's orbit and at the same time Chinese influence in the region would have a strong rival.
"Potentially it's a huge achievement for all the countries involved and it could pay huge dividends, but I think we need to wait a bit and we shouldn't overstate the impact just yet," said Kugelman.
Additonal reporting by Waslat Hasrat-Nazimi.