After five days of debate over Yemen, lawmakers in Pakistan on Friday adopted a draft resolution calling on the government to stay out of the fighting.
"[The Parliament of Pakistan] desires that Pakistan should maintain neutrality in the Yemen conflict so as to be able to play a proactive diplomatic role to end the crisis," the resolution said. Lawmakers from all parties supported the draft, indicating it would most likely be translated into a policy decision.
It amounts to a rejection of Saudi Arabia's request for Pakistan to support its military offensive in Yemen against Houthi rebels by way of providing warships, fighter jets and troops. Riyadh says the rebels are being backed by Tehran, though Iran denies arming them.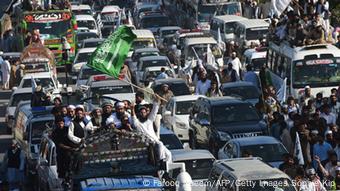 While some Pakistani activists called for their government to support Saudi Arabia in Yemen, Islamabad has declined to join the military campaign
The resolution, however, also underscored Pakistan's commitment to protect Saudi Arabia's territory, which has so far not been under threat in the conflict. On launching the airstrikes last month, Saudi Arabia had vowed to continue its fight until Yemen's embattled President Abed Rabbo Mansour Hadi is reinstated.
The Yemen conflict puts Islamabad in an awkward position: The mainly Sunni Muslim nuclear-armed nation of some 180 million people has deep religious, economic and military ties to Saudi Arabia, but it also shares a long border with Shiite-led Iran and has a sizeable Shiite minority. Friday's parliamentary resolution urged an internationally negotiated ceasefire and a peaceful resolution of the conflict, while it lamented the deteriorating security and humanitarian situation in Yemen and its implications for regional stability.
The past week has seen a flurry of diplomatic visits to discuss the conflict, including a visit by the Iranian Foreign Minister Mohammad Javad Zarif to Islamabad for talks with Pakistani Prime Minister Nawaz Sharif, and meetings in Turkey.
Planeloads of humanitarian aid arrive
Amid reports of intense airstrikes near the southern port city of Aden, the Red Cross and the United Nations flew medical aid into Yemen's capital Sanaa on Friday. The agencies reported delivering 16 tons of aid each following days of attempts.
The UN said its shipment contained medical supplies for up to 80,000 people as well as food supplements for 20,000 children.
"The supplies we have managed to bring in today can make the difference between life and death for children and their families," UNICEF Yemen representative Julien Harneis said.
According to the World Health Organization, at least 643 civilians and combatants have been killed in impoverished Yemen since March 19, while more than 2,200 have been wounded and about 100,000 have fled their homes.
se/es (Reuters, AP, AFP, dpa)