A significant reduction to the military aid will see Pakistan receiving $100 million for the 2018 fiscal year, but the White House has left it to the State Department to decide whether it should be given in the form of a grant or a loan. The current 2017 fiscal would end on September 30.
Last year, the US assistance to Pakistan under the State Department budget was $534 million, which included $225 million in foreign military funding.
"The Foreign Military Funding (FMF) for Pakistan would be provided in the form of a loan guarantee," said Mick Mulvaney, Director of the Office of Management of Budget in the White House.
Mulvaney added that in its maiden budget, President Donald Trump's administration proposed to convert its FMF program to many countries from aid to financial loan. Pakistan is one of them.
"Whether the funding is provided through grants, or as a subsidy for a guaranteed loan, is an option the State Department can exercise to ensure our foreign assistance best supports our national interests," the White House said.
Trump did not acknowledge Pakistan as a frontline state in war on terror in his Saudi Arabia speech
In addition to State Department's financial assistance, Islamabad also receives reimbursement from the US for its expenses toward US' Afghanistan operations.
Despite these cutbacks, Pakistan continues to be the second-largest recipient of US aid in South Asia, next only to Afghanistan. But it is evident that Trump's administration is changing its terms of engagement with Islamabad - a crucial departure from former President Barack Obama's policies toward the Islamic country.
Counterterrorism
At the heart of the problem is Washington's dissatisfaction with Islamabad's counterterrorism efforts in the region, or the lack of it. US officials accuse Pakistan's military establishment of providing logistical and military support to militant groups like the Taliban to destabilize Afghanistan and increase their clout in the war-torn country. Pakistan denies these allegations.
"Pakistan views Afghanistan or desires for Afghanistan some of the same things we want: a safe, secure, stable Afghanistan. One addition, one that does not have heavy Indian influence in Afghanistan," Lt Gen Vincent Stewart, director of the Defense Intelligence Agency, told members of the Senate Armed Services Committee during a recent congressional hearing.
"They (Pakistan) hold in reserve terrorist organizations so that if Afghanistan leans towards India, they will no longer be supportive of an idea of a stable and secure Afghanistan that could undermine Pakistan interest," Stewart underlined.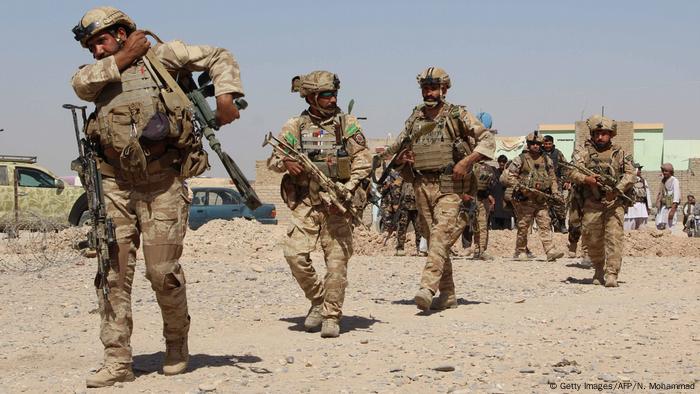 The US is massively investing in the capacity building of the Afghan National Army
US-Pakistani ties have deteriorated considerably in the past few years, with Pakistan drifting closer to its longtime ally China. Aijaz Awan, a Pakistani defense analyst and former military official, told DW the financial reductions would force Pakistan to find new allies, such as Russia.
"The options are open for Pakistan. Russia wants to support the Taliban to keep 'Islamic State' (IS) at bay. Moscow is also looking to minimize US influence in southern Asia. It works for Pakistan," Awan said.
"The US is failing in Afghanistan. Now it wants to put all blame on Pakistan for this failure," the former military official added.
Changing priorities
Experts say that US-Pakistani relations are unlikely to improve in the foreseeable future. President Trump's speech during his recent Saudi Arabia visit made it clear that Pakistan is seen more as a problem than a solution regarding US interests in South Asia. Not only Trump didn't mention Pakistan as a "frontline state" in the war against terror, he supported India's narrative about Islamic terrorism in the region.
"The US doesn't need Pakistan's help in Afghanistan anymore. In the past, it needed us to topple the Taliban regime in Afghanistan; later it wanted Islamabad to eliminate the extremist group. But Pakistan continued with its 'double game' (providing support to the Taliban while receiving US aid)," analyst Khalid Javed Jan told DW.
"This has forced the US to provide more financial assistance to the Afghan National Army. Washington, at the same time, allowed India to exercise more influence in Afghanistan. So the US doesn't require our support to a great extent," Jan added.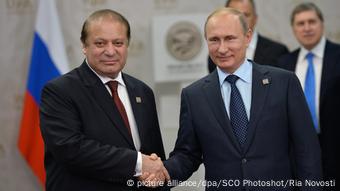 Pakistan is looking for new global allies as ties with Washington deteriorate
Pakistan's isolation
Pakistan continues to rely on China's backing, but experts say the South Asian country's foreign policy appears to be in disarray. Civil society groups blame the Pakistani military for the crisis, arguing that the army generals, which many believe have the final say on security and foreign policy matters, are pursuing a belligerent policy toward the country's neighbors.
Pakistan is currently engaged in border clashes with three of its four neighbors - Afghanistan, India and Iran. There has been a sharp rise in hostility between Iran and Pakistan with Tehran threatening to attack militant hideouts inside Pakistan.
Shia-majority Iran is not the only country in the region that is unhappy with Islamabad's handling of Sunni militants; Afghanistan and India have long accused Pakistan's leadership of backing terrorist organizations which, they claim, are used by the nation's military establishment to create unrest on their soil and gain geopolitical leverage.
There have been severe clashes between Afghan and Pakistani troops along the Afghan-Pakistani border, and the situation is not very different on the so-called Line of Control, the de facto Indian-Pakistani border along the volatile Kashmir region.
In this scenario, security analysts warn against pinning all hopes on Beijing. With US curtailing its support to the Pakistani military, and the recent snub that Pakistan received during a Muslim nations' conference in Saudi Arabia, there are signs that pressure is mounting on Islamabad. Maybe it's time for the country's policies to change.
Additional reporting by Sattar Khan, DW's Islamabad correspondent.