Philippine President Rodrigo Duterte walked away from Monday's meeting in Tokyo with Japanese Prime Minister Shinzo Abe's promise of funding for infrastructure projects, including rebuilding the city of Marawi, which was devastated by a military campaign against Islamist insurgents.
Abe also welcomed Duterte's backing for putting pressure on North Korea to abandon its development of nuclear weapons and long-range ballistic missiles, as well as a broader commitment to a "free and open Indo-Pacific" region.
"I confirmed with President Duterte that we are both maritime nations sharing basic values and strategic interests," Abe said Monday during a joint announcement with Duterte.
But the Japanese leader was probably hoping for a clearer and firmer statement of intent from his Filipino counterpart on standing up to China's aggressive maritime policies in the region. Abe has been attempting to build a coalition of large and small nations to address China's growing expansionist ambitions.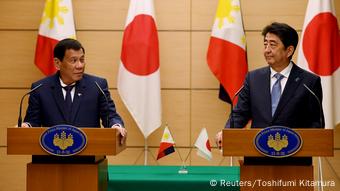 Abe promised $8.8 billion in aid to the Philippines
What is Duterte's strategy?
Beijing's unilateral occupation, development and militarization of atolls and small islands in the South China Sea have been a big concern for the Philippines in recent years.
Beijing now claims that the waters around the islands - which are also in part historically claimed by the Philippines, Vietnam, Malaysia and Brunei - are sovereign Chinese territory.
But significantly, Duterte made no reference to China during his visit to Japan, with analysts suggesting that he is playing Beijing off against Tokyo to win the biggest cash windfall available.
"Simply put, Duterte has been here for money," Go Ito, a professor of political science and international relations at Tokyo's Meiji University, told DW.
"In that sense, he is still acting like a local politician who is constantly looking for new sources of funds," he added. "But now he is trying to get that money from other countries."
An international tribunal sitting in The Hague last year overwhelmingly backed the Philippines in its territorial dispute with Beijing and dismissed "any possible entitlement of China" to island territory in the South China Sea. Beijing has since dismissed the ruling and retains control of the islands.
And while Benigno Aquino, Duterte's immediate predecessor in Manila, was fiercely critical of Beijing's assumption of islands that have traditionally been seen as Philippines territory, Duterte has been uncharacteristically quiet.
Show me the money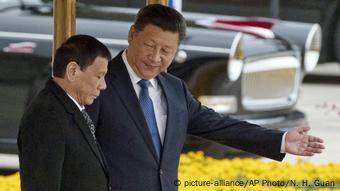 Duterte secured the promise of $24 billion from China after a 2016 meeting with President Xi Jinping
Duterte has already secured the promise of $24 billion (20 billion euros) in assistance from Beijing, which eclipses the one trillion yen ($8.8 billion) that Abe announced on Monday as aid to help rebuild areas of Mindanao Island affected by the recent fighting.
The funds will also be used for the construction of a subway system in Manila, improvements in the national railway network, disaster-prevention infrastructure projects and to promote the president's economic measures, also dubbed "Dutertenomics."
Jeff Kingston, director of Asian Studies at the Japan campus of Temple University, says Duterte's visit has been "essentially a shakedown."
"He is a transactional leader who has arrived and basically told Abe that he is ready to do a deal," Kingston told DW. "He has hit the Chinese up and now he is telling Japan that he is ready to hear what they are going to do to match that offer."
Read more:Philippine President Duterte promises Japan support in South China Sea dispute
"In many ways, he is very clever in the way in which he is playing one off against the other and his trump card is The Hague ruling on the South China Sea," he added. "I'm sure it has been made clear to Beijing that Duterte can be convinced to go easy on the situation in return for cash."
"At the same time, Japan is desperate to get Duterte to support their position on the South China Sea and the principle of the freedom of navigation for ships using those waters," he said.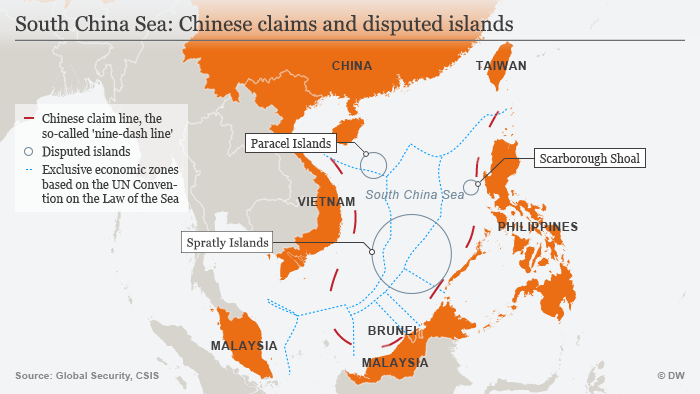 The problem of US ambivalence
In the past, the US might have been able to swing Duterte in favor of countering China, considering the Philippines' long-standing economic and security ties with Washington.
But Kingston believes that the mixed messages emerging from the present White House have failed to convince him to side with the US on many issues. As a result, Japan has been forced to take on a more proactive role in building broad-based push-back against China in the region.
"Clearly, Abe's hidden agenda in these meetings with Duterte is China and he is trying to obtain Manila's backing on maritime security in general and support for the resistance to Beijing's expansionist policies," Ito said.
"And that is going to be very difficult because Xi Jinping emerged from the recent congress of the Communist Party in Beijing much more powerful than he was before and I expect he will be far tougher on foreign policy matters than he was previously," he added.