During a meeting with Japanese Prime Minister Shinzo Abe on Wednesday, the Philippine leader said his country would "not abandon Japan in our partnership and security matters, given the common belief that our conflicts and problems with other nations must be resolved peacefully, in accordance with international law,"
The assurance came after an international arbitration tribunal ruling in the summer that found no legal basis for Beijing's claims to historical rights in the South China Sea.
"The (Japanese) government wants to continue to proactively support the Philippines' development, including in areas important to the Duterte administration such as infrastructure building, maritime security and assistance to Mindanao," Japanese Chief Cabinet Secretary Yoshihide Suga told a separate news conference.
Duterte's first visit to Japan since he took office in June follows a four-day trip to China last week, during which he announced a "separation from the United States."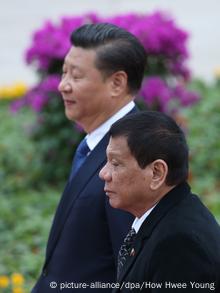 Duterte with Chinese President Xi Jinping
Policy shift
The president also said that he was re-aligning his foreign policy with China and Russia, and remarked that "America has lost it."
Japan and the Philippines signed agreements including Japan's provision of two coast guard boats and T-90 military trainer aircraft. Japan also agreed to support infrastructure and agricultural promotion projects in the Philippines to help economic development.
Japan is a strong US ally and hosts 50,000 American troops, while Duterte, who took office this summer, has repeatedly spoken of distancing his country from Washington.
"I want to be friends with China," he told an audience of businesspeople in Tokyo. "I do not need the arms. I do not want missiles established in my country. I do not need to have the airforce to host the bombers."
Turning back on the US
Meanwhile, Duterte has said he wants US troops to withdraw from his country within two years.
"I want, maybe in the next two years, my country freed of the presence of foreign military troops. I want them out," Duterte said.
"If I have to revise or abrogate agreements, executive agreements, I will," the president said, in an apparent reference to the 1951 Mutual Defense Treaty between the two countries.
He said the presence of US forces only worsens the situation in the conflict-wracked region.
jbh/nm (Reuters, AP, dpa)