The dark clouds of war have been rolling on the horizon for years, fought as a shadow war between Iran and Israel in Syria and Lebanon.
Israel is suspected of carrying out scores of airstrikes in Syria in recent years, centered largely on suspected Iranian arms and missile shipments to the Lebanese Shiite group Hezbollah. However, this limited strategy evolved earlier this year into a steady stream of high-profile Israeli attacks that have directly targeted Iranian bases, allied militia and the air defenses of Syrian President Bashar Assad.
Early May witnessed one of the fiercest exchanges of blows yet between Israel and alleged Iranian forces, as Israel hit dozens of targets in Syria after it blamed Iranian forces for firing rockets into the Israeli-controlled Golan Heights.
The soaring tensions signal that the conflict between the two regional rivals may escalate further, as Israel seeks to contain and roll back Iran and prevent it from establishing permanent bases in Syria — even at the risk of sparking a full blown war.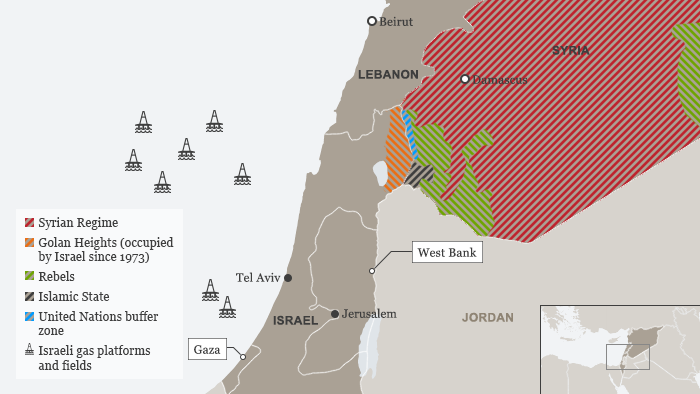 Syrian battlefield exacerbating tensions
For much of the Syrian civil war, Israel largely looked on from the sidelines, backing neither the Assad regime nor Syria's increasingly radicalized insurgency.
But Assad's forces have been steadily retaking territory from the rebels following Russia's game-changing intervention in September 2015. And the more ground the regime and its allies recapture, "the more Israel's red lines in Syria are crossed," said Ofer Zalzberg, an analyst with the International Crisis Group.
As Yury Barmin, a Middle East expert at the Russian International Affairs Council put it: "Russian policies in Syria led to the expansion of Iran in Syria."
Now, having cleared rebel strongholds around Damascus in recent months, the Russian and Iranian-backed Syrian regime is looking to expand its offensive against a rebel-held pocket in the southwest, next to the Israeli-occupied Golan Heights.
"The evolution of the fighting in Syria is likely to exacerbate tensions between Iran and Israel," said Zalzberg.

US emboldens Israel
The confluence of events on the battlefield comes as the Israeli government becomes emboldened by the Trump administration's pro-Israel, anti-Iran stance, manifested by Washington's withdrawal from the Iran nuclear deal and relocation of the US Embassy to Jerusalem.
"The [Israeli] government believes that this is an opportune moment and one that encapsulates a number of trends that support their strategy," said Eran Etzion, a former Israeli deputy national security adviser.
Iran holding back for now
However, Etzion views the Israeli strategy to directly confront Iran in Syria as one fraught with risk. He pointed out that Israel has not faced another nation state since the 1973 Arab-Israeli War; since then all its wars have been against non-state actors.
"The danger is that Israel will have a misconception or underestimation of the enemy," he said.
Read more: Iran's military power: What you need to know
Israel is increasingly worried about a potential two-front war involving Iranian-backed groups Hamas, in the Gaza Strip, and Hezbollah, in Lebanon.
A worst-case scenario would involve a full-fledged war between Iran and Israel, prompting Tehran to call on Hezbollah to launch the group's estimated 130,000 rockets and missiles from Lebanon. Such a scenario would overwhelm Israel's missile defense systems, opening up Tel Aviv, Ben Gurion Airport and Israel's offshore gas rigs to direct attack.
So far, however, the recently intensified Israeli airstrikes have drawn a restrained and calculated response from Iran. If Iran chooses to retaliate it is likely to be indirect and asymmetrical through proxies, and not necessarily from Syria.
Read more: Will Iran try to tie down the US in Afghanistan?
Siavush Randjbar-Daemi, an Iran expert at the University of St. Andrews, believes Tehran will continue to show restraint rather than engage in a significant confrontation with Israel at the moment.
"Iran is in a complex diplomatic initiative with Europe trying to salvage the nuclear deal. Tehran is well aware that a confrontation with Israel doesn't help in that direction," he said, adding that Iran did not want to give Israel a pretext for launching a land incursion into Syria that could threaten Assad.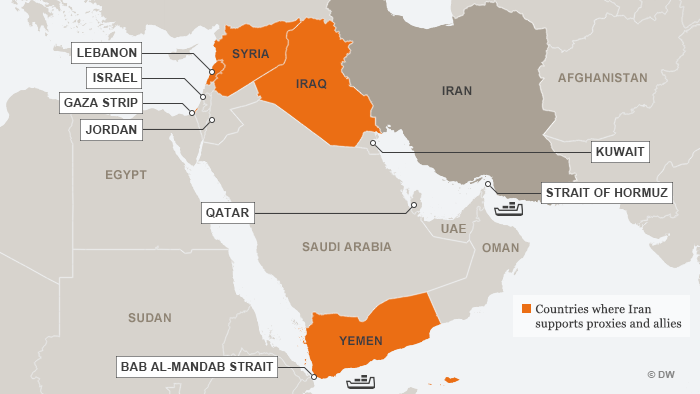 Russia keeps conflict at bay
Analysts said Russia held the key to preventing conflict between Iran and Israel from spiraling out of control. Moscow controls Syrian airspace and has dominated the political track of the Syrian war since intervening in 2015.
In Russia's view, the Iran-Israel conflict threatens to keep the Assad regime from winning the Syrian civil war, and both Moscow and Tehran want to see the president triumph in the seven-year-old conflict.
Russia is also in the unique position of having good relations with Israel, Syria and Iran.
Russian President Vladimir Putin has shown Moscow is able to mediate and de-escalate. In February, all it took was a phone call from Putin to stop Israel from continuing airstrikes in Syria after an alleged Iranian drone entered Israeli airspace.
Following similar Israeli attacks in April, Russia criticized Israel and threatened to provide Syria with the S-300 air defense system that would curtail Israeli action over Syria. That harsher response from Moscow may have come because the Israeli strikes occurred amid heightened international tensions and impending US-led strikes on Syria over alleged chemical weapons use. But in a sign Russia will tolerate Israeli military action, Israel struck dozens of targets in Syria last week in response to alleged Iranian rocket fire towards Israel just a day after Netanyahu was in Moscow to meet with Putin.
'Russian iron ceiling'
Russia's strategy is to allow Israel and Iran to exchange blows so long as the action doesn't escalate or threaten the Assad regime, Etzion said, adding that Russia wouldn't support expelling Iran from Syria.
"The conflict between Israel and Iran has a Russian iron ceiling. The Russians will not allow it to cross a certain threshold," he said. "What it means is that when Israel calculates its strategy of rolling back Iran from Syria, the risk is that Russia will not only not side with Israel, but will ultimately curtail the effort."
For Middle East expert Barmin, the Russians are fine with low-scale clashes between Israel and Iran but want to avoid a full-scale war that could draw in the United States.
"The Russians would like to avoid a situation where the United States and Israel are two parts of the same operation against Iran. As long as the US doesn't join forces with Israel against Iran, the Russians are fine with Israel having some ability to attack."
In Zalzberg's opinion, Russia is trying to "shape the rules of the game" between the two adversaries.
"They are not trying to solve the roots of the conflict between Israel and Iran, but are more about delimiting it," the International Crisis Group analyst said. "If anyone is able to do it, Russia is in the best position to mitigate conflict."
Each evening at 1830 UTC, DW's editors send out a selection of the day's hard news and quality feature journalism. You can sign up to receive it directly here.