German Vice Chancellor Sigmar Gabriel and Interior Minister Thomas de Maiziere believe that countries that cannot accept rejected asylum seekers may not receive development aid, according to recent interviews.
In an interview with news magazine "Der Spiegel," Gabriel said, "those who do not cooperate sufficiently cannot hope to benefit from our development aid."
During an interview on German broadcaster ARD, de Maiziere agreed, saying he "fully supports this idea."
De Maiziere is planning to meet with German Justice Minister Heiko Maas on Tuesday to discuss proposals regarding how to proceed with rejected asylum seekers, including holding potentially more dangerous rejected asylum seekers seen as Islamists in detention before they are deported. This is part of a law de Maiziere drafted, but has long been on the table.
"I will make very concrete proposals to expand the possibility of placing in detention people classified as dangerous before their expulsion," said Maas.
Too late for Berlin
The man suspected of an attack on a Christmas market in Berlin, Anis Amri, was from Tunisia. The attack killed 12 people. Amri's asylum application was rejected in June, but Tunisia initially denied he was a citizen. A new travel document from Tunisia for Amri arrived two days after the attack.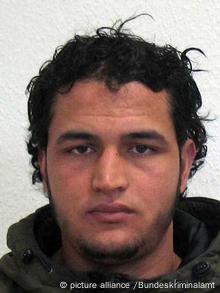 Berlin truck attack suspect Anis Amri's bid for asylum in Germany was rejected
De Maiziere criticized the Social Democrats (SPD) of refusing to cooperate to create stronger measures on security and terrorism. De Maiziere told German weekly "Bild am Sonntag" he was not sure if "everyone in the SPD is ready to take tough measures."
However, SPD faction leader Thomas Oppermann told newspapers in the Funk media group that there should be tougher penalties on countries that do not take in rejected asylum seekers.
"The Minister of the Interior should renegotiate the corresponding repatriation agreement. We must not exclude economic sanctions," said Oppermann.
kbd/kl(AFP, dpa)