German Interior Minister Thomas de Maiziere on Thursday stood by the decision to carry out the deportation of rejected Afghan asylum-seekers.
"Such repatriation measures are correct and necessary in order to keep our asylum system functioning," de Maiziere said at a press conference. No voluntary returnees were on board the flight that left Germany on Wednesday evening.
He confirmed that 34 men were on board the plane, a third of whom had criminal records in Germany. Convictions against some of the men included theft, robbery, drug violations, manslaughter and rape.
Some deportees expressed their disappointment with being sent to Afghanistan.
"I am not happy, everything is different for me here," Sidiq Kuchai, a 23-year-old from northern Baghlan province who was in Germany for seven years, told the AP news agency. "I had a good job and was working in a restaurant in Cologne. But in Afghanistan, I have no job and no security."
Ali Madad Nasiri, who had lived in Germany for three years, told Reuters news agency of his rude awakening. "It was early morning and I was sleeping when four policemen came to my home and arrested me. I didn't have a chance to take my clothes, cellphone and laptop - all left behind," said Masiri.
De Maiziere said 50 people were supposed to be on board, but some disappeared before departure. The deportation of a 29-year-old Afghan man was stopped by Germany's Constitutional Court until his follow-up asylum application could be processed.
In its ruling, the court left open the question of whether deportations to Afghanistan are constitutionally justifiable and instead addressed only the one applicant's case.
Not safe in Afghanistan
Not all in Germany are happy with the deportations. Bärbel Kofler, the human rights commissioner for the German government, warned those being deported were not safe in Afghanistan.
"I have yet to see a report that indicated to me there were safe regions in Afghanistan," Kofler told the "Augsburger Allgemeine" newspaper.
Prelate Martin Dutzmann, a representative for the Protestant Church in Germany and the European Union, also disagreed with the decision. "We all know the human rights and security situation in Afghanistan is highly questionable," said Dutzmann.
Afghan security situation 'not easy'
The plane took off from Frankfurt on Wednesday and arrived "safely and as planned in Kabul," de Maiziere said. The returnees were met by Refugee Ministry officials, representatives of the International Organization for Migration (IOM) and a non-governmental organization for psychological aid.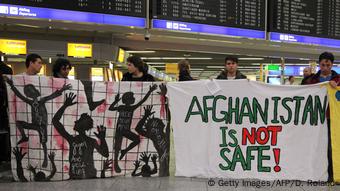 Hundreds protested the deportations at Frankfurt airport
The German interior minister added that that the security situation in Afghanistan is "generally not easy." He added that in many areas in Afghanistan it is "sufficiently safe," which made Wednesday's group deportation a "reasonable" action. De Maiziere also pointed out that Sweden, another major refugee host, also organized a similar flight for Afghans on Tuesday.
Some 500 people gathered at Frankfurt Airport on Wednesday to protest the planned deportations.
Those deported were living in the German states of Baden-Württemberg, Bavaria, Hamburg, Hesse, North Rhine-Westphalia and Saarland.
Some 890,000 people, mostly fleeing conflict and poverty in the Middle East and Africa, entered Germany in 2015. In 2016, Afghans were the second biggest group of asylum-seekers in Germany after Syrians.
Germany and Afghanistan signed a repatriation deal in October to speed up the deportation of Afghan citizens who do not qualify for asylum. The German government has set aside some 40 million euros ($41.7 million) for Afghan migrants who voluntarily opt to return.
Some 2,300 Afghans returned to their home country this year, de Maiziere said. The Interior Ministry previously estimated around 12,500 Afghans in Germany have had their asylum applications rejected and will be repatriated.
rs/sms (AP, AFP, dpa, Reuters, KNA, epd)