Around 12,500 Afghan migrants to Germany are to be repatriated despite the civil war still raging in parts of their home country, a newspaper report said on Thursday.
According to the report in the "Neue Osnabrücker Zeitung," which cited a German government document, the Interior Ministry estimates that 5 percent of the almost 247,000 Afghans who had reached Germany by the end of September will probably have to leave.
The government statement justifies the planned move by saying that security was guaranteed in Afghanistan's larger cities. "A worsening of the security situation in the entire country cannot be confirmed," the newspaper cited the document as saying.
The document said the Federal Office for Migration and Refugees (BAMF) would, however, handle applications for asylum by Afghans on a case-by-case basis, taking into account the risks faced by each applicant.
Some migrants were expected to return of their own accord, it said, but noted that other removals might be by force.
The document is the response by the government to a question posed by the hard-left Left party.
Safe country?
Forced repatriations to Afghanistan are a controversial issue in Germany, with many doubts still remaining as to how safe the country is. Attacks by the Taliban are still occurring regularly across the country, including one last week on the German consulate in Mazar-e-Sharif in which four people died.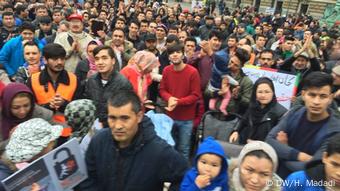 Last month saw a Hamburg protest against deportations
At the start of October, the EU and Afghanistan signed a much-criticized agreement that would make the deportation of rejected asylum-seekers easier.
In the past few years, there have been few Afghan deportations owing to the civil war there.
The "Neue Osnabrücker Zeitung" reported in its article that just 27 rejected Afghan asylum-seekers had been deported so far this year, and only nine in 2015.
However, the rate of acceptance of Afghan asylum applications fell in 2016 to 52.4 percent as compared with 77.6 percent the year before.
tj/msh (epd, dpa)