In 2017, net migration to Germany dropped by around one-fifth year-on-year to about 416,000, the Federal Office for Statistics (Destatis) said on Monday.
In published figures, the agency noted that net migration from Asia and Africa had decreased, in line with a downward trend seen in 2016.
Migrants arriving from Syria dropped from 146,000 in 2016 to 60,000 in 2017. One of the largest decreases was also seen in migrants arriving from Afghanistan. That figure dropped from 56,000 in 2016 to 4,000.
German Chancellor Angela Merkel in 2015 famously welcomed refugees to Germany who had fled war in their homeland, especially those coming from Syria. That year, nearly 900,000 irregular migrants entered the country in what would be dubbed a migration crisis.
More Germans in Germany
The number of German citizens and ethnic Germans returning to their country rose to 167,000, up from 146,000 in 2016.
Germany's
Basic Law — the constitution established after World War II — specifically allowed for ethnic Germans living outside modern German territory, for instance in former Soviet states in eastern Europe, to return.
Meanwhile, the number of Germans leaving the country reached 249,000, down from 281,000 in 2016. As such, net ethnic German migration was negative 82,000 people.
Read more: Migrant adults less likely to be employed in Germany — OECD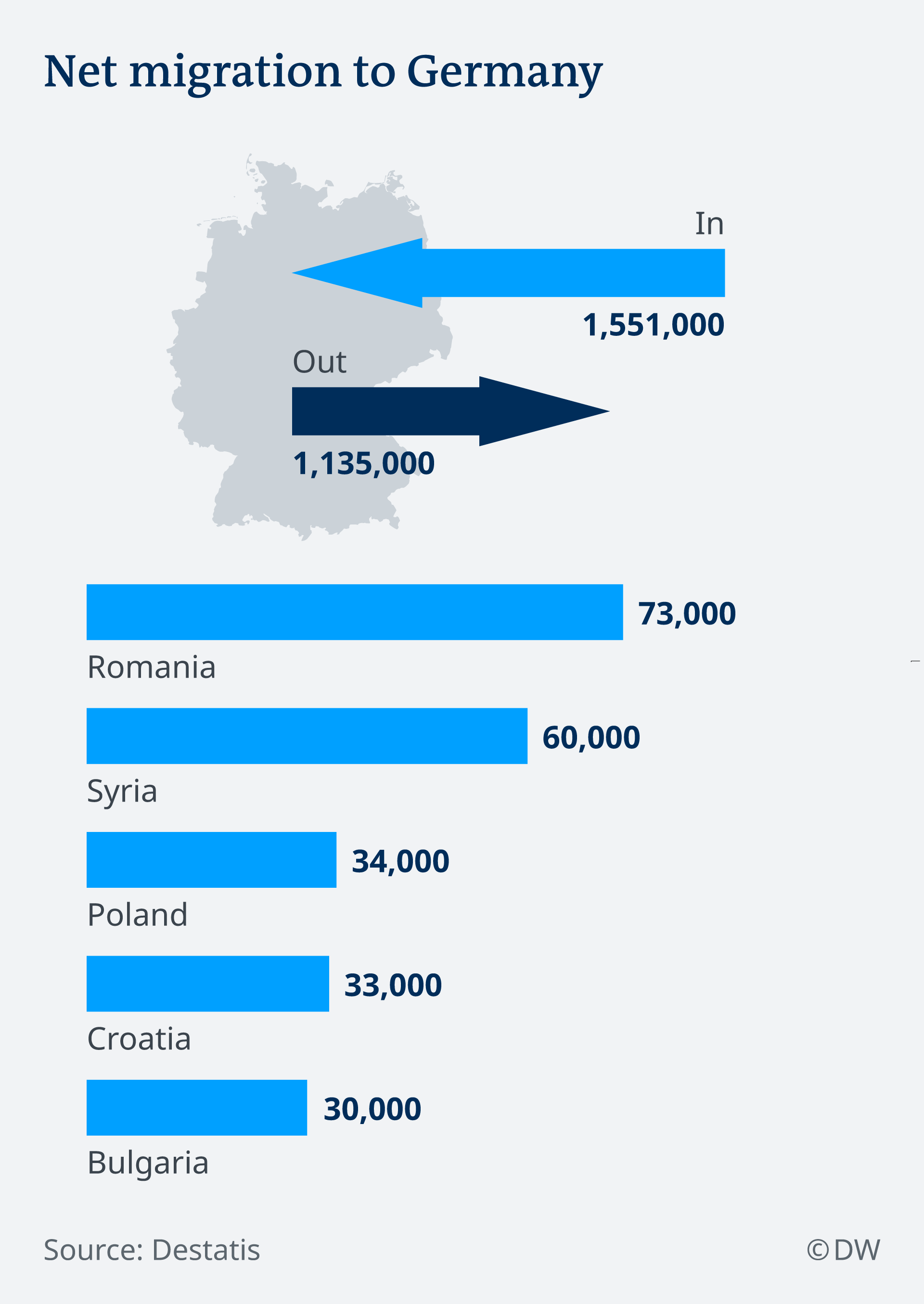 Europeans on the rise
The largest group surplus comprised citizens of other EU countries, with 239,000 moving to Germany to reside. The top countries of origin were Romania, Poland and Croatia, respectively.
The number of migrants coming from Balkan states also surged in 2017, with Kosovo, Serbia and Macedonia making up the largest groups.
In total, 1,551,000 made residence in Germany while 1,135,000 people left the country — so, net, 416,000 moved to Germany. Net migration figures discount short-stay visitors.
In 2016, net migration amounted to some 500,000, while in 2015 — the year when the bulk of asylum seekers from the Middle East and Africa arrived in Germany — it spiked at 1,140,000.
Read more: Germany's planned immigration law — what you need to know
Each evening at 1830 UTC, DW's editors send out a selection of the day's hard news and quality feature journalism. You can sign up to receive it directly here.