According to a report published in the daily "Die Welt" on Wednesday, the German government eyed eight alternative locations for the military base its troops currently use in Incirlik, Turkey. Potential options include three sites each in Kuwait and Jordan, and two in Cyprus, namely Akrotiri and Pahpos.
"The review of alternative sites to the Turkish aircraft base Incirlik found that, from a military perspective, locations in Jordan, Kuwait and Cyprus were available," "Die Welt" quoted the government as saying in a report.
News of the German government's review of sites came in response to an inquiry made by the Left Party, as well as four politicians from the parliamentary group representing Chancellor Angela Merkel's Christian Democratic Union and its Bavarian sister party, the Christian Social Union.
Incirlik and Konya are Germany's two military bases in Turkey
No discussions with possible alternative countries
The alternative locations had been visited "within the framework of a military exploration for the purpose of reviewing their fundamental suitability," the government said in its reponse to the inquiry.
However, the government also stated that "no conversations with respect to a possible stationing" had been undertaken.
Politicians in the Left reacted strongly to the revelation, criticizing the government for not doing more to move Bundeswehr troops amid souring ties between Germany and Turkey.
Jan van Aken, the Left Party's foreign affairs spokesperson, told "Die Welt," "The government obviously has no interest in relocating the German armed forces from Incirlik if they have not even had a conversation with the other countries where stationing is possible."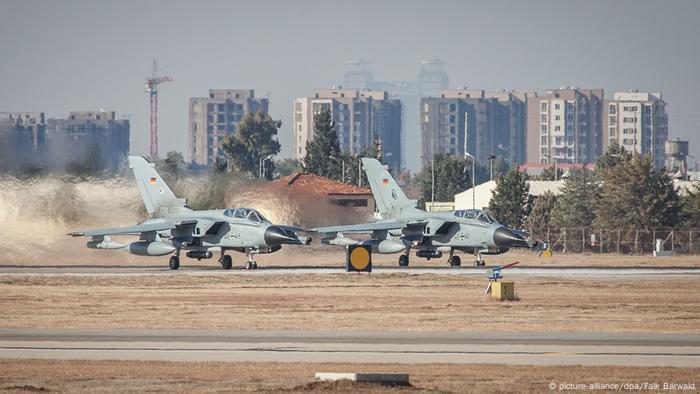 Aircraft in Turkey contribute to the fight against "Islamic State" in Syria and Iraq
Another German-Turkish tension point?
The government's response comes as tension continues to simmer between Germany and Turkey. The two NATO partners traded heated words and threatened action after scheduled appearances by Turkish politicians campaigning for an upcoming Turkish referendum were canceled in various German cities.
Most recently, German authorities warned Ankara had been spying on Turkish nationals and organizations in Germany.
In light of these events, politicians from across the political spectrum have renewed calls for troop removal from Incirlik, where stationed Tornado aircraft are used in the fight against the so-called "Islamic State"in Syria and Iraq.
However, the military base in Incirlik has been a contentious point between the two nations since June 2016, when German representatives voted on a resolution recognizing the Armenian massacre in the Ottoman Empire as "genocide." In response to the affirmative vote, Ankara barred German politicians from visiting the military base.
The German government has not been allowed to repeat a one-time visit to the base on October 5, 2016.
Germany maintains a second military base in Turkey in Konya, some 350 kilometers west of Incirlik.
cmb/sms (AFP, dpa)