Turkey's spy agency has identified hundreds of alleged supporters, living in Germany, of Turkish-exiled Muslim cleric Fethullah Gulen, according to German media.
As well as names, the agency list contains addresses, telephone numbers and photos taken in secret through surveillance cameras, according to the "Süddeutsche Zeitung" newspaper. The list is said to identify more than 300 people and 200 various clubs, schools, and other institutions with alleged links to Gulen.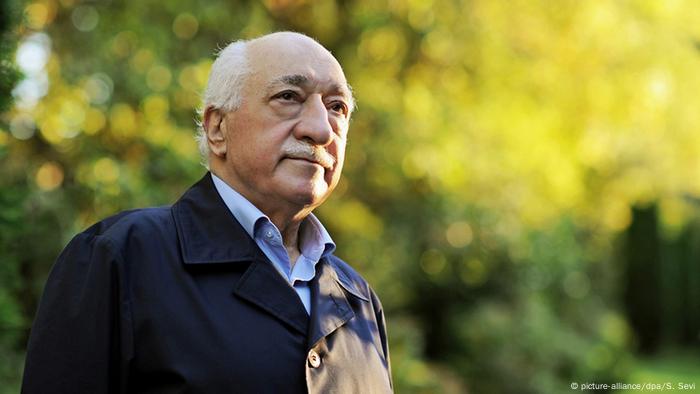 Opposition cleric, Fetullah Gulen lives in Pennsylvania
In an interview with the "Süddeutsche Zeitung," German Interior Minister Thomas De Maiziere said: "We have repeatedly told Turkey that something like this is unacceptable."
"No matter what position someone may have on the Gulen movement, here German jurisdiction applies and citizens will not be spied on by foreign countries," de Maiziere was quoted as saying.
Lower-Saxony's interior minister, Boris Pistorius, called Turkey's spying efforts "intolerable and unacceptable" and accused Ankara of having an "almost paranoid fear of conspiracy."
Pistorius argued "it is notable with what intensity and ruthlessness the people living abroad are being investigated" and asked "the German government to send the Turkish government a clear signal."
Foreign Minister Sigmar Gabriel called for a thorough probe. "If this really did happen, which I can neither confirm nor deny at this point, that would indeed be serious occurence," Gabriel said.
German federal prosecutors are investigation claims that Turkish secret service MIT carried out espionage activities in Germany, a speaker confirmed on Tuesday.
German intel briefed in February
Germany's BND foreign intelligence chief was given the list last month by his Turkish counterpart during the Munich Security Conference. That has allowed authorities across the country to warn those on the list that they have been watched by Turkey.
One German state has gone further, with the state criminal office of North-Rhine Westphalia warning those concerned that possible reprisals await them if they return to Turkish territory.
The Turkish government blames Gulen, who lives in the United States, of orchestrating the unsuccessful military coup attempt last July. Turkey has since launched a massive crackdown on dissent and accused supporters of Gulen, who has denied any part in the insurrection, of being terrorists.
Controversial referendum
The details come as Turkish people living in Germany began voting in an April constitutional referendum to extend President Recep Tayyip Erdogan's powers. Critics say that it would effectively end democracy in Turkey and give Erdogan autocratic powers.
The run-up to the ballot has seen relations sour between Turkey and the EU after European authorities canceled several rallies where Turkish officials were to speak in favor of the referendum. Some 1.4 million Turkish citizens in Germany are eligible to vote.
German Chancellor Angela Merkel rebuked Erdogan publicly after the Turkish leader accused both Germany and the Netherlands of engaging in "Nazi practices" by preventing the Turkish ministers' rallies.
On Monday, the president of Germany's parliament, Norbert Lammert, said Erdogan, through the April referendum, was attempting to "transform an undoubtedly fragile, but nonetheless democratic system into an authoritarian system."
"This second coup attempt threatens to be successful," Lammert added, and criticized the "incomprehensible" consent of Turkey's parliament to its own disempowerment.
Swiss open probe into Turkish spying
Last week, Switzerland began a criminal investigation into allegations Ankara had spied on expatriate Turks.
It follows the filming of several events at the University of Zürich, including a discussion of the 1915 Armenian genocide by Ottoman Turks - a term which the Ankara government vehemently rejects - and another where the editor-in-chief of the Turkish newspaper "Cumhuriyet" was honored.
jr/jm (Süddeutsche Zeitung, AFP, Reuters)