Far from the scenes of hurling rocks and water cannon, Rotterdam was business as usual on Sunday with tourists and locals making the most of the first real days of spring.
At one Poffertjes stall was Damla, a 21-year-old Turkish-Dutch waitress. Out of fear of not being able to visit Turkey, she asked to remain anonymous. "The people out there last night were crazy. It was a huge drama over nothing," she told DW.
"We're not all like that. We're in Holland now," she added. "I cannot support these people when they support [President Recep Tayyip] Erdogan. He's not good for Turkey."
Expulsion triggers riot
The demonstration on Saturday marked just the latest chapter in an ongoing saga between the Netherlands and Turkey, sparked by Holland's refusal to allow Turkish Foreign Minister Mevlut Cavusoglu to land in the country earlier that day.
During his visit, Cavusoglu planned to drum up support among the Dutch Turkish community ahead of Turkey's controversial referendum on April 16, which could dramatically expand Erdogan's powers.
Police clashes
But it was the expulsion of Turkish Family Minister Fatma Betul Sayan Kaya, which led to the diplomatic dispute spilling onto the streets.
Having reportedly being told by the Dutch government that she would be denied entry to the Turkish consulate, Kaya still attempted on Saturday to enter the compound, where she was met by police.
In response, hundreds of Turkish, flag-waving protestors surrounded the building. As the demonstration escalated, protestors threw bottles and rocks at police, who retaliated with batons, dogs and water cannon. Twelve people were arrested for public-order offenses.
Pro-Erdogan supporters
By Sunday afternoon all that remained from the riot was a mass of pro-Erdogan stickers, plastered to nearby lampposts and the entrance to the consulate.
"For one nation, flag, homeland and state. #Yes," the miniature placards read, accompanied by a picture of Erdogan against a red backdrop of the Turkish flag.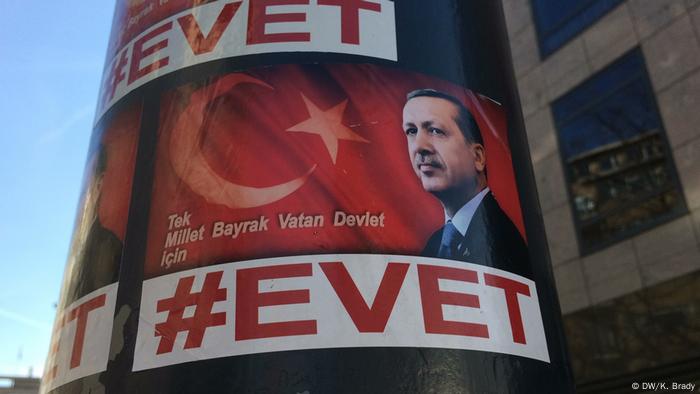 The poster reads 'For one nation, flag, homeland and state. #Yes'
Immersed in their Sunday past-time, a table of al fresco diners across the road from the consulate were about to raise their glasses, when shouts echoed from the other side of the street.
Out of nowhere an elderly man had appeared in front of the government building. Denouncing the actions of the Dutch government, he shouted: "After Allah, Erdogan will show people the true path. There is democracy in Turkey; in Islam: in all religions. Allahu Akbar!"
The young family, meanwhile had already returned to their toast: "Prost! To Lisa!"
For the next 15 minutes, the man, waving a Turkish flag in the air in his weathered baseball cap and checkered shirt, he praised Erdogan as he paced the sidewalk in front of the consulate.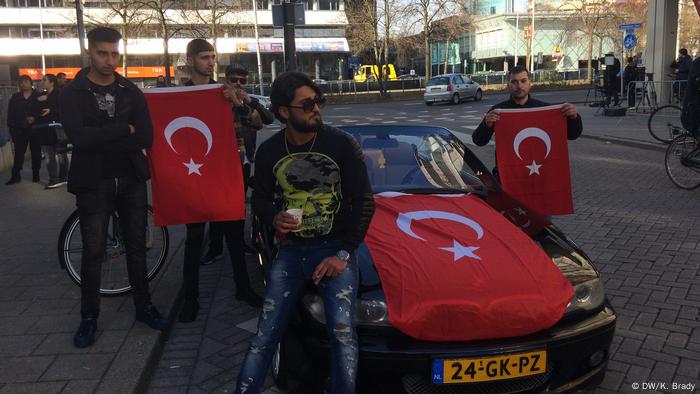 Seventeen-year-old Samesh (pictured left) was among the Erdogan supporters to make a second appearance at the Turkish consulate on Sunday
Roof down, a black BMW swung around the corner to join him; a Turkish flag draped over the bonnet.
Asked why he had come to the consulate, one of the young men responded in perfect English: "Can you speak Turkish? No? Then I won't be speaking to you in English."
'My blood is in Turkey'
In a matter of minutes the number of pro-Erdogan supporters had grown to around a dozen. Although none of the men appeared to know each other particularly well.
Among them was 17-year-old Samesh who said he also attended the protests. Born and raised in Holland, he told DW: "I'm not Dutch. I'm Turkish. My heart, my blood is in Turkey."
"If they'd let the minister speak, there wouldn't have been any problems," he said. "That's why we were angry.
"My parents support Erdogan. I support Erdogan. He's helped Turkey a lot economically," he added.
'Small minority'
Back in the center of town on Rotterdam's bustling Coolsingel, 57-year-old Mehmet shook his head in disbelief.
"This isn't Rotterdam. This isn't Holland. This isn't the Turkish community here. This is just a small minority," he told DW.
"Whether they should hold the rallies? I'm not sure. We live in a democracy. But at the same time, I don't want to see support for Erdogan," Mehmet added.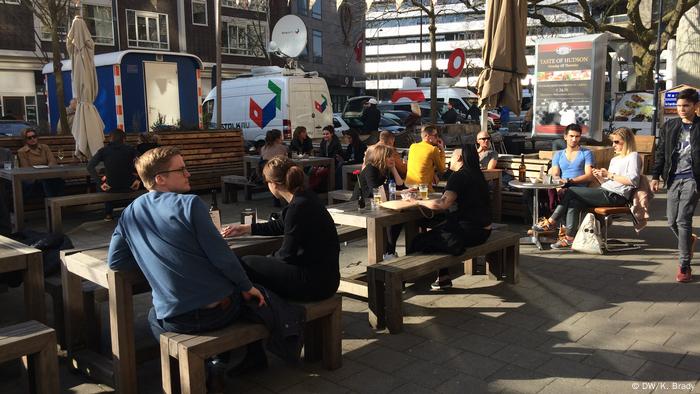 After a night of violent protest, locals and tourists went about their Sunday as usual past times in Rotterdam
Fears over far-right nationalism
One fellow Rotterdamer who declined to give his name said he had never known anything like it.
"The relationship between communities is excellent. We go to the Turkish supermarket. I have plenty of Turkish friends who I play football with," he said.
His partner agreed, adding that the protests had been a pure display of emotion. With the Dutch election due to take place on Wednesday, however, she now fears that Saturday's protests could fan the flame of support for anti-Islam and far-right nationalist, Geert Wilders.
"This pattern of nationalism in Europe is a real threat," she said. "One that doesn't need events like last night. And one that we certainly shouldn't underestimate."