Germany's conservatives and the Social Democrats (SPD) are holding high-level meetings on Friday to discuss how to move forward after party leaders held talks in Berlin last night about possibly renewing their government partnership.
German Chancellor and Christian Democratic Union (CDU) leader Angela Merkel joined Horst Seehofer, the leader of her Bavarian sister party the Christian Social Union (CSU), in a meeting with the leader of the center-left SPD Martin Schulz on Thursday night.
The talks, held at the invitation of President Frank-Walter Steinmeier, lasted for two hours as the party leaders probed whether they are ready — or willing — to start negotiations on forming Germany's next government.
SPD party heads met at their party headquarters in Berlin on Friday to discuss all possible options going forward, which include a revival of a so-called "grand coalition" with the conservatives and the possibility of new elections.
Read more: Angela Merkel's government impasse: Grand coalition pros and cons
The youth branch of the SPD, the Jusos, voiced their fierce disapproval of the party entering another coalition with Merkel's conservatives.
There are other alternatives to a renewed partnership "and they need to be talked about now," Jusos head Kevin Kühnert told public broadcaster ARD's "Morgenmagazin."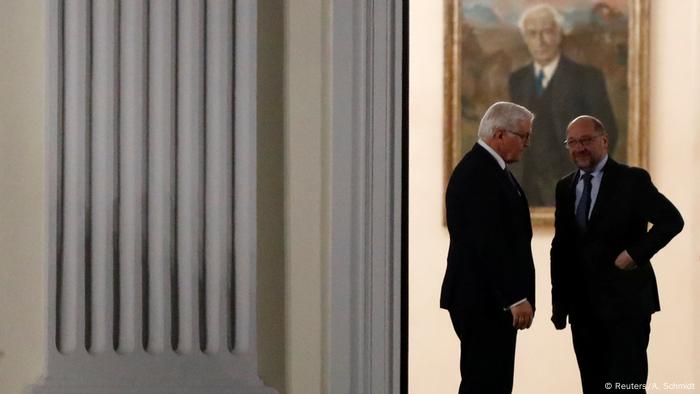 SPD leader Martin Schulz (R) softened his staunch 'grand coalition' opposition after talks with President Frank-Walter Steinmeier (L)
SPD to take its time
Despite pressure from Merkel's conservatives to quickly form a new government, SPD politicians made clear on Thursday that they won't be rushing their decision.
"No one can expect that it will go quickly," German Foreign Minister and SPD member Sigmar Gabriel told public broadcaster ZDF on Thursday. He added that it was up to the conservatives to show what they wanted.
A breakdown of talks to form a three-way coalition between conservatives, the center-right business-friendly Free Democrats (FDP) and the Greens has put the grand coalition back on the table as the only other realistic chance for a parliamentary majority.
"The conservatives, Greens and FDP took months to get nothing off the ground so I'd ask people not to put pressure on us," Gabriel said.
Read more: Merkel: Asking Germans to vote again is 'simply wrong'
SPD deputy and Hamburg Mayor Olaf Scholz also said the party is going to take its time since a caretaker government with CDU/CSU and the SPD means Germany remains stable.
"The question of what to do can, therefore, be very carefully weighed back and forth," Scholz said during ZDF talkshow Maybrit Illner on Thursday.
The center-left party's participation in a Merkel-led "grand coalition" in the last four years earned the party its worst election result in Germany's post-war history — leading the party to strongly oppose entering another such coalition.
After pressure from President Steinmeier, SPD leader Schulz later softened his stance and signaled his willingness to discuss the possibility.
The SPD will not likely announce its decision on whether it will agree to start official coalition talks until after its party congress next week.
rs/sms (AFP, dpa, Reuters)