Salome Zurabishvili was sworn in as Georgia's first female president on Sunday. Her inauguration marks the start of a new constitution which transforms her post into a largely ceremonial role.
Paris-born Zurabishvili won a run-off vote last month with 59.6 percent of the ballot, according to the Central Election Commission. Turnout was 56.23 percent.
Sunday's ceremony took place in the courtyard of an 18th-century manor that belonged to Georgia's penultimate king, Heraclius II.
Read more: Georgia's first female president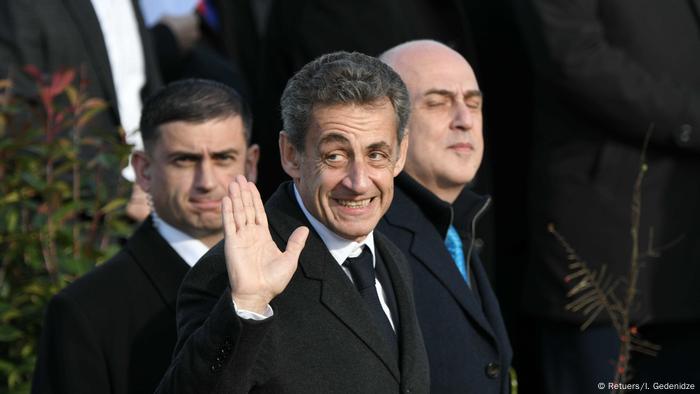 Attendees included former French President Nicolas Sarkozy, who brokered a ceasefire deal during Georgia's 2008 war with Russia
Path to Europe
Zurabishvili said in her inaugural speech that she would use her experience in France's diplomatic service, and previous role as Georgia's foreign minister, to promote her nation's aspirations to join the European Union and the NATO transatlantic military alliance.
"The goal of my presidency is to make Georgia's democratic development and its path toward Europe irreversible," said the 66-year-old.
"I will facilitate this process with the support of our strategic partner, the United States of America, and our European friends."
Georgia signed an association agreement with the EU in 2014 as part of its efforts to diversify economic ties.
Read more: EU offers Eastern Partnership members money, motivation
Potatoes and protests
Opposition parties had denounced her victory as fraudulent. Opposition supporters marched with sacks of onions and potatoes on Sunday to mock what they claim were government efforts to bribe voters by handing out free vegetables.
Police blocked a convoy of cars and buses, which stretched for kilometers, on the road leading from the capital Tbilisi to the medieval town of Telavi, where Zurabishvili's ceremony was held.
Clashes erupted between police officers and protesters as they tried to break through police ranks, reported the pro-opposition Rustavi-2 broadcaster.
The Organization for Security and Cooperation in Europe, which monitors elections, said the election was administered well, but that state resources were misused in the campaign and "one side enjoyed an undue advantage."
kw/rc (AP, AFP, Reuters)
Each evening at 1830 UTC, DW's editors send out a selection of the day's hard news and quality feature journalism. You can sign up to receive it directly here.