US President Donald Trump on Saturday urged Japanese business leaders to bolster investments in the United States at the start of a four-day state visit to Japan. Trump is hoping to pressure Japan into signing onto a new bilateral deal to reduce a trade imbalance between the two allies.
"Japan has had a substantial edge for many, many years, but that's OK, maybe that's why you like us so much," Trump said. "With this deal we hope to address the trade imbalance, removing barriers to United States exports and ensure fairness and reciprocity in our relationship."
The visit is touted as a renewed sign of warm relations between Tokyo and Washington, with Trump saying their bond "has never been stronger, has never been more powerful, has never been closer."
Read more: Japan: Shinzo Abe's calculated pampering of President Trump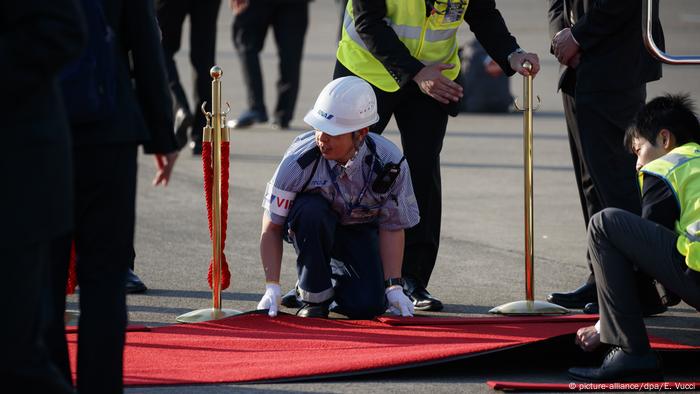 Japanese workers rolled out a red carpet for Trump before his arrival at Tokyo's Haneda International Airport.
Trade, North Korea — and golf
Trump is scheduled to discuss trade and North Korea's nuclear program with Japanese Prime Minister Shinzo Abe.
However, trade talks are likely to be fraught with simmering tensions, as Washington considers tariffs on Japanese auto exports, which the Trump administration views as a potential national security threat.
Japan has a $70 billion (€62.5 billion) trade surplus with the US, which has been a source of some contention. However, it is minor compared with China's $379 billion surplus, which is at the root of a trade war between Washington and Beijing.
The four-day trip will also see Trump take in a sumo wrestling event, enjoy fine dining in the Roppongi district of Japan's capital, meet with families of North Korean abductees and enjoy a round of golf with the Japanese prime minister.
Read more: Trump vs. Huawei, and the end of the smartphone?
Imperial pomp
Trump is also scheduled to meet with Japan's new Emperor Naruhito, who ascended the throne at the beginning of the month following the abdication of his father, Akihito. Naruhito is to welcome Trump to the Imperial Palace on Monday and share a banquet in his honor.
"I'm the guest of honor at the biggest event that they've had in over 200 years," Trump said on the eve of his departure.
The scheduled encounter has raised some controversy in Japan, with protests taking place ahead of the US president's visit.
Each evening, DW's editors send out a selection of the day's hard news and quality feature journalism. You can sign up to receive it directly here.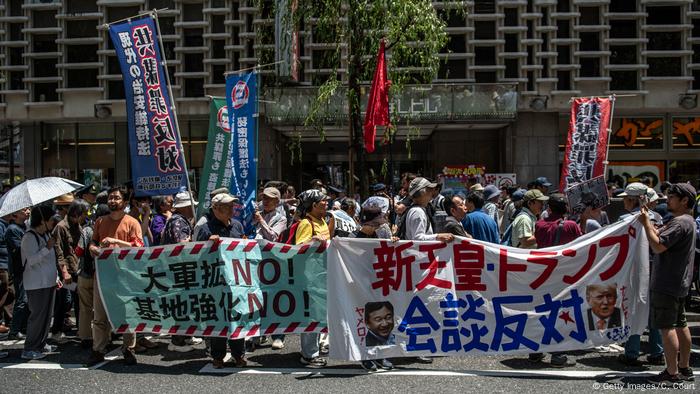 Some Japanese find Trump's meeting with the emperor distasteful.
jsi,ls/tj (AP, AFP, Reuters)