The "Friends of Libya" conference wrapped up Thursday evening in Paris with leaders and top officials from 60 countries agreeing that releasing frozen Libyan funds was a critical step in helping the North African country rebuild.
"The decisions that we have taken today regard the unanimous request to unfreeze Libyan assets and all the money that was embezzled by [Moammar] Gadhafi and his entourage," said French President Nicolas Sarkozy, who co-hosted the meeting in Paris with British Prime Minister David Cameron. "We have committed to unblock funds from the Libya of the past to finance the development of the Libya of the future."
Chancellor Angela Merkel also announced after the meeting that the United Nations had authorized Germany to release 1 billion euros of frozen Gadhafi assets to the interim government. She said she offered German aid in developing Libya's police force and political structures.
"I offered that we, with our experience of dictatorship in Germany, could help reconcile Libya's past," Merkel said.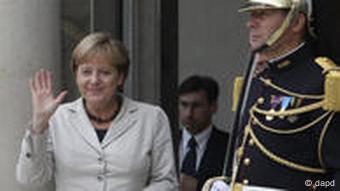 Merkel said she has offered Libya support in police training and political structures
The meeting was organized as a show of support for the new leadership in Libya, the rebel-led National Transitional Council (NTC), and to discuss practical ways of getting Libya back on its feet.
"The world bet on the Libyans and the Libyans showed their courage and made their dream real," said Libya's ruling interim council Prime Minister Mahmoud Jibril.
The meeting followed a statement made by Gadhafi on Libyan TV where he encouraged his supporters to keep fighting.
"Let Libya be engulfed by flames," he said in the statement.
Gadhafi spoke on the 42nd anniversary of the coup that brought him to power. It is suspected he has fled the capital, Tripoli, and is hiding out in the desert town of Bani Walid, 150 kilometers (93 miles) southeast of Tripoli.
Starting a new chapter in history
In the past, many Western nations enjoyed an often cozy relationship with Gadhafi. The hosts of the Paris conference, France and Britain, for example, often turned a blind eye to the questionable practices of Gadhafi's regime in favor of developing business ties. Some believe that by lending support to Libya's new regime, it will help close a dubious chapter in their history.
"We must remember the reason we went to war is that we wanted to improve our standing in Arab world. We wanted, for once, to be on the right side of history, when we had teamed up with the dictators of the North African region for so long," Jan Techau, the director of the Carnegie Europe Center, told Deutsche Welle.
"That means, 'No, we're not occupying, sending troops, interfering in your political process, or setting up a provisional government that's run by Westerners,'" Techau added, saying Western nations didn't want "any kind of neocolonialism whiff in the air."

Gadhafi is believed to be hiding in the desert town of Bani Walid southeast of Tripoli
At the press conference following the "Friends of Libya" meeting in Paris, Prime Minister Cameron acknowledged Libya's role in determining its destiny.
"Let us be clear: it is the Libyan people who have liberated Libya," he said.
Delegates of the "Friends of Libya" conference also agreed that NATO operations in Libya could continue for as long as needed "to protect civilians," Cameron said.
Humanitarian concerns

After six months of war that destroyed roads and buildings, leaving people without water and electricity, Libyans are urgently in need of the basics: water, food, energy, health care and security. Europe says it's ready to help address the most urgent needs.
To this end, France and Britain have already unblocked more than 2.5 billion euros ($3.7 billion) of the country's assets, and other countries are close on their heels.
United Nations Secretary-General Ban Ki-moon has also pledged the support of the UN to help Libya get up and running. He proposed a UN mission that would address issues of national reconciliation, the protection of human rights and economic recovery.
"I intend to work closely with the Security Council in crafting a mandate for a UN mission, with the express aim of beginning operations with minimum delay;" Ban said in Paris on Thursday. "I count on members of the Security Council to give us a mandate as soon as possible." NATO says it will continue support to protect civilians as long as long as necessary
Economic opportunity
While lending humanitarian and political support to the new regime was a priority for the nations in attendance at the Paris conference, economic opportunities provide an especially inviting incentive to get behind the National Transitional Council.
Scores of European companies are already lining up to clinch deals in Libya. Italy is scrambling to get its oil supplies resumed, and Russia and China have made clear they attended the Paris meeting in part to defend their commercial interests.
"This is all kind of cynical, because everyone is saying 'We first came here to help the Libyan people,' but it's true, there is a lot of business to be done in the future, and nobody wants to be left out," said Eleanor Beardsley, Deutsche Welle's correspondent at the conference.
Another long-term aspect of the rebuilding of Libya will be the involvement of international law in cases where it has been broken.
"Freedom in Tripoli is bringing to evidence unspeakable crimes," Cameron said. "These crimes must be investigated and the guilty brought to justice."
Author: Matt Zuvela, Vanessa Mock
Editor: Martin Kuebler