Many European tourists see traveling to the US as more of a hassle than it's worth these days. They worry about visa and paperwork issues, fingerprinting, long lines at airport and unfriendly immigration officials, experts say.
"There's a perception out there that it's tough to get into the United States at the moment. So people tend to look at what are the other options. There are plenty of attractive destinations around the world," said Geoffrey Lipman, assistant secretary general of the United Nation's World Tourism Organization, based in Madrid, Spain.
In recent years, Europeans have begun to take more trips regionally or satisfy their wanderlust with vacations to Africa and Asia, figures from the UN organization show.
Passing on a bargain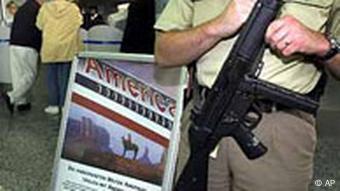 For some, the security hassles aren't worth it
There were 1.5 million fewer European tourists who visited the US in 2006 compared with 2000. European tourism continued to slide in recent years with numbers down two percent in 2006 compared with 2005. The forecasts for this year look flat as well, according to recent figures from the US Department of Commerce.
All this is not to imply that European tourists are turning their backs on the US altogether. Europe remains an important source of tourism for the US, with one of every two overseas visitors traditionally coming from European countries, amounting to a total of nearly 10 million in 2006. The UK, Japan, Germany and France are the four biggest sources of overseas tourism to the US.
The drop in European tourism is surprising considering the US is currently a bargain for Europeans, with the euro at $1.35 and the British pound at $1.99. Under normal circumstances, the cheap dollar would mean a 10-30 percent increase in European tourism to the US, said Rolf Freitag, chairman of IPK International, a Munich-based consulting firm that specializes in tourism research.
"There should have been an explosion," he said. "When the dollar is cheap for Europeans there is always a boom."
Image problems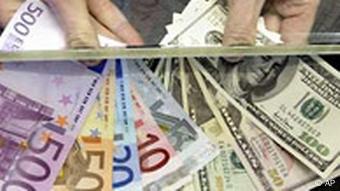 The strong euro doesn't seem to be bringing Europeans to the US
But recent years have been far from normal for tourism. The 2001 terrorist attacks in New York and Washington strained US-European relations, with France and Germany voicing strong opposition to the US-led war in Iraq. A majority of Europeans view the US unfavorably, angry about foreign policy decisions made by President George Bush, studies show.
"I think the image of the US, especially because the president has a bad reputation, prevents people from going there," said Rene Schwietzke, 34, who lives in the eastern German city of Jena.
Schwietzke travels regularly to the US since his quality assurance company does business there. He finds the US to be a great tourism destination and he describes it as laidback, cheap, beautiful and full of friendly people.
Yet get him talking about security measures, and he describes them as "a big pain" and "really inconvenient."
Perception is reality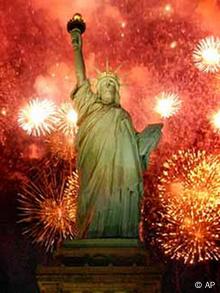 The US hasn't seemed welcoming in recent years
Tourism experts feel it's the immigration hassles and not a dislike of President George W. Bush that keep Europeans from visiting the US.
In September, the US tourism industry launched the Discover America Partnership, a group focused on using tourism to improve the US image abroad. Lobbying political leaders has been the first priority.
The US can welcome international tourists without compromising security, said Geoff Freeman, who heads up the partnership.


Freeman has lobbied political leaders to strengthen the visa waiver program, hire more customs officials, and make the country's busiest airports more welcoming to international travelers.
"We don't believe a long line at an airport means we're more secure, it means we're inefficient," Freeman said. "We don't think inadequate use of technology makes us more secure, it just makes us less competitive."
More than just money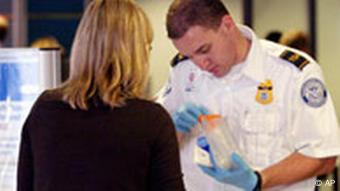 Security checks should be made more efficient
The US has lost $90 billion in potential revenue from international tourism since 2000 simply from not keeping up with the tourism growth rates of the rest of the world, according to figures from the Travel Industry Association of America (TIA.) But it's not just money that is worrisome.
"The diplomatic factor of travel is as important as economics," said Roger Dow, chief executive officer of the TIA. "In this battle for world opinion and getting to know one another and sharing ideas, there's nothing better than people traveling."
Europeans who visit the US have a more positive view of the country and talk it up to their friends, studies show.
Freeman agreed: "If we want to win hearts and minds around the world, then travel is the greatest tool we have and unfortunately to date we're not using it."