US President Joe Biden and Vice President Kamala Harris addressed the nation on Thursday, marking the anniversary of the deadly attack on the US Capitol by supporters of former President Donald Trump.
Congress also held a series of memorials and a prayer vigil on the steps of the Capitol.
On January 6, 2021, a mob stormed the Capitol building in an effort to halt the confirmation of Biden's victory, fueled by Trump's claims of election fraud. Five people died, and over 130 police officers were injured.
What did Biden say?
Speaking at one of the sites where Trump supporters violently surged into the US Capitol, President Biden said the US must assure that such a riot "never happens again."
"Democracy was attacked — simply attacked," Biden said.
In an emotionally charged address, the president recalled the violent images from January 6 — and took aim at his predecessor, Trump.
"The former president of the US has created and spread a web of lies about the 2020 election," Biden said.
The president spent much of his speech addressing the false narratives about the January 6 riot that have been perpetrated by Trump and members of his Republican Party.
"For the first time in our history, a president not just lost an election; he tried to prevent the peaceful transfer of power as a violent mob breached the Capitol," he said.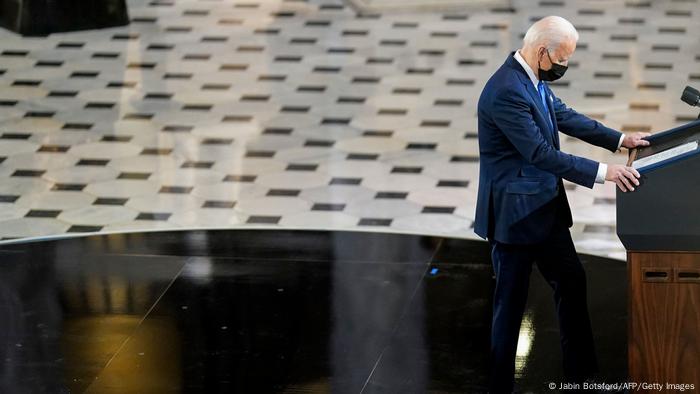 In an emotional and forceful speech, Biden said the US continues to find itself in a 'battle for the soul of America'
Biden also urged for the American people to actively work to uphold and repair the damage done to the country's democracy.
"At this moment we must decide what kind of nation we will be. Are we going to be a nation that accepts political violence as a norm?
"We cannot allow ourselves to be that kind of nation. The way forward is to recognize the truth and to live by it," Biden urged.
He said the country finds itself "in a battle for the soul of America."
Speaking ahead of Biden, Vice President Harris said the "American spirit is being tested," but urged people in the US to "unite in defense of our democracy."
House Speaker Nancy Pelosi, a top Democrat, said later on Thursday that she hoped people would turn to their "better angels" to bridge political divides.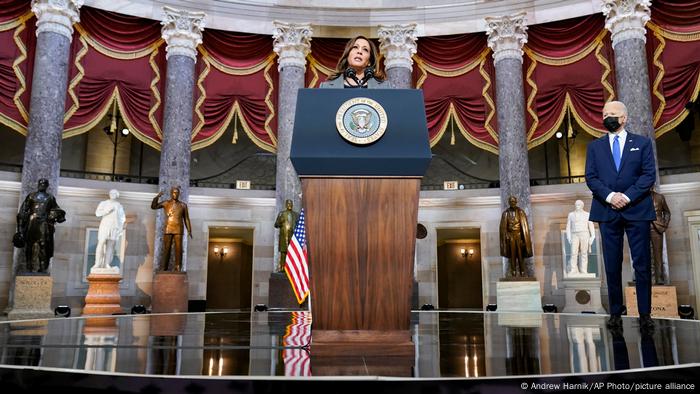 Vice President Harris urged for unity as the country remembered the violent attack at the US Capitol
What has Trump's response been?
Following Biden's speech on Thursday, former President Trump issued a statement accusing Biden of trying "to further divide America."
On Tuesday, Trump abruptly canceled a briefing at his Mar-a-Lago estate in Florida that had been slated for the evening of January 6.
In an earlier statement, Trump reiterated his conspiracy theory that the November 2020 election was "stolen" and repeated his baseless claims that widespread voter fraud had put Biden in office. Trump said he would speak on many of the same issues at a rally scheduled for January 15.
Some leading Republicans, many of whom are not participating in the Capitol memorials on Thursday, accused Democrats of attempting to "exploit" the anniversary.
What is the impact of the president's speech?
Ines Pohl, DW's Washington bureau chief, said Biden delivered "the strongest speech" of his presidency on Thursday — making it clear that Trump "is responsible" for the political divisions that are deepening within the United States.
"He has given up hope to reach out to Trump supporters," Pohl said. "I think he also wants to push forward all the reforms which are needed to protect democracy here when it comes to voting rights."
DW reporter William Glucroft noted that Biden "had a very difficult line to walk" in his January 6 anniversary remarks.
Biden directly addressed and named many of the falsehoods that Trump has continued to perpetuate concerning the 2020 presidential election.
"He didn't want to be too pessimistic, while also not sugarcoating what happened a year ago," Glucroft said.
How is the anniversary being marked?
Following Biden's speech, a moment of silence was held in the chamber where the House of Representatives meets — the site where members were evacuated as rioters tried to break in a year ago.
There were also testimonials from members who were present in the US Capitol when pro-Trump rioters violently broke in to the building.
Highlighting the stark political divides in the country, most of the events will be attended by Biden's Democrats — with most Republicans absent from Capitol Hill.
Top Republican, Senator Mitch McConnell, is leading a delegation of Republicans to a funeral of a recently passed senator in Atlanta, Georgia. McConnell said January 6 was a "dark day," but accused Democrats of trying "to exploit this anniversary."
While lawmakers from both parties were present during the riot a year ago, many Republicans have stuck by Trump in the aftermath — with those opposing him finding themselves sidelined by the party.
What has happened since the US Capitol riot?
The storming of the US Capitol on January 6, 2021, sent shock waves across the country and around the world.
On that day, Trump held a rally in Washington, during which he called on thousands of his supporters in attendance to "fight like hell" to stop the certification of Biden's legitimate electoral win in Congress.
His followers then marched on the Capitol building where lawmakers were inside. They clashed with security staff and forced their way inside the building.
The attack left five people dead. Both criminal and Congressional investigations were launched into the riot.
Prosecutors have charged at least 725 people over their involvement in the riot.
Over 300 people — including Trump allies and staff — have been interviewed by a Democrat-led House of Representatives panel investigating the attack. The panel is due to soon start public hearings.
What concerns remain?
Robert Pape, a political scientist at the University of Chicago who specializes in researching political violence, told DW his research indicates that the same sentiments that spurred Trump supporters to violently storm the Capitol have not lessened.
"I'm concerned that this is not a one-off," said Pape.
Surveys by the University of Chicago found that 21 million people believe falsehoods circulated by Trump and that violent force is justified to return Trump to the presidency.
"What that means is there are 21 million who sympathize with those who assaulted the Capitol on January 6," Pape said. "As we go forward into the 2022 election season, we have to be concerned we're moving into a tinderbox."
Germany is also taking stock of the implications the attack and its aftermath could have on its own democracy, German MP Michael Link, with the neoliberal Free Democrats, told DW.
While the situation is not quite as polarized in Germany as it is in the US, Link said the January 6 riots in Washington showed how vulnerable democracies can be if societies are complacent.
"We have an electoral integrity which has been respected by all sides of the political spectrum. But increasingly so, we really understand that we need to defend this," he noted.
AFP and AP contributed to this report.
Edited by: Rob Turner