The Trump administration has announced plans to rescind the clean water regulation in a move that environmentalists are saying "defies common sense."
The United States Environmental Protection Agency (EPA) and Army Corps of Engineers have announced first steps to withdrawal Obama's 2015 Clean Water Rule, which clarified which US water bodies and wetlands are protected under the Clean Water Act
"We are taking significant action to return power to the states and provide regulatory certainty to our nation's farmers and businesses," said EPA Administrator Scott Pruitt.
The move enacts an executive order signed by President Trump in February, which stated that although it was in the national interest to protect waters from pollution, it was also important to "promote economic growth" and "minimize uncertainty."
The regulation was created the aim of ensuring that drinking water supplies do not become polluted.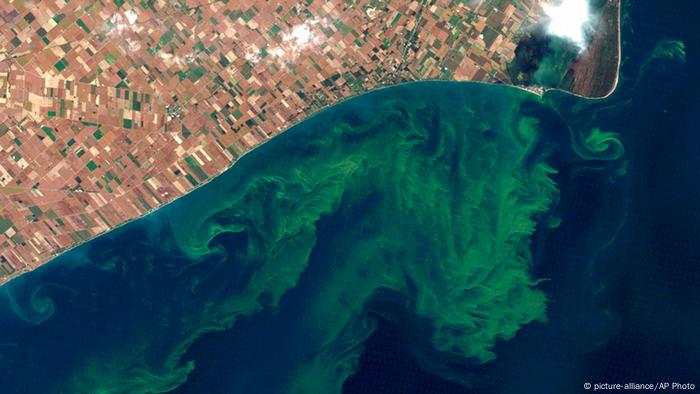 This algal bloom in Lake Erie was a result of fertilizer runoff
Under the 1972 Clean Water Act, federal agencies are responsible for navigable rivers and lakes. But less clear is the status of 2 million miles of headwaters and streams, plus 20 million acres of wetlands. The Obama rule extended protection to those waters under the term "waters of the United States."
Environmentalists say that by rescinding the rule, the Trump administration will put the drinking water sources of one in three Americans at risk.
"Clean water is vital to our ecology, our health and our quality of life. We are already seeing drinking water contaminated by the algal blooms and toxic chemicals," said John Rumpler, senior attorney and clean water program director at Environment America.
"The last thing we should do is weaken protections for our water."
Part of broader rollback
The move is the latest in a string of actions the president has undertaken to roll back environmental legislation put in place by the Obama administration. Trump has already withdrawn from the international Paris climate change agreement, and rescinded the Clean Power Plan, comprised of national regulation aimed at curbing carbon emissions from power plants.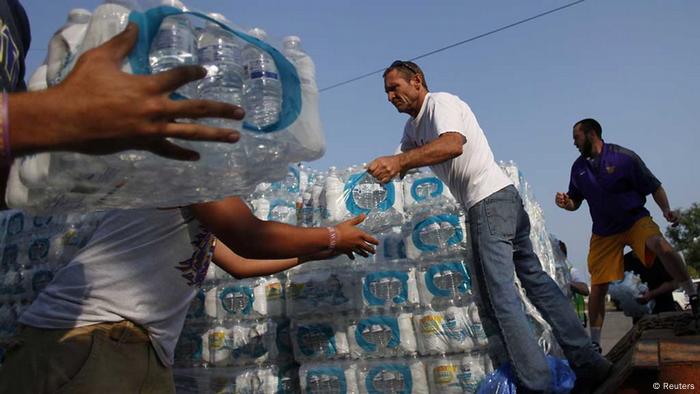 In 2014, residents in Ohio were forced to drink bottled water after high levels of toxins from algae were measured in Lake Erie
The EPA move has been welcomed by farmers, fossil fuel companies and property-rights groups, which had fiercely criticized the Obama regulation, saying it amounted to federal overreach.
"This rule was never about clean water. It was a federal land grab designed to put a straightjacket on farming and private businesses across this nation," said Zippy Duvall, president of the American Farm Bureau Federation.
Following its adoption in 2015, the Clean Water Rule was only shortly in effect. It was later stayed as part of a decision by the US Court of appeals in Cincinnati in response to a lawsuit from opponents. The EPA says that due to the stay, rescinding the rule will have no impact on existing practices.
The agency will make a final decision on whether to rescind the law following a 30-day public comment period. If it rescinds the rule, the agency will then reevaluate the definition of "waters of the United States."