German Chancellor Angela Merkel has voiced optimism that a political solution can still be found for the UK's exit from the EU. She spoke with business leaders in Tokyo on Tuesday, telling them that despite the March 29 deadline and Brussels rejecting any renegotiation of the existing agreement, there was still time for Britain to reach some kind of arrangement with the bloc.
"From a political point of view, there is still time," Merkel said. "But for this it would be very important to know what exactly the British side envisages in terms of its relationship with the EU."
The chancellor has urged "goodwill" and "creativity" in finding a Brexit solution and said that despite the tricky issue of the Irish backstop, "it should be humanly possible to find a solution to such a precise problem."
Currently, the backstop plan aims to circumvent the return of a hard border between the UK's Northern Ireland and its southern neighbor, EU member state Ireland, by having Northern Ireland remain in the EU's single market and customs union in case a future trade deal cannot be worked out.
Merkel made the comments at an economic forum in Tokyo, one of several stops on her two-day visit to Japan. She met her counterpart Shinzo Abe on Monday to discuss international trade and to toast a new trade deal between Japan and the EU.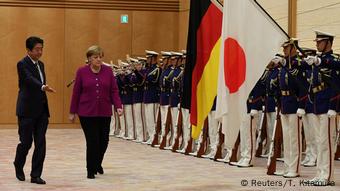 The two leaders met just days after a huge free trade deal was signed between Japan and the EU
May in Belfast
Meanwhile, UK Prime Minister Theresa May on Tuesday began a two-day visit of her own to Belfast, in a bid to seek support for her withdrawal deal.
In a speech to business leaders, said that she had traveled to Northern Ireland "to affirm my commitment to delivering a Brexit that ensures no return to a hard border between Northern Ireland and Ireland — which is unshakable."
An open border was a key part of the 1998 Good Friday agreement that ended decades of violence between Ireland and Northern Ireland.
In addition, business leaders fear that a hard border will restrict trade and negatively impact business.
May added that while she will seek changes to the withdrawal agreement, she will not try to get the backstop totally removed from the agreement.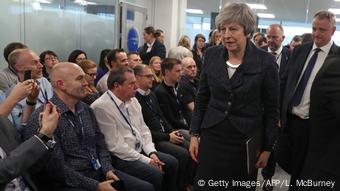 May addressed business leaders on the first day of her visit to Northern Ireland
The British Parliament recently voted down May's negotiated agreement in part because of concerns about the backstop agreement.
May will meet Arlene Foster on Wednesday, leader of the Democratic Unionist Party (DUP), which props up May's minority government and which opposes the current backstop agreementbecause it does not want any separation from the rest of Great Britain.
Foster on Tuesday morning repeated her party's stance. "Parliament's mandate is to replace the backstop. The current backstop… is so toxic to those of us living in Northern Ireland," she said.
"If the backstop is dealt with in the Withdrawal Agreement… we will support the prime minister. I don't want to see a no-deal scenario."
Other parties in Northern Ireland take a very different tack on this issue to the DUP, the only major party at the Stormont parliament which campaigned for Brexit. Northern Ireland also voted narrowly in favor of remaining in the EU in 2016's referendum.
May is expected to head to Brussels on Thursday to seek further border concessions before returning to the British Parliament with a potentially updated plan.
cmb, nn/aw (AP, Reuters, AFP, dpa)
Each evening at 1830 UTC, DW's editors send out a selection of the day's hard news and quality feature journalism. You can sign up to receive it directly here.