In his annual New Year's letter to world leaders, Russian President Vladimir Putin has expressed his hopes for improved bilateral ties with Europe and the West in the coming year.
Addressing German Chancellor Angela Merkel and President Frank-Walter Steinmeier, Putin said he hoped the two countries would continue to pursue dialogue and cooperation on bilateral, regional and international interests in a way that would "contribute to stronger security and stability in Europe and beyond."
Read more: NATO chief predicts increased dialogue with Russia in 2018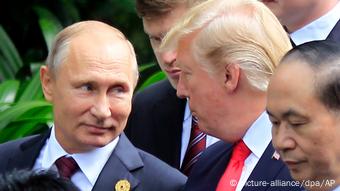 Will the coming year bring closer relations between Putin and Trump?
In greetings to US President Donald Trump, Putin underscored the importance of constructive dialogue between Moscow and Washington to find the best solutions to global challenges and threats.
Putin told Trump that "a constructive Russian-American dialogue is especially needed to strengthen strategic stability in the world."
Stressing the ideals of equality and mutual respect, Putin wrote, "would allow us to make progress in promoting pragmatic cooperation designed for the long term."
Read more: Russia warns US against 'meddling' in presidential election
Friends in Asia
Putin noted that 2017 had been a good year for Russian-Chinese relations.
He said cooperation between Moscow and Beijing had greatly contributed to finding solutions to current international problems and wrote of his desire to expand the trust-based relationship for the benefit of the "two neighborly peoples" of Russia and China.
Putin also addressed the situation in Syria, striking a note of optimism that the situation in the war-torn country would continue to improve.
He pledged Moscow's support for Syrian President Bashar Assad by emphasizing Russia's commitment to finding a political solution to the country's ongoing civil war, as well as upholding its sovereignty and territorial integrity. Putin wrote that defeating terrorists and re-establishing normalcy would be in the world's best interest and contribute to the security of the Middle East.
Read more: In Syria, Putin must 'win the peace,' says UN mediator
The Russian president also sent messages to other heads of state, including the leaders of former Soviet countries and France's Emmanuel Macron.
js/cmk (AFP, Reuters)