Russia's 46-page document calls for the development of a "Northern Fleet" for the vast region around the North Pole where oil and gas reserves lie under sea ice that has shrunk periodically in recent decades.
Seven other Arctic periphery nations include the NATO nations Canada, the USA and Denmark which incorporates semi-autonomous Greenland.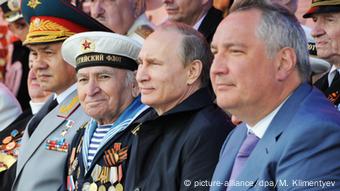 Rogozin (R) plans new icebreakeers for the Arctic
Deputy Prime Minister Dmitry Rogozin said Russia, which has more than 7,000 kilometers (4,350 miles) of Arctic coastline, planned the construction of atomic-powered icebreaking naval vessels. The first would begin service in 2017.
A frigate at Russia's Baltic Sea naval base at Baltiysk in its Kaliningrad enclave was the venue chosen by Rogozin and President Vladimir Putin on Sunday to underscore the doctrine's release.
Kaliningrad lies between NATO members and Baltic Sea nations Poland and Lithuania.
The doctrine again characterizes NATO as a threat by describing its inclusion of eastern European nations in post-Cold War decades as "inadmissible" expansion.
US-led military drill
Last Monday, a two-week military exercise called Rapid Trident and under US command was launched in western Ukraine involving troops from 18 nations, including non-NATO former Soviet nations such as Moldova.
Ukraine's Kiev-based government has been locked in a conflict since April 2014 with pro-Moscow rebels in Ukraine's eastern regions of Donetsk and Lugansk.
Russia annexed Ukraine's Crimea peninsula in May 2014, prompting EU sanctions.
Kyiv has repeatedly accused Russia of sending troops and resources to sustain the insurgency -- charges which Moscow has consistently denied.
Deadly clashes have occurred in recent weeks in eastern Ukraine, despite a multinational peace accord struck in the Belarussian capital Minsk in February.
Black Sea tensions
Russia's revised naval doctrine proposes "developing infrastructures" for its Black Sea fleet in Crimea and also calls for "accelerated reconstitution" of strategic Russian positions in the Black Sea.
Sea Breeze, a joint US-Ukraine operation, is expected to last from August 31 to September 12 in the Black Sea.
At a summit in Wales in February, NATO decided to boost its defenses with six command centers in eastern Europe and finalize a rapid reaction spearhead force of 5,000 troops.
ipj/jil (dpa, AP, AFP)