Moldova's President Nicolae Timofti (pictured) said Wednesday after parliament's ratification in the capital Chisinau that the former Soviet republic would next ask for a timetable to join the European Union.
Moldova, with 3.5 million people, is one of the poorest countries in Europe and has no major heavy industry or natural resources. It lies between Romania and Ukraine and has no border with Russia.
Moldovan Prime Minister Iurie Leanca signed the association deal opening the door to possible integration into the 28-nation EU on Friday alongside the leaders of Ukraine and Georgia, also both ex-Soviet republics.
Russia reacts by redirecting trade
On Wednesday, Russia's Foreign Minister Sergei Lavrov said Deputy Prime Minister Dmitry Rogozin responded to Moldova's ratification by signing several memoranda with Transdniestria to redirect goods produced for EU countries to the Russian market.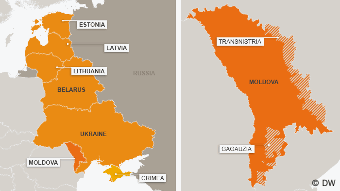 Transdniestria is home to about half a million people - 30 percent of ethnic Russian origin - and about 2,500 Russian soldiers, and is dependent economically on remittances from Russia.
In May, Rogozin promoted a petition in which residents of the pro-Russian Moldovan region backed a union with Russia.
EU association pivotal to Ukraine crisis
The EU association deal eventually reached with Kyiv was at the heart of the crisis that erupted in Ukraine last year, when its former pro-Russian President Viktor Yanukovych backed out of the deal and flew to Russia to firm up ties with the Kremlin instead.
That triggered huge protests, mainly in Kyiv, that drove him from power. Moscow responded by annexing the mainly Russian-speaking Crimean Peninsula in March, and pro-Russian separatists then rose up in Ukraine's eastern provinces.
EU association allows for increased trade and political cooperation and can - after a long and complicated procedure - lead to EU membership.
ipj/bk (Reuters, AP, AFP)