Maria Zakharova has rarely appeared as nervous as she did this Friday morning. Although she is known for being in control, the Ministry of Foreign Affairs press director was obviously flustered on this occasion, having to start over several times as she read a prepared statement on US airstrikes in Syria. The statement condemned the missile attacks, which targeted a Syrian airbase near the city of Homs.
US President Donald Trump said the strikes were retribution for the recent chemical weapons attacks that claimed the lives of numerous Syrian civilians in the province of Idlib. The United States and other Western countries say that Syrian President Bashar al-Assad's army was responsible for the attack. Assad and his Russian protectors deny the accusation, blaming rebels for the act instead. Zakharova said that the chemical weapons attack had simply given the US an excuse to launch a long-planned strike against Assad.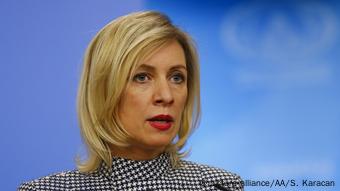 Foreign ministry spokeswoman Maria Zakharova
Failed Russian foreign policy
Andrey Kortunov, director of the Russian Foreign Affairs Council, a Moscow think tank, says that Russia was caught off guard by Washington's decision. "One needs to remember that Trump had been sending other signals before, and had hinted at a softer approach to Assad," he told DW. "And just the day before, Russia had also signaled that it would be willing to change its approach in Syria if Assad was indeed behind the chemical attacks." But Trump also seems to want to distance himself from his predecessor, Barack Obama, who famously spoke of a "red line" in Syria in 2012, only to shy away from launching military attacks against Assad when the Syrian president defiantly crossed that line in 2013.
Moscow publisher and military expert Alexander Golz told DW that the US airstrikes signal the end of Russian diplomatic efforts in Syria. "For four years, Russia has been bragging about having hindered US aggression in Syria. Now it is clear that Moscow only delayed US involvement. It is also clear that dictators are shifty and thankless partners, and that Trump acts more decisively than Obama." Russia's military presence in Syria, which was established in 2015, lost all influence overnight as a result of the US strike.
Russia's Ministry of Defense announced that the US missile strike against the Syrian army had been ineffective. Though a spokesperson went on to say that Moscow would help Syria strengthen its air defenses. Apparently, Russian combat troops stationed in Syria were not affected by the US airstrike. Washington said that it warned Moscow of the attack in advance.
A new historical precedent?
Foreign Ministry spokeswoman Zakharova said that Russia's first reaction to the missile strike would be to withdraw from its agreement with the US on coordinated air operations in Syria. The agreement is designed to prevent encounters between fighter aircraft. Andrey Kortunov believes "the threat of a direct confrontation has increased, but not significantly." According to Alexander Golz, a direct military confrontation would be the absolute worst case scenario. He pointed out that such situations had been successfully averted in earlier conflicts like Korea or Vietnam, when Washington and Moscow each supported a diverse number of warring factions. "I think decision makers are very aware of the threat of a global conflict," Golz said.
Thus far, reactions from Moscow have echoed a mix of shock and anger. But one also senses an effort to avoid further damaging the already faltering dialogue with the Trump administration. According to Vladimir Putin's spokesman Dmitry Peskov, the Russian president regards the US operation as an "aggression" against Syria. Peskov went on to say, "With this step Washington has struck a significant blow to Russian-American relations, which were already in a sorry state."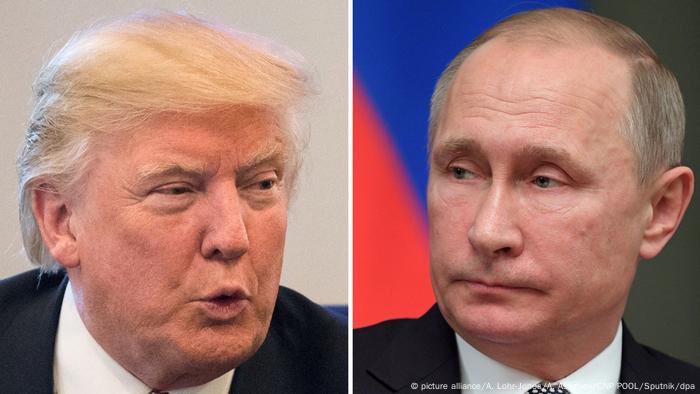 Donald Trump and Vladimir Putin - friends, or are the two now enemies?
Russian Foreign Minister Sergey Lavrov voiced similar sentiments speaking in the Uzbek capital, Tashkent. "I hope this provocation will not lead to irreparable damage [to US-Russian relations]," said Russia's top diplomat.
Not an end to diplomatic ties
Vyacheslav Volodin, chairman of Russia's parliament, the State Duma, said the US operation benefited the so-called "Islamic State" (IS) terrorist militant group: "IS is applauding the USA today." He went on to say that the US must be kept from taking further aggressive action. Leonid Slutsky, chairman of the State Duma's Committee on International Affairs, told the Russian state television channel Russia 24 that the incident was "very disappointing." But Slutsky, a member of the ruling "United Russia" party, added that Moscow could "not wall itself off" to Washington. Slutsky also said that Russia should speak with new US Secretary of State Rex Tillerson when he travels to Moscow next week. Andrey Kortunov of the Russian Foreign Affairs Council believes that the dialogue between Moscow and Washington will become increasingly difficult after the missile strike.