Steinmeier suggested the Estonian ambassador to Russia go on vacation in an effort to de-escalate the situation, according to a Friday report in the Financial Times Deutschland newspaper.

Steinmeier called his counterpart Sergei Lavrov on Wednesday to suggest not only that Estonian ambassador Marina Kaljurand go on vacation but also that Moscow drop the dispute for the time being, according to the article.
Violent disagreement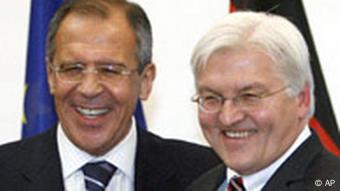 Steinmeier (right) put in a call to his Russian counterpart Sergei Lavrov l(left) to discuss Latvia
Estonia removed a bronze statue of a Red Army soldier from a downtown Tallinn square last Friday and moved it to a military cemetery. Rioting caused by the decision has left one person dead and a dozen injured. To Russians, the statue is seen as a sacred memorial to Red Army soldiers who defeated Nazism. Estonians view it as a reminder of Soviet occupation.

Estonia closed its Moscow consulate within the embassy compound on Wednesday after pro-Kremlin youth activists protested by blocking diplomats and scuffled with the ambassador's bodyguards.

The Russian government agreed it would use police power to end the blockade if the ambassador left Moscow. After speaking with Moscow, Steinmeier reportedly called Urmas Peat, the Estonian foreign minister, and got him to agree to the deal, the Financial Times reported.

Ambassador Kaljurand left Moscow on Thursday on a two-week vacation. The protestors ended their blockade the same day.

Protestors declare victory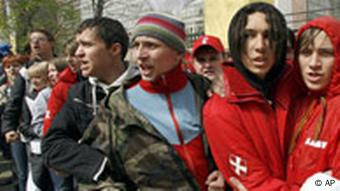 Protests became violent in Moscow
"We gave the ambassador of the fascist country, Marina Kaljurand, the choice to apologize or leave the country," protest organizer Vasily Yakemenko told the newspaper.

The ambassador "chose the second option," Kaljurand said.

The Estonian government maintains that the vacation has been planned since the end of April.

"There are no political or health reasons for the vacation," said a spokesperson for the Estonian government.

Situation remains tense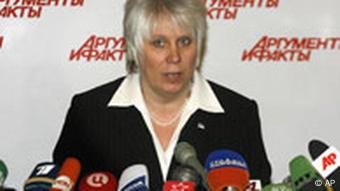 Estonian ambassador to Russia, Marina Kaljurand, is on
While the violent protests have stopped, relations between Estonia and Russia remain volatile.
Russia's EU ambassador, Wladimir Tschischow, said that Estonia still owes Russia an apology for moving the monument. Without an apology, protests could continue, he said in an interview with the
Financial Times
.
"I think that the emotions will remain high for a while," he said.