They had to find common ground - and they did. After four days of good vibes among the mediators, an unprecedented 23-hour marathon of negotiations followed. The Christian Democratic Union (CDU), Christian Social Union (CSU) and Social Democratic Party (SPD) will enter coalition talks if the SPD party congress on January 21 gives the go-ahead.
Read more: Another Merkel-led grand coalition - what you need to know
So, a package has been put together. It looks more like a draft coalition agreement than a tentative agreement on a basis for a mutual government program. "We would like to renew our ties," said Martin Schulz, the head of the SPD. Chancellor Angela Merkel said that good communication is the premise for "a good life in Germany, even in 10 or 15 years from now."
Each party had to make concessions
The agreement is much more comprehensive than expected. One can clearly see the points on which the individual parties have made concessions. And some parts do come as a surprise.
One important signal is the fact the Europe is not a topic listed at the end of the document but instead, the three pages on Europe outline a prelude to a new European era. As for other foreign policy issues, they are less of a priority - but at least arms exports to countries involved in the Yemen warhave been banned.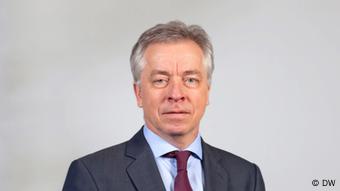 DW's Christoph Strack
Changes in domestic policy include a new pact for the rule of law and justice. Contrary to expectations, there will be no tax hikes - this is also something the SPD wanted. Another point of contention for years has been the statutory health insurance fees that employer and employee split 50-50 - this will not change. Plus, a solidarity pension fund will be created.
The solidarity income tax surcharge introduced in 1991 to help rebuild eastern Germany will be phased out. What is also striking is the narrow scope in refugee matters. To start with, asylum is discussed under immigration. Family reunification for refugees will be possible in principle at some point, but with restrictions.
President Steinmeier has never been so important
The role of the president has been remarkable, even in the discussions on the final day. The agreement reached today is the result of pressure that the head of state has put on a nation in serious political times. This reinforces the importance of his office, which is usually met with condescension for its lack of power. But this week, Frank-Walter Steinmeier made use of two New Year's receptions to warn the negotiating parties.
"All eyes are on the parties and their leaders," he said on Tuesday. He added, "Everyone is wondering how things can and will go on - and quite rightly so." CDU leader Angela Merkel, many Cabinet members and SPD head Martin Schulz also heard his speech.
On Tuesday, he took it up a notch for the diplomatic corps, explaining how CDU, CSU and SPD are not just committed to their own parties and their own political future but were also responsible for Europe and international policies. It sounded like he had high expectations of the Bundestag, come what may.
"Anyone who campaigns for political power must not be allowed to shirk their responsibilities," warned the German president after the collapse of coalition talks with the Free Democratic Party (FDP) and Green party. The same held true this week. And for Merkel, Schulz and CSU leader Horst Seehofer, it meant they had to reach an agreement.
More obstacles to overcome
But last night's results were not the final ones. Anyone who sees the formation of the government as an obstacle course would probably agree that this was only a small obstacle compared to the one expected at the SPD party congress. And once that one has been cleared, then the real negotiations begin.
However, the fact remains that the German constitution does not prescribe the course of exploratory talks or coalition negotiations. The current drama must not be allowed to continue after the SPD party congress and find its way into talks on the future government.
Almost four months after the Bundestag elections, Germany needs to get moving. People have been waiting 100 days for something to happen. Today, there is a signal - and some of the details it reveals are surprising. Now an agreement must be reached.