Thousands of people in Germany gathered Saturday in protest against a plan that would see high-level radioactive atomic waste transported through their hometowns.
Organizers report that nearly 20,000 people demonstrated in some 120 towns and cities located along the planned transport routes, from the southwestern city of Karlsruhe to the tiny town of Gorleben in the German state of Lower Saxony.
Tiny town the center of national debate
Gorleben, with a population of around 600, is set to become the location of an interim storage facility for radioactive atomic waste. Transport of the waste in so-called dry-cask, or "castor," containers is planned to begin in early November from a reprocessing plant in the French city La Hague.
But activists want those plans stopped. On Saturday, the north-central city of Hanover alone saw some 3,000 protestors, according to organizers. Police there spoke of 1,500 demonstrators.
In the city of Greifswald some 30 protestors rolled barrels through the city, shouting, "We'll bring you the waste." Meanwhile, streets in the northern cities of Bremen and Rostock were overtaken by demonstrators on bicycles.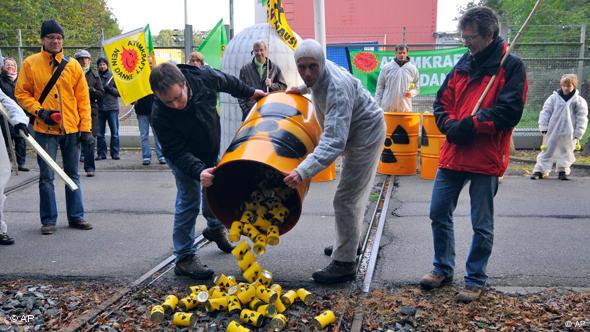 Protestors in Juelich went to the local tracks to draw awareness
Bigger protests ahead
A spokesperson for the anti-atomic initiative "Ausgestrahlt" said Saturday's protests were a mere prelude to the demonstration planned for November 6 in the town of Dannenberg, where he expected tens of thousands of protestors to participate.
The European Commission meanwhile plans to increase pressure on EU member states to find a permanent solution to the problem of atomic waste storage.
Guenther Oettinger, European Commissioner for Energy, told Munich daily Sueddeutsche Zeitung in an interview published Saturday that he plans to propose new EU guidelines for disposing nuclear waste on November 3.
Author: David Levitz (AP, dpa, epd)
Editor: Martin Kuebler