Germany and Italy have similar issues in processing the number of new migrant arrivals, Merkel said during Wednesday's Italo-German summit in the northern Italian city of Maranello. The German chancellor admitted that "not all can stay."
Speaking a year to the day since she signaled Germany's open door policy for refugees, Merkel said that she hoped that further repatriations would take place for failed asylum seekers, subject to readmission deals being concluded with countries of origin. She also called for more development aid to those nations.
"In my mind, there is no valid alternative" to these policies, Merkel said, in a news conference with Italian Prime Minister Matteo Renzi.
Her comments followed an earlier interview with a German newspaper where she said the country, and the EU, failed to respond early enough to the migrant crisis.
Merkel agreed with Renzi's comments that the European Union can't save all migrants, and needed to take a tougher line on repatriating those who don't quality for asylum.
"We know that there are limits, Renzi said. "It is unthinkable that we can accommodate everybody."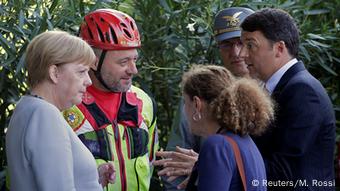 Merkel's visit to Italy followed last week's devastating earthquake
Wednesday's joint talks also focused on the EU's future following Britain's decision to leave in a national referendum on June 23.
Earthquake also dominated talks
The meeting, at Ferrari's headquarters in Maranello, came just a week after a deadly earthquake killed close to 300 people in central Italy.
The German delegation heard from Renzi on post-quake reconstruction plans, amid calls for the Italian government to be excused from EU budget discipline rules to spend billions of euros on improving building safety.
Merkel announced that Germany would pay for the building of a new school in the quake-hit region, adding that the exact location would be decided in consultation with local officials. She also met rescue crews who responded to the August 24 quake.
Later, Merkel and Renzi were due to have dinner with Italian and German business representatives and other ministers.
mm/kms (AP, dpa)