After months of intense negotiation and deal-making, on Friday the US and China slapped tit-for-tat tariffs on $34 billion worth of the other's imports, setting the stage for a full-blown trade conflict between the world's top two economies.
US President Donald Trump has also put pressure on Beijing by banning Chinese companies from investing in US tech firms and blocking tech exports to China. The Trump administration has long accused Beijing of using unfair means to overtake America's technological supremacy.
Read more: From the world's workshop to the world's tech hub: China's economic leap forward
The main source of Washington's grumbling appears to be Beijing's "Made in China 2025" initiative, an ambitious plan to close the Asian giant's technology gap with the West. First unveiled in 2015, the initiative seeks to turn China from being the world's factory into a global technology leader, including in biotech, robotics, aerospace and clean-energy cars.
The Made in China 2025 plan lays out the key requirements for a comprehensive industrial upgrade that will ultimately help China avoid the "middle-income trap," a common problem faced by many other developing countries.
While China hopes the strategy helps it to transition from labor-intense production to "smart manufacturing," the plan is viewed as exploitative by many in the US and the European Union. Officials and business executives from these places routinely express their concerns and dissatisfaction with Beijing's alleged intellectual property theft, coerced technology transfers and measures to protect domestic firms from foreign competition.
Despite Western governments' complaints about the impact of China's strategy on their economies, Beijing remains steadfast in pursuit of its tech goals.
Dynamic times
It is, however, hard to gauge the level of implementation of the project, observers say, citing the wide range of sectors covered by the plan. Despite the demonstrations of cutting-edge Chinese technologies in recent years, it is hard to determine the seriousness of these projects, said Lorand Laskai, an independent researcher on China.
"The plan is technically being implemented, but it's hard to know where they are [at] right now," Laskai told DW.
Others argue that these are dynamic times for Chinese industry and the situation is rapidly evolving in unanticipated ways. Max Zenglein, an economist at the Mercator Institute for China Studies in Berlin, says that Western industrialized economies are rather slow at realizing the potential impact of Chinese policies on their businesses and markets.
And rather than coming up with a coordinated response to this challenge, Zenglein told DW that they are still trying to adjust and figure out a way to deal with this new situation.
Read more:
'Made in China 2025' - The next stage of China's economic rise?
Germany and China — trade partners and competitors
Unique advantages
Despite Washington's attempts to inflict as much pain as possible to disrupt any attempt by China to usurp America's high-tech dominance, experts say in the long run it would be difficult to stop Beijing from emerging as a leader in a number of key industrial sectors.
They point to the billions of dollars the Chinese government is pumping into priority areas to realize its ambitions. In addition to gigantic sums of money, Zenglein argues that China's state-driven approach cultivates an environment that allows businesses to benefit from the massive government support.
Furthermore, Beijing is actively trying to build up an innovative landscape and value chain in China that can help in rapidly developing these new sectors. "These emerging industries give China an opportunity to leapfrog over [industrialized economies] to a leadership position," said Zenglein.
But there are also challenges, the expert stressed, noting that there is a growing risk of state-owned companies or the Chinese government dictating the areas that private companies should focus on.
Zenglein believes that the more the state is involved, the less likely Beijing would trust market mechanisms and accept business failures, which could ultimately hamper efficiency and innovation.
Still, Western analysts say foreign companies should seriously consider the impact of Made in China 2025 policy on their businesses. Some argue this strategy may prove to be a double-edged sword for countries like Germany, which at present have an edge in advanced manufacturing sectors, as it would mean Beijing will become a serious competitor in a whole series of industries currently dominated by them.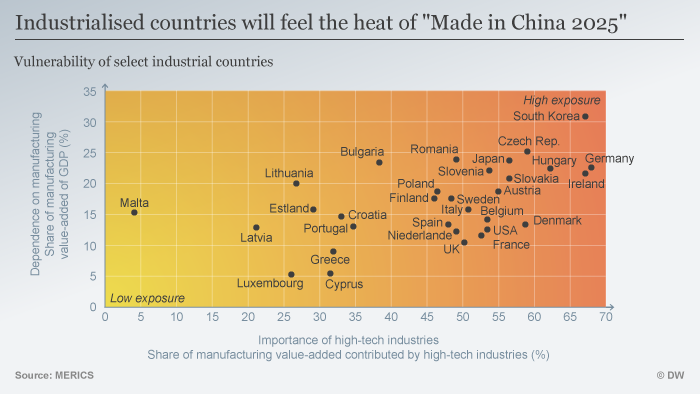 Promoting innovation key
Vera Philipps, head of the East Asia Department of the Association of German Chambers of Industry and Commerce (DIHK), says since the Chinese plan targets many industries that contribute a lot to Germany's economic growth, it serves as a wake-up call to the German government.
"I think [foreign governments] should take [the plan's potential impact] seriously, and they should boost their investments in infrastructure and set up an ecosystem that promotes innovation," Philipps told DW.
Philipps said that China's progress over the last few years has proved that they have found their own way to be innovative, and it has also helped foreign governments to move beyond the notion that China only produces stuff at a very low price.
"I think the progress that they have made proves that we shouldn't focus too much on what we think are the preconditions for innovation," Philipps said. "We are in a different time now, and China has found its own way to be innovative."