US President Donald Trump is set to step up his trade war with Beijing by banning Chinese companies from investing in US technology firms, and by blocking tech exports to China.
The Wall Street Journal on Monday cited unnamed White House officials as saying the plan will be announced later this week, to head off China's ambitious plans to close the technology gap with the West in 10 key sectors.
Despite US Treasury Secretary Steven Mnuchin later saying the plans were "not specific to China, but to all countries that are trying to steal our technology," the move was widely seen as aimed at Beijing.
The Made in China 2025 initiative, which was first unveiled in 2015, seeks to turn the country from the world's factory into a global technology leader, including in biotech, robotics, aerospace and clean-energy cars.
Read more: EU firms worried about China's tough business environment, trade tensions
Tensions over China's high-tech advance have been building for the past two years, due to Beijing's strategy of allowing Chinese companies to invest in US and European technology firms, while restricting access to its own tech sector.
Longstanding concerns about the theft of intellectual property led Trump to impose some $50 billion (€42.7 billion) in tariffs on Chinese goods, which will begin to take effect next month. Washington could soon add duties on a further $200 billion of Chinese imports.
US position threatened
It becomes clear that Washington is trying to inflict as much pain as possible to disrupt any attempt by China to usurp America's high-tech dominance.
"Tariffs are just a tool to deal with the fundamental, underlining issue, which is concern about China's rise as a technology power," Paul Triolo, practice head for geotechnology at the New York-based think-tank Eurasia Group, told DW.
He warned that China will have to give foreign companies better access to its domestic market if it wants to see Trump's tariffs and other measures renegotiated.
Spooked by Washington's aggressive stance, Chinese officials have in recent weeks downplayed the likely impact of the Made in China 2025 strategy.
Read more: Qualcomm: Donald Trump blocks Broadcom takeover bid over security concerns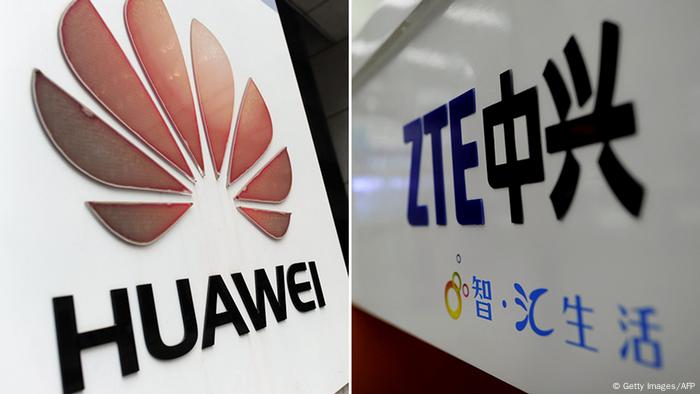 Chinese telecoms giants Huawei and ZTE are likely to dominate during the roll-out of 5G mobile technology, despite US concerns
"In no way did they [Beijing] account for any type of reaction," said Max J. Zenglein, an economist at the Mercator Institute for China Studies in Berlin.
"Now the US are pushing back against attempts to undermine their competitive advantage, hopefully the Chinese side will take their concerns into consideration and adapt their model."
Save the crown jewels
While the measures to protect America's "crown jewels," may help slow down China's advance, Triolo and Zenglein doubt whether it can be halted altogether, due to the billions of dollars being spent by the Beijing government to realize its ambitions.
Eurasia Group's Triolo cited China's huge domestic market, a number of great Chinese tech companies, and its education system — which is pumping out three times more industrial technology graduates than the US — as reasons for China eventually rivaling the US.
He sees joint-venture projects as key to maintaining American dominance, something he says has happened in the field of Artificial Intelligence (AI), citing the examples of Google and Microsoft, who have both invested heavily in China.
"But in many ways, the US tech sector is now being treated as an issue of economic security and national security," said Triolo, which he said would prevent further collaboration — especially following concerns about Chinese espionage on US communications networks.
Read more: Tech supplier Foxconn under fire again over labor conditions
Zenglein cautioned over how collaboration with the West had allowed China to gain the upper hand in another industry, which was once purely the domain of Germany, France and Japan.
"The high-speed rail sector is a pretty good example of where China worked with foreign companies and then used them as a kind of a stepping stone up the technology ladder," he explained.
In the end, you have a situation where the Chinese are no longer reliant on foreign technology, Zenglein told DW.
Read more: Trump's protectionist policies shake India's IT industry
China to lead 5G rollout
One area that Chinese firms are sure to rule is the upcoming rollout of 5G mobile infrastructure — as demand for ultra-high-speed data dominates over the next decade.
"There are many in the US that are concerned that Huawei and ZTE will dominate 5G, and there are concerns about the national security implications of that. There is no US supplier who can provide the whole line of equipment for 5G," Triolo explained.
While China's technological advance has, so far, been rapid, we shouldn't expect "one big moment where Chinese companies gain the ultimate competitive advantage," Zenglein predicts. If it happens, it is likely to take place over several, small steps.
And in the case of a costly venture like semiconductor manufacturing, China is likely to continue to rely on the US for some years to come.
Despite concerns about Trump's turbocharged reaction to China's technological advance, Triolo insists the result won't be "a zero-sum game."
"It's not like nuclear weapons. The technologies of the future are far more complex, and it's not as if there's going to be a winner or loser."
Each evening at 1830 UTC, DW's editors send out a selection of the day's hard news and quality feature journalism. You can sign up to receive it directly here.