iPad, iPhone or Macbook - the products of the US tech giant Apple are freely available in Iran since mid-2013 and enjoy the official blessing of the US government, despite the sanctions in place.
"If a German company wants to sell such equipment, then it would not be approved citing the concept of 'dual-use'," says Helene Rang CEO of the German Near and Middle East Association (NUMOV). "Dual-use" is a name assigned for devices that can be used both for civilian and military purposes, such as cell phones and computers.
The international community has tightened sanctions against Iran since 2006 due to the country's controversial nuclear program. The sanctions were primarily targeted at Iranian oil exports as well as its financial transactions.
Furthermore, transfer of machinery and dual-use equipment has also been banned. Ever since, all German exports to Iran have to be approved by Germany's export control authorities.
"German industry has in many ways gone beyond the imposed sanctions and restricted their activity in Iran even further," explained Daniel Bernbeck of the German–Iranian Chamber of Industry and Commerce (DIHK) in Tehran. Germany's close ties to Isreal are one reason for this development.
Tel Aviv is worried about Iran's nuclear program and called for tough sanctions. Israel's Prime Minister Benjamin Netanyahu has also sharply criticized the direct negotiations between Iran and other world powers over its nuclear program.
Sharp fall
Before the imposition of sanctions, trade between Germany and Iran was booming. Particularly Germany's Mittelstand (small and medium-sized companies) was selling Iran machinery and equipment used in industries such as construction, petrochemicals and mining, among others.
Germany was Iran's second most important trading partner in 2006, according to the Tehran Chamber of Commerce (TCCIM). However, the picture looks completely different eight years later. For instance, in the last three years, exports to Iran fell by nearly 20 percent.
The country that benefited most from the Western-backed sanctions against Iran is China, which has increased its exports considerably and become one of Iran's major trading partners. "The sanctions have obviously had an impact on our economy, although they have not brought the country to a standstill," Iran's ambassador to Germany Ali Reza Sheikh Attar told DW, pointing out that the Chinese, Russians and Turks took advantage of the gap left by Western companies.
Long negotiations
But Iran's ties with Western nations have started improving after the election of moderate Hassan Rohani as president. Since November 2013, the five permanent members of the UN Security Council along with Germany have been holding talks with the new Iranian leadership.
The international community wants Tehran to scale back its nuclear program. In return, the West has already eased certain trade and financial sanctions. Furthermore, Washington unblocked billions of dollars of Iranian oil money frozen as part of the sanctions.
The self-imposed deadline for reaching an agreement in the nuclear dispute runs out this weekend, which is why the parties want to intensify their negotiations currently taking place in Vienna. "Obviously, we have some very significant gaps still," US Secretary of State John Kerry said.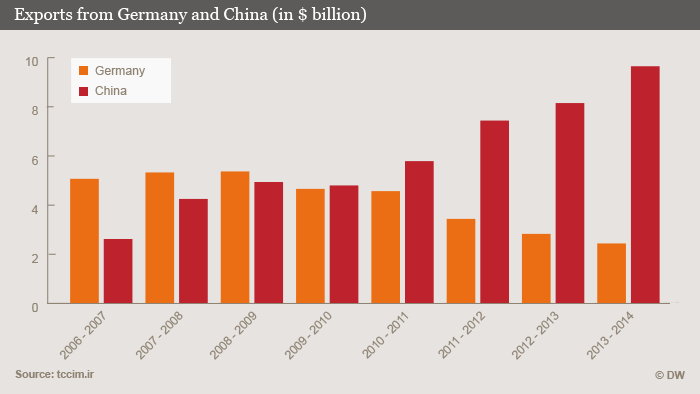 Exports from Germany and China to Iran (in $ billion)
Iran's foreign minister Javed Zarif, on the other hand, tweeted before Kerry's arrival for the talks: "We're able to make history by this time next Sunday. Trust is a two-way street. Concerns of all sides must be addressed to reach a deal." But even if the parties fail to reach an agreement, President Obama could consider prolonging the negotiations.
Great interest
Iran is one of the most resource-rich countries in the world with huge oil and gas deposits. However, Iranian companies use outdated technology as a result of the prevailing sanctions regime. DIHK's Bernbeck estimates that German exports to Iran could reach an annual volume of three to six billion euros in the short to medium term, if Iran could export oil and gas at normal rates and have access to international banking and finance.
NUMOV advocates closer economic ties with Iran. There is huge demand, particularly against the backdrop of a further easing of sanctions, Helene Rang told DW. But companies don't want to openly express their interest in engaging in business activities in Iran. Firms that have economic interests in the US are particularly reluctant to endanger their ties with the authorities, explained Rang.
The banking sector provides a glimpse of how hard the US authorities can crackdown. The justice department recently slapped a fine amounting to some 6.4 billion euros on the French bank BNP Paribas. The bank violated a set of unilateral American sanctions imposed by the US Congress against certain countries, including Iran. According to reports, German financial institutions such as Commerzbank and Deutsche Bank could also be fined for violating US laws.
Preparations underway
However, many companies are working on plans to quickly enter the Iranian market once the sanctions are eased. Business delegations from foreign countries - including European ones - are paying regular visits to the country. Experts say that there are also talks of setting up an American-Iranian chamber of commerce.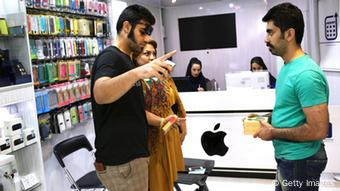 Apple products are freely available in Iran, despite Western sanctions
It is also reported that the US firm World Eco Energy Company recently signed a memorandum of understanding with the officials of Iran's southwestern Chaharmahal and Bakhtiari Province to construct a power plant. The US is abusing the sanctions regime to gain competitive advantage in the Iranian market and counter European competition, said Ambassador Ali Reza Sheikh Attar.
Helene Rang says that German companies will have to act fast and seize the lucrative opportunities offered by the market. "There is especially a high demand for products made by German small and medium-sized entities," she stressed, noting that around 80 percent of machinery and equipment in Iran is of German origin.
"There will be huge demand for spare parts after the end of sanctions and the flow of oil money into the country will allow Tehran to spend on such investments," Rang explained. Then, the US firm Apple will probably not be a special case for long.