When Iran's football squad beat Morocco 1-0 in their opening Wold Cup match, Iranians broke out in ecstatic jubilation. It was the first time in 20 years that the country had won a Wold Cup fixture, and needless to say, fans were exuberant. But the country's religious rulers, under the leadership of Ayatollah Ali Khamenei, eyed this excitement with great suspicion.
After dissident protests erupted across the country earlier this year, Iran's religious elite grew wary of large gatherings — even if all Iranians want to do now is meet at restaurants, cinemas and on the streets to watch their national football team.
Football after the revolution
After the Iran's 1979 revolution, football, like other sports, was banned. The country's religious leaders deemed it frivolous and counter to Islamic teachings. An Iranian national football team was eventually established, but during the Iran-Iraq war, the government prohibited the squad from playing matches on neutral ground — for which it was suspended by the sport's world governing body, FIFA.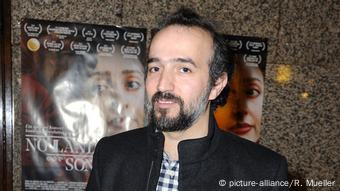 Najafi: 'Nobody realized that football was so popular'
Iran's football team made its break through on the global stage when it qualified for the 1998 World Cup in France, where it went on the beat political arch-rival the United States. Across the world and in Iran's capital, Tehran, thousands of Iranians celebrated the victory. "That was the first time after the revolution that Iranian society revealed a totally different side," says Berlin-based Iranian filmmaker Ayat Najafi. "It came as a shock to Iran's government. Nobody realized that football was so popular. And that many wanted to live a different life."
Women barred from stadiums
In 2006, Najafi released his documentary film Football Under Cover, which accompanies a female football player from Berlin on her journey to Tehran. In Iran, women are allowed to play football if they wear a headscarf, but they're banned from watching football matches between male teams. To circumvent the rule, Iranian women have often tried sneaking into football arenas by disguising themselves and even donning fake beards. Those who are caught, are jailed, if only briefly.
Read more: 11 of our favorite football films
Iran's moderate current president, Hassan Rouhani, has suggested allowing female football fans to attend matches between male teams, as did his predecessor, Mahmoud Ahmadinejad. The country's religious leaders, however, reject the idea of creating women-only terraces in stadiums, while more progressive figures take issue with female supporters of foreign teams coming to Iranian football stadiums. Najafi has met many of Iran's popular male footballers and says a lot of them support women's football, though unfortunately it is an issue that gets little coverage in mainstream, regime-friendly Iranian media.
In Iran, women are not allowed to attend men's matches
Iranian footballers who play for foreign teams, meanwhile, are often considered progressives who champion reforms. Veteran midfield Masoud Shojaei, who is captaining Iran at this year's World Cup, showed his support in 2009 for Iran's Green Movement, which demanded then-President Ahmadinejad's removal from office. The uprising, however, was brutally suppressed by the government. Shojaei also spoke out against the problem of corruption in football, and called for women to be allowed into stadiums. He said he was sad neither his mother, his sisters, nor his wife were able to cheer him on in person. At this year's World Cup in Russia, many Iranian players are accompanied by their wives.
Politics, religion creep into the sport
Shojaei crossed a red line in 2017 when, as a player of for Greek club Panionios, he competed against Israeli team Maccabi Tel Aviv. Iranians are forbidden from engaging in sports competitions with Israelis, and he was dropped from the national team. After massive fan protests, he was ultimately reinstated.
Read more: DW Freedom of Speech Award winner Zibakalam: Hope for 'democracy in Iran'
Christoph Becker, who for years has been reporting on the links between sports and religion in Iran for German daily Frankfurter Allgemeinen Zeitung, says "religious and political slogans supporting the Iranian system are often present in the country's sports stadiums." He cited a match between Iran and South Korea in October 2016, on the evening before the religious holiday of Ashoura, an important date for many Muslims, especially Shiites.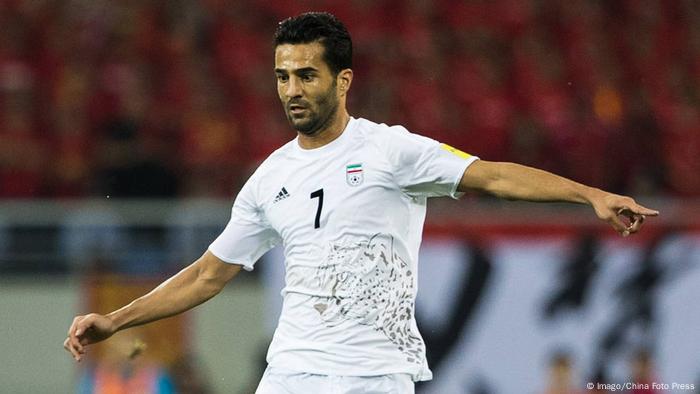 Shojaei was brought back to the Iran team after fan protests
With the holiday in mind, Iran's football association wanted to postpone the match, but FIFA objected. In response, Iranian clerics instructed football fans to don black clothing and refrain from clapping. During the match, placards were presented and slogans chanted in honor of Ashoura. FIFA fined Iran's football association €46,000 ($53,000), although Becker believes this will not deter them. "They are happy to accept the fine, they put money aside for instances like this."
Read more: Nike refuses to provide shoes to Iranian World Cup team
Political and religious tension can be observed everywhere in Iranian football culture. Even Iran coach Carlos Queiroz, a Portuguese national, has noted other teams' reservations to arrange friendlies against his squad. And similarly, he says, advertisers have concerns about Iran's team, possibly because they fear how the US could react now that it is pursuing a more confrontational diplomatic approach to Iran. But Queiroz thinks a more nuanced picture of the Iranian team is in order. After all, the team was once even captained by a Christian: Andranik Teymourian.